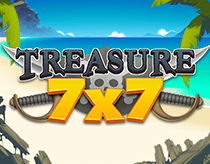 Treasure 7x7
Treasure 7x7 is bursting at the coffers with prizes and with 16 ways of winning, there'll be no walkin' the plank!
Treasure 7x7
GAME INFORMATION
Avast ye! Pick 7 symbols and complete lines on the board to win the booty! Any line in any direction is a winner, so get ready to sail the 7x7 seas!
Pick 7 tiles from the 12 face down tiles.
Pressing the 'Auto' button will randomly select any of your remaining picks.
After picking a tile a symbol is revealed. All matching symbols on the 7x7 grid will then highlight.
A win is achieved by:
Highlighting all the symbols on a horizontal, vertical or diagonal line on the 7x7 grid. You win the prize shown for that line.
The theoretical average return to player (RTP) is 89.90%.