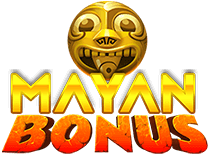 Are you in line for a Mayan Bonus today? Behind the masks lie big prizes and even bigger golden balls! The balls are the gateway to the GUARANTEED PRIZE bonus game, so keep collecting and get yourself a Bonus!
Mayan Bonus
HOW TO PLAY
Reveal the 9 prizes behind the masks and see if you've matched three to win – don't worry if you haven't though, the unlockable bonus game is a GUARANTEED win!
Choose your stake by pressing the Stake '+' and '-' buttons
To start the game, press the 'Play' button located below the stake amount
Once the 'Play' button has been selected the stake is deducted from the current balance and the game starts.
Click each individual item to reveal a symbol or prize, or press the 'Reveal All' button to reveal all items at once.
Any discovered golden balls populate the circle in the middle. Once all nine slots are filled, the GUARANTEED PRIZE bonus game is unlocked.
A win is achieved by:
Matching 3 prize amounts in the main game. You win one of those amounts.
Winning an amount in the guaranteed prize bonus game.
This game has an RTP of 73.76%