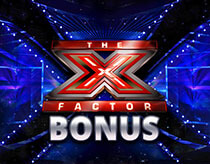 X Factor Bonus
Reveal the winning symbol, match three prizes or uncover the lucky symbol to get through this game, oozing with the X Factor!
X Factor Bonus
An exciting new X Factor game, with 9 chances to win! Step into the spotlight and give it a go!
GAME INFORMATION
To start the game, press the 'Play' button located below the stake amount. Once the 'Play' button has been selected the stake is deducted from the current balance and the game starts.
Click each individual item to reveal a symbol or prize. Or press the 'Reveal All' button to reveal all items at once
System malfunction voids all pays and all plays.
This game is a game of chance. The outcome of a play in the game is pre-determined. Actions or choices made by player do not affect the outcome of the game.
The theoretical average return to player (RTP) is 62.52%.
Winning
A win is achieved by:
Game 1: Win a prize by revealing the [icon]. You win the prize for that row.
Game 2: To win, match 3 prize amounts to win one of those amounts.
Game 3: Match 2 symbols in a ROW and win the PRIZE shown. You win the prize for that row.