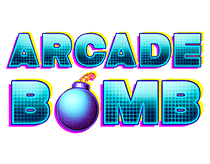 Arcade Bomb
Get some nitro in your spins with the awesome explosive power waiting on the Arcade Bomb slot
Arcade Bomb
GAME INFORMATION
Video slot with 5 reels, 3 rows and 20 pay-lines
Prizes paid for adjacent combinations in any position on a pay-line
Stop in bombs on the grid and these will explode after the countdown expires
Bombs blow up an exploding pattern causing stops to turn into the same symbol
Catch an unexploded bomb in a blast and this will also explode
Chain reaction blasts turn all the impacted stops into the same symbol
Make huge winning combinations with the power of a single reel blast
Top jackpot prize of 250 coins available
Return to player rated at 95.08%
HOW TO PLAY BONUSES
Get charged up and ready to blow your balance wide open on the reels of Arcade Bomb. This red-hot slot combines the very best in old school graphics with a clever mechanism that takes the classic five reel format and explodes it into the next dimension. You'll want to check the fuse as this game offers some reel dynamite in the form of the following features:
Reel Bomb
Stop in a reel bomb on the grid and it will take a number of turns to explode. This is displayed as a big blue number on the bomb. When it explodes it turns all the symbols in a blast pattern into the same symbol. Capture an unexploded bomb in the blast pattern and you'll also blow it up, revealing more symbols.
These huge chain reaction blasts are your key to making the biggest wins on this slot game.
JACKPOT OVERDRIVE
The Jackpot Overdrive is a group of progressive jackpots that increase incrementally each time one of the Jackpot Overdrive slots is played. When one of the progressive jackpots is won, the main prize is reset again to a predetermined value, and resumes increasing as players play one of the Jackpot Overdrive slots.
There are 3 progressive jackpots within the Jackpot Overdrive:
Rapid Jackpot– hits hard and fast
Daily Jackpot– guaranteed to hit before the timer reaches zero
Jumbo Jackpot– for an enormous win!