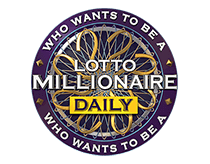 Who Wants to be a Millionaire Lotto Daily
Enjoy all the fun of this exciting television show – without having to answer any of the tricky questions!
Who Wants to be a Millionaire Lotto Daily
GAME INFORMATION
The draw for Who Wants to be a Millionaire Lotto takes place every day and is determined with a Random Number Generator (RNG).
When the draw is ready to begin, bets will close, the countdown will reach zero and the draw video will begin to play.
As the balls come out, any numbers you match will be highlighted.
The winning numbers will be displayed after the draw. If you have won, a message will appear to tell you how much and your prize will be automatically credited to your account.
If you win, you can click "BET AGAIN" to place all your bets again for the next draw. Alternatively, you can click "CHANGE BET" to return to the main screen and amend your bet and choose whether to enter the next draw.
If you do not win, you will then return to the main game page, where you can choose whether to place a bet for the next draw.
Who Wants To Be A Millionaire Lotto has a top prize of £1 MILLION.
To win the jackpot, just match the six main numbers. The probability is 1 in 10,000,000.
Who Wants To Be A Millionaire Lotto results are generated by a verified random number generator, independently audited and by an approved Test House authorised by the Gambling Commission.
Occasionally, the video which displays the draw may suffer from technical issues. If this happens, don't worry! The draw results will not be affected and you will see a message telling you which balls have been drawn and if you have won a prize.
The RTP (return to player) is 63.82%
Lottoland is licensed and regulated by the UK Gambling Commission for customers in Great Britain.