Lotto Winners 23 April 2018
On the Hour, Every Hour
EuroMillionaire GO!: the Game that Never Stops!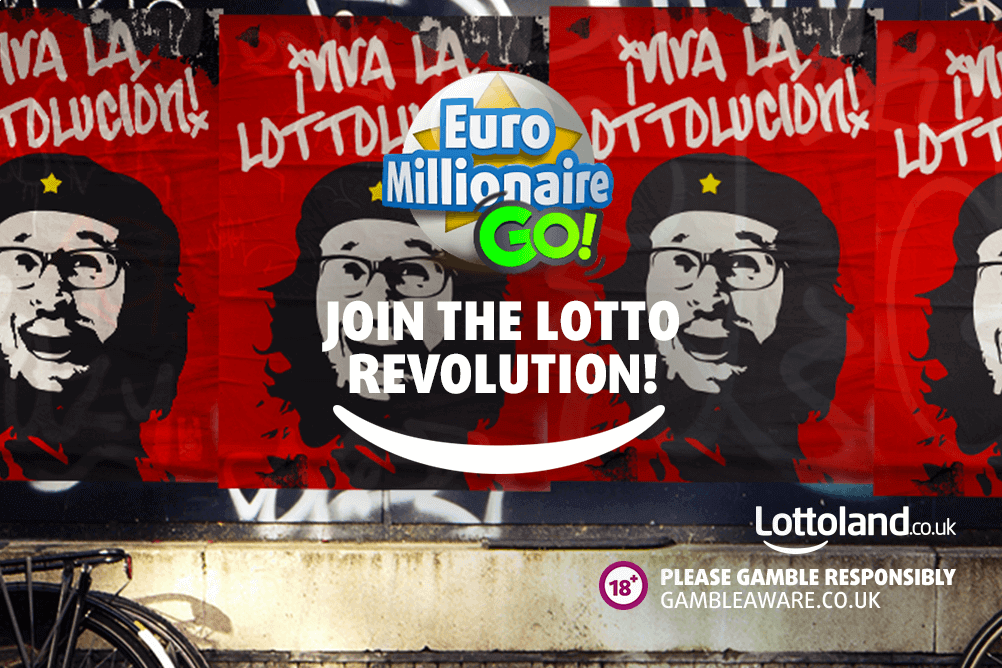 What is EuroMillionaire GO!
EuroMillionaire GO! is the brand new lotto betting product from Lottoland which allows you to try and win the same amount as the multi-million pound jackpots of Euromillions every single hour of the day. Just to make it absolutely clear: EuroMillionaire is not connected in any way with the Euromillions lottery, but it will offer the same jackpots and the same odds of winning those jackpots.
The difference is that EuroMillionaire GO! results are generated every hour, on the hour. And what's more, instead of the 13 to 1 chances of winning a prize from Euromillions, with EuroMillionaire GO! you have a 1 in 2.1 chance of winning a prize! That's because with this amazing new lotto betting product, if you don't get any numbers correct, you win your money back. So if you're one of those people that crumples up your lottery ticket in frustration because you never seem to get any numbers, then this might be just the lotto betting for you!
Euromillions versus EuroMillionaire GO!
EuroMillionaire GO! is a lottery betting product, which is completely separate from the Euromillions lottery. The EuroMillionaire GO! results are generated using a random number generator, and the Euromillions draw is completely unconnected. Just to make things crystal clear, let's take a look at some of the similarities as well as the differences between the two:
EuroMillions vs EuroMillionaire GO!: Similarities
EuroMillions
EuroMillionaire GO!
Format
5 from 50 & 2 from 12 numbers
5 from 50 & 2 from 12 numbers
Odds of Jackpot Win
139,838,160 to 1
139,838,160 to 1
Jackpot
€190 Million Maximum
Always Matches EuroMillions
Cost
£2.50
£2.50
As you can see from the table above, there are a number of similarities between Euromillions and EuroMillionaire GO! However, it is the differences between the two that is the real eye-opener! With hourly draws and your money back if you don't match any numbers, the odds shift in your favour when you go with EuroMillionaire GO!
EuroMillions vs EuroMillionaire GO!: Differences
EuroMillions
EuroMillionaire GO!
Draw Days
Tuesdays & Fridays
On the hour, Every hour
Draw Closing Times
7:30PM
5 Mins before the Hour
Operator
Camelot
Lottoland
Prize for Matching 0 Numbers
Nothing
Money Back
Odds of Any Win
1 in 13
1 in 2.1
Draw Mechanism
Numbers from EuroMillions draw
Numbers from random number generator
Tickets or Lotto Bets
Tickets
Lotto Bets
EuroMillionaire GO! and Lottoland
With Lottoland, we also deliver more than your standard lottery betting experience. That means that when you try EuroMillionaire GO! with Lottoland you are enjoying a unique lotto betting product.
Lottoland is licensed and regulated by the UK Gambling Commission, meaning that we are required to maintain the highest standards of security and quality control. All major jackpots are paid via our insurers, meaning that no matter how big the EuroMillionaire GO! jackpot is or how many times it is won, we won't have a problem paying out to your account. To date Lottoland has already paid out hundreds of millions of pounds globally, and with the great odds of winning a prize from EuroMillionaire GO! we expect to be paying out even more!
---