Lotto Winners 10 July 2017
Second Chance Prize Draw: Music Week
Once-in-a-Lifetime Festivals and Concerts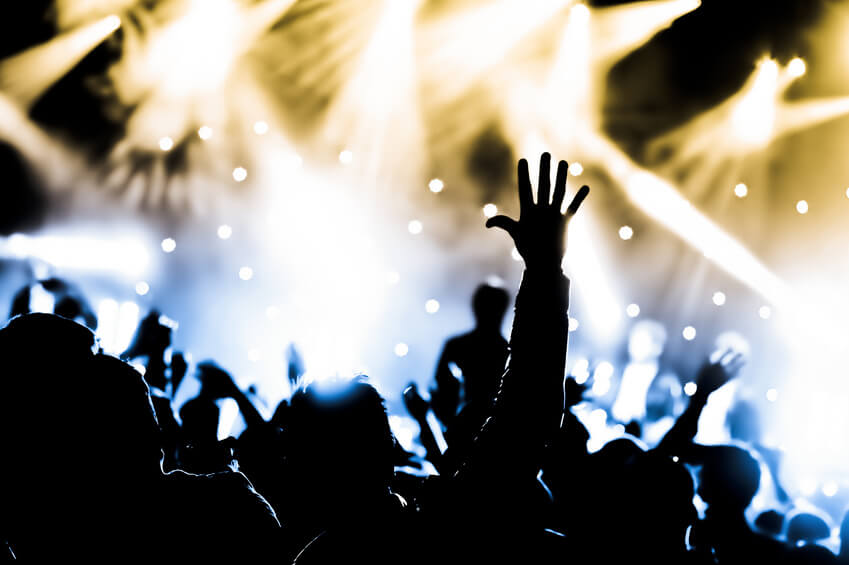 Oasis at Knebworth
If you haven't seen the excellent Supersonic documentary then you should most definitely check it out for a glimpse into the crazy, if short-lived, phenomenon that was Oasis. That film ends with the historic Knebworth concert, where the band played in front of a massive audience when at the peak of their powers. An incredible 2.5 million people applied for the 250,000 tickets available over the two-day concert, making it to this day the greatest demand for any show held in the UK.
Woodstock
It's difficult to make a list of once-in-a-lifetime festivals without mentioning this landmark 1969 concert held in the Catskills, New York. 400,000 people came to a dairy farm in the countryside for a three-day festival that actually went on for four days, which tells you something about the vibe of this gathering. The line-up featured many bands from the Monterey festival mentioned below, but this was really as much about the audience as those on stage, as this festival of 'peace and music' marked the high-point of the Summer of Love.
Monsters of Rock in Moscow
Since 1980 the 'Monsters of Rock' festival has made an annual appearance to show-case some of the biggest rock acts of the day. While the festival has toured all over the world, and featured a who's who of classic rock bands, there has never been an event to match their appearance in Moscow in 1991. Russia had just removed the shackles of Communism, meaning that there was a thirst for western rock music that had built up over years. Metallica, Pantera, AC/DC and The Black Crowes did their stuff in front of a suitably monstrous crowd estimated at up to 1.5 million people.
Monterey Pop Festival
You may not have heard of the Monterey Pop Festival, but this three-day gathering in 1967 is credited by many as heralding the start of the famous 'Summer of Love'. The California concert featured the first appearance of the Jimi Hendrix Experience in the US, and their performance was a revelation to the American crowd, even though the band had become famous in the UK prior to this. Other famous names like Jefferson Airplane, The Who, Otis Redding and the Grateful Dead made up a stellar bill.
Live Aid/Live 8
Live Aid was a charity concert organised by singers Bob Geldof and Midge Ure which was unprecedented in its scale. About 70,000 attended the UK concert, with a further 100,000 going to the US version of the concert in Philadelphia on the same day. Acts like U2, Queen Elton John and Bowie headlined in Britain, with Bob Dylan, Led Zeppelin and Mick Jagger featuring on the American bill. Live 8 took place in 2005 on the 20 year anniversary of the original concert. This was a string of concerts held around the world with the intention of 'Making Poverty History', and it featured an equally impressive line-up of artists.
Unfortunately, there won't be any second chance to catch the unique concerts listed above, but you can make your own memories with Lottoland's Second Chance Prize Draw. This week is Music Week, so read on to find out more about the amazing prizes on offer this time around.

Second Chance Prize Draw: How it Works
- Place a bet on one of these lotteries between the 3rd and 31st of July:
- PowerBall; MegaMillions; Irish Lottery; French Lotto; EuroJackpot; Cash4Life or SuperEnalotto.
- Every losing bet you make on any of these will give you one entry to the weekly Prize Draw. You don't have to do anything, you will be entered automatically.
- We randomly select three major prize winners, and everybody else will receive a lottery-related prize, with only one prize per person, per week.
- You will be notified by email to tell you what you have won. Click here for full information on the draw including prizes and T&Cs.
This Week's Prizes: Music Week
1st Prize: The Ultimate VIP Summer Festival
One of the largest festivals in Europe, Szigetx, takes place every August on the 'Island of Freedom' in the centre of the River Danube in Budapest. Now you can experience one of the best summer music festivals in Europe with thanks to Lottoland, as we're sending you and a friend for the entire weeklong festival including VIP accommodation.
2nd Prize: Any Gig, Any City, Anywhere in Europe
We'll provide the flights, the hotel, the concert tickets, the transfers and the travel insurance but just which artist you see and in which country you see them is completely your choice. You've got the selection of over 25 nations and every artist you can imagine so get deciding. Any gig, any city, anywhere in Europe for you and a friend, all thanks to Lottoland.
3rd Prize: Music Tech Upgrade
We'll send you the latest in music technology - the Sonos Play:5 wireless speaker, the Sonos SUB Subwoofer and a 12-month subscription to Spotify Premium. Wirelessly stream any tune you fancy to any room in your house in crystal clear quality standard with this amazing technology.
Runner-Up Prizes
Everybody else who enters the Second Chance Prize Draw will receive one lottery or scratch-card prize. There are no losers, only winners!
Bet on one of our selected lotteries this week, and even if you don't win the lottery jackpot you will still win a guaranteed prize from our Second Chance Prize Draw.
---