News & Stories 25 September 2017
Become a EuroMillions Expert!
The A to Z of the EuroMillions Superdraw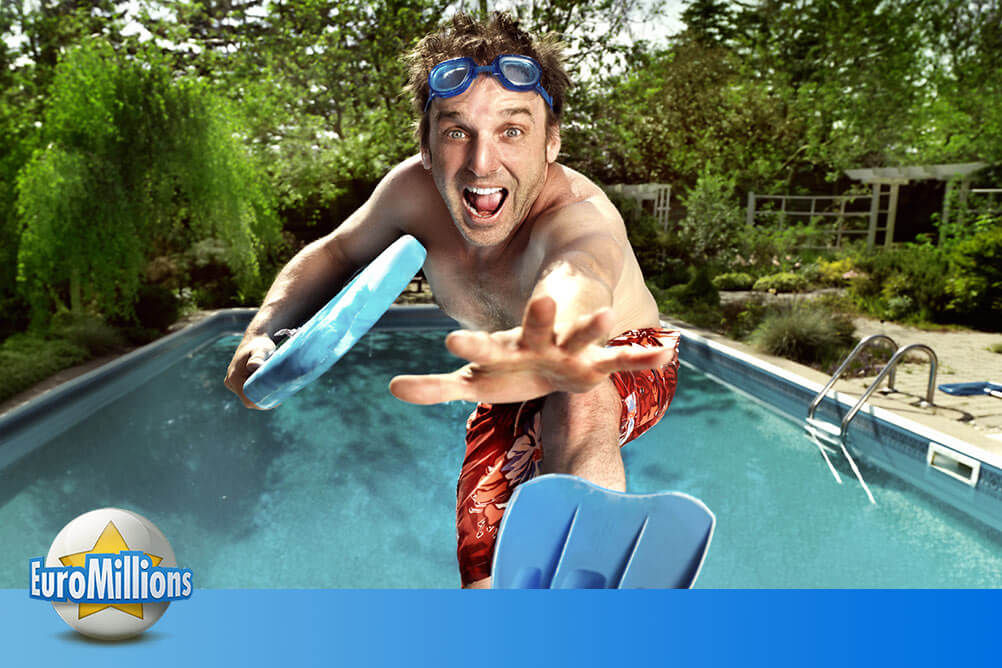 I doubt that there is a person anywhere in the land who is unfamiliar with the EuroMillions lottery. This lottery is both the most popular and also, (not coincidentally!), one of the largest international lotteries in Europe. To bet all you need to do is to choose 5 out of 50 numbers and 2 from 12 stars, and its main selling point is the regular huge rollover jackpots and the fact that it has already paid out hundreds of millions in prize money. However, EuroMillions still has one more ace up its sleeve in the form of the Superdraw which boosts the jackpot to even higher levels!
What is the EuroMillions Superdraw?
Are you wondering why EuroMillions Superdraws are so unique? The answer is simple! They simply offer much higher wins than traditional draws. 'How is it possible?', you ask. Well, let's take a closer look.
Every year EuroMillions lottery organizers announce special Superdraws in which the main prize pool is determined in advance, and which usually ranges from 100 to 130 million euros. Unlike traditional draws, such a high amount is not because a jackpot has rolled over a number of times, but instead comes from a special fund set up by the management of EuroMillions. In this way, even if someone hits the jackpot in a draw prior to EuroMillions Superdraw, then in the Superdraw instead of going back down to 15 million euros we will still have a guaranteed 100 million jackpot!
How often do EuroMillions Superdraws take place?
The first EuroMillions Superdraw was held on February 9, 2007 and since then 21 further draws have been conducted. Every year since then, the organizers of the EuroMillions lottery have advertised 1 to 3 such events. However, it is never known in advance how many draws will be carried out in a given year, as representatives of EuroMillions only announce the next draw to take place, and even then only give a couple of months' notice. No wonder they are one of the most anticipated draws of the year. Keep an eye on these pages as we always give you plenty of notice as to when the next draw is going to take place. The most recent Superdraw took place on Friday the 15th of September in 2017.
What happens when no one wins the Superdraw?
Many people wonder what happens if no one wins the main prize in a Superdraw. Well, we have good news for you, because in such a situation the jackpot just rolls over to the next draw!
According to the rules of EuroMillions, the main prize pool can grow to a maximum of 190 million euros. However, if anybody fails to hit all the winning numbers in four successive draws, then the main prize pool will be added to the lower category wins that have been won by at least 1 winner. As a result, it gives everybody a unique opportunity to win a fortune, even if they have not hit all the lucky numbers!
Superdraws offer record wins!
EuroMillions Superdraws are already 9 years old and even in such a short period of time they have managed to produce dozens of winners. So far the highest win in the history of these draws was that of a Portuguese ticket-holder who, on October 24, 2014, was the only one to pick all the winning numbers, thus making him better off to the tune of 190 million euros. We don't know a whole lot more about this fortunate gent because he chose to remain anonymous, as any EuroMillions winner can choose to do.
Let's find out how to place the 10 biggest winners in EuroMillions Superdraws!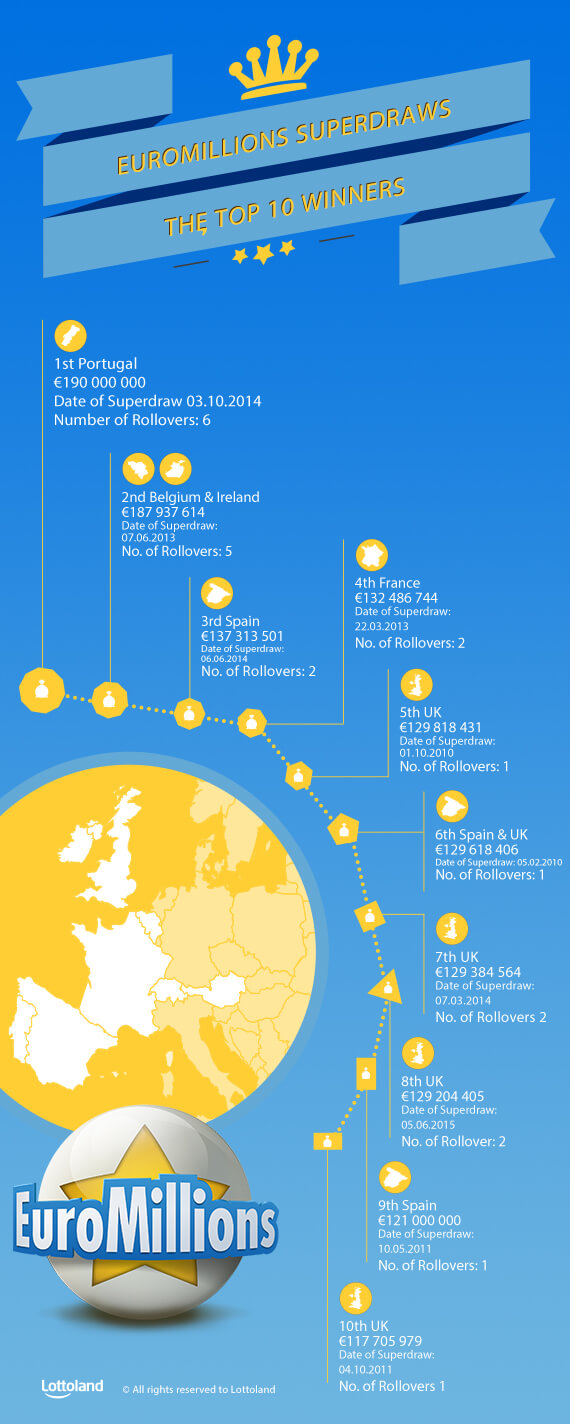 When will the next Special EuroMillions draw be?
In the chart below, you can easily see where the most recent EuroMillions Superdraws have been organized by month. This should give you some idea as to when future draws are likely to take place.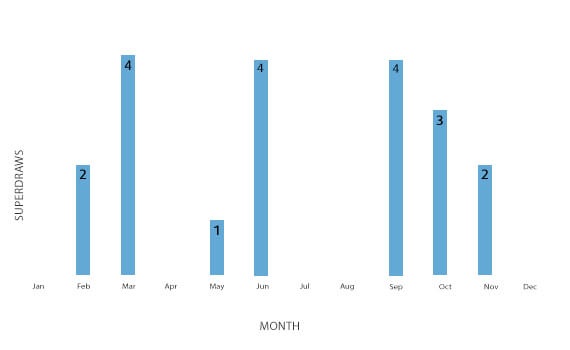 So when will the next such draw take place? EuroMillions organizers have announced that the next and also the first of this year's Superdraw will be held on Friday, September 15th. The guaranteed prize pool for the first stage will amount to 130 million euros, which is even larger than the normal €100 million Superdraw prize!
At Lottoland we offer Double Jackpots!
Would you like to bet on sums equivalent to the EuroMillions Superdraw today? Nothing is impossible at Lottoland! Especially for our users, we have created an additional option that doubles the main jackpot. Just tick it to bet for twice as much as the current jackpot available on a given lottery! See for yourself and make your bets online now.
We remind you that EuroMillions draws take place every Tuesday and Friday in Paris at 19:45 UK time. Currently the Euromillions Jackpot stands at £22 million and you can go to place your bet at https://www.lottoland.co.uk/euromillions.
Sources:
en.wikipedia.org/wiki/EuroMillions
euromillions.online.com
---