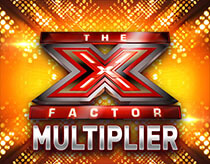 X Factor 7x7
Pick 7 symbols and complete lines to win prizes! Any line in any direction is a winner! Get involved in X Factor 7x7 and see if you can make it big!
X Factor 7x7
GAME INFORMATION
To start the game, press the 'Play' button located below the stake amount Once the 'Play' button has been selected the stake is deducted from the current balance and the game starts.
How to play
Pick 7 spots from the 12 spots.
Pressing the 'Auto' button will randomly select any of your remaining picks.
After picking a spot a symbol is revealed. All matching symbols on the 7x7 grid will then highlight.
Winning
A win is achieved by:
Highlighting all the symbols on a horizontal, vertical or diagonal line on the 7x7 grid. You win the prize shown for that line.
The theoretical average return to player (RTP) is 62.14%