winners 01 January 2014
Win Instantly With Lottoland
Best Scratchcards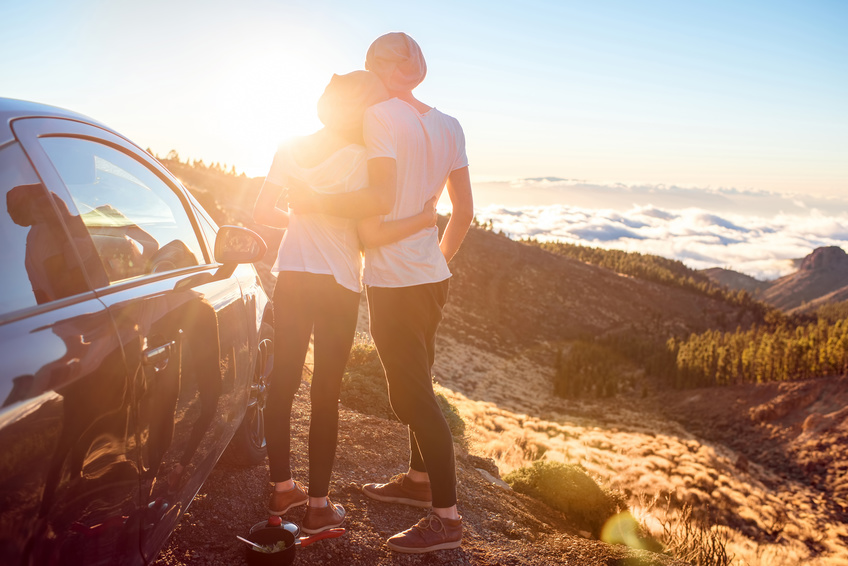 Chris Tarrant's Millions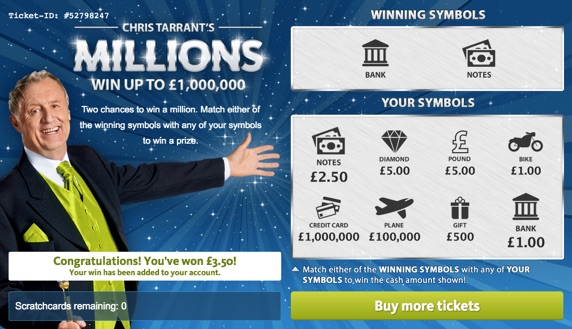 Our biggest and most popular scratchcard is Chris Tarrant Millions, which has a whopping 25 different prize tiers and winnings ranging from £1 to a cool £1 million. After all, you wouldn't expect the former host of Who Wants to Be a Millionaire to give away anything less than a million-pound jackpot would you?
To win simply match your symbols with the winning ones shown on the card.
A single card is £5, however players can make a 10% saving if they buy 5 cards in one go, or a 20% saving if they purchase 10, a great saving for scratchcard lovers.
In total 10,000,000 scratchcards are released at a time, meaning there is a 1:10,000,000 chance of becoming a millionaire with the Chris Tarrant's Millions scratchcard, compared to the 1:45,000,000 of becoming a millionaire with the UK Lotto.
33Chances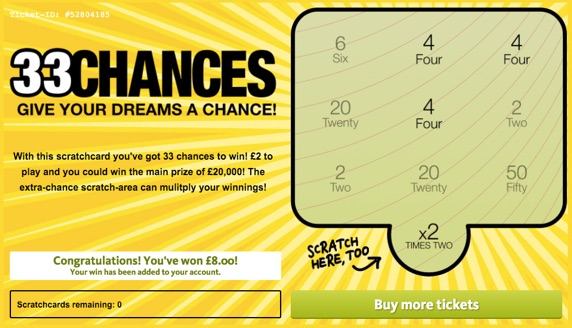 33Chances does exactly what it says on the tin, giving you 33 chances to win a prize. Tickets are £2 a go, but an 8% discount can be made when buying a set of 5, or a 10% discount for a set of 10.
To win all you need to do is reveal 3 winning numbers from the 9 available. However, that isn't all, in the extra chance area players can increase their winnings but up to 10 times.
As shown in the image above, the player revealed a winning set of fours, as well as times two extra chance, giving them an £8 payout.
With 20 different prize tiers, potential winnings range from £2 to £20,000. With 1,000,000 33Chances scratchcards released at a time, the odds on scooping that 20k prize are 1:1,000,000.
£100,000 Cash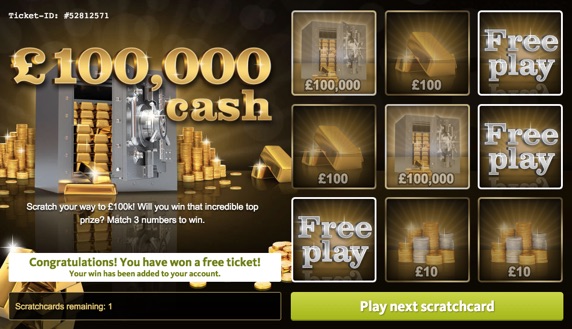 With 10 different prize tiers, a potential £100k cash jackpot and just £1 to enter, there is a total of £1.8 million up for grabs.
Simply match 3 numbers from a possible 9 to win a prize, with the lowest being a free play and the jackpot £100,000.
Instant Millionaire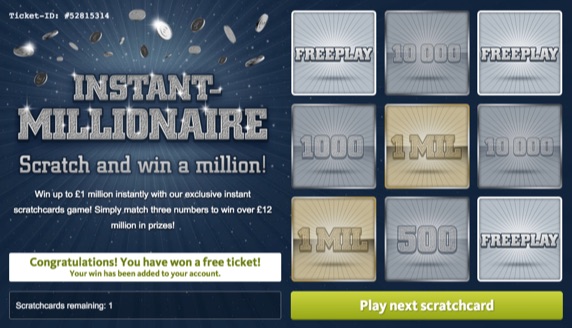 Much like the £100,000 cash scratchcard, Instant Millionaire has 10 prize tiers, with winners matching 3 symbols from a possible 9.
Where it differs is the potential winnings, with the jackpot standing at a whopping £1 million. Each card is £4, although players can pick up 5 for £18, or 10 for £32, which is a whopping 20%.
Full Bloom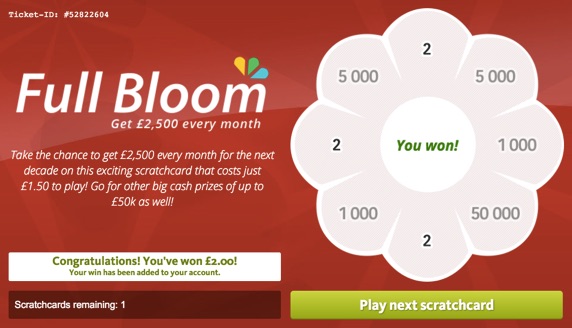 If you want to try a totally different type of scratchcard, Full Bloom is the one for you. Instead of a one-time payout, the top prize tier for his one is £2,500 a month, for a decade. With a guaranteed income of £30,000 a year, you'd be earning more than the UK average, without the daily grind.
That's not all, the two 2nd tier prizes are a £50,000 payout, while prize tier 10 gives players a free play.
Each card is just £1.50, but as usual there is a discount for multi-buys. Save 8% with 5, and 10% when you buy 10.
10 Lucky Years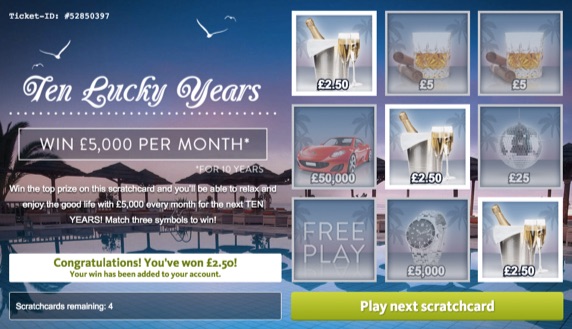 If you thought Full Bloom was good, wait until you see this one. Priced a £2 per card, the jackpot prize is £5,000 a month for a decade. That's double the potential winnings for an extra 50 pence per scratchcard.
The second and last tiers are the same as Full Bloom however, with 2x 50k pay-out for the 2nd prize, and a free play for the final one.
The multibuy discount is 8% for 5 and 10% for 10 scratchcards.
Raid The Piggy Bank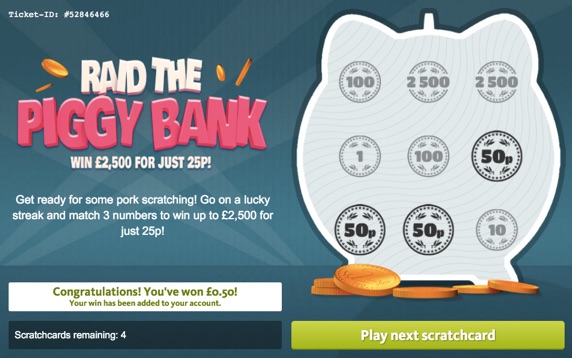 You'll be happy as a pig in something with this great little scratchcard. For just £1.25 for five goes, players can walk away with an instant £2,500 prize.
In total there are 10 different prize tiers start at a 10p win to the £2.5k jackpot.
As with all our scratchcards we give a discount when you buy more, so 10 cards will cost £2.25, while a whopping 25 will be £5.50, which is a 12% discount.
An ideal game for a quick play with some pocket change.
Fruity Flurry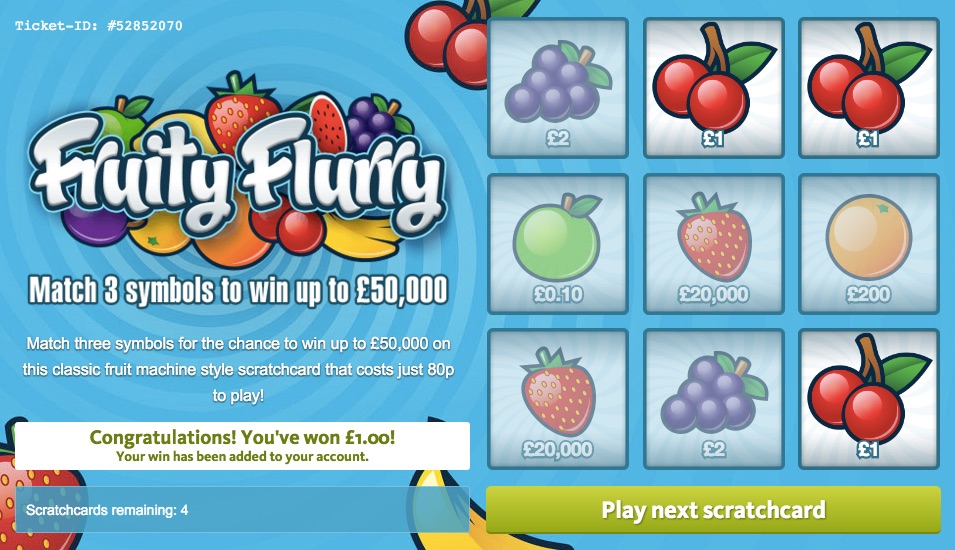 You don't need 5 a-day with this one, just 3 matching icons and you're banking one of 11 different prizes, ranging from 10p to a jackpot of £50,000.
Games are 80p a go, with a 5% discount on 5 games, and a 10% discount on 10. Regular Fruity Flurry players would be wise to take advantage of this deal whenever possible.
777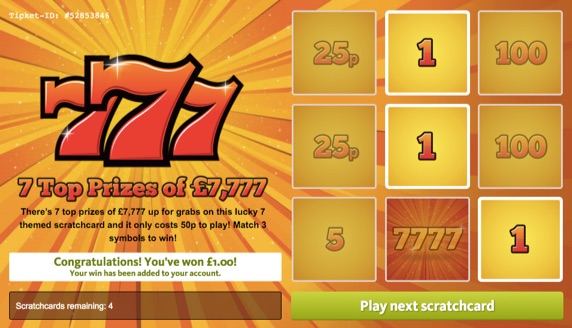 No surprises what the jackpot is with this card. For every batch of 1,000,000 cards, there are 7 lucky tickets with a £7,777 prize.
777 offers Lottoland's cheapest one time play, with a single card costing just 50p. With 8 different prize tiers, ranging from 25p to the big £7,777 prize there are loads of ways to be a winner with this one.
If instant wins are your thing, or you want to experience a different thrill from your regular lottery bets, make sure to check out our scratchcards page and get full access to our every increasing selection of cards.
---