News & Stories 04 July 2017
Choose a Porsche Carrera or Cash
Thrills or Bills: Which Would You Choose?
The expression 'Sophie's Choice' is defined as being a situation where you have to make an almost impossible decision when faced with two terrible alternatives. It's probably fair to say that although choosing between a Porsche 911 Carrera and a stack of cash is a tricky decision, it is pretty much the opposite of Sophie's Choice.
Harshd from London bought a £5 DreamCar scratch-card from Lottoland where the top prize on offer was a Porsche 911 Carrera and £25,000 in cash. The good news is that after scratching the virtual card he revealed three car symbols, meaning that he had won the top prize! Originally our lucky winner planned to take the cash equivalent of the prize rather than the car plus money. However, we had something planned which might just have changed his mind. Check out our video to see what happened...
There are three DreamCar scratchcards available at Lottoland, each offering a fantastic top prize as well as hundreds of thousands of cash prizes. The VW Golf TSI Scratchcard offers the Volkswagen plus £5,000 in cash as a top prize, with one game costing just £2.50. We've heard about the Porsche 911 Carrera game, where besides the jackpot there are cash prizes on offer ranging in value from £2 to £35. There are also 10% and 15% discounts on offer for these cards if you decide to buy 5 or 10 games respectively. Finally we've got the Big One: the Ferrari 488 GTB DreamCar scratch-card, where the top prize is that awesome car plus a massive £50K in cash. Of course, like our previous UK winner you'll always have the option to take the cash equivalent of the top prizes rather than the cars themselves. Just think carefully before you make your final decision!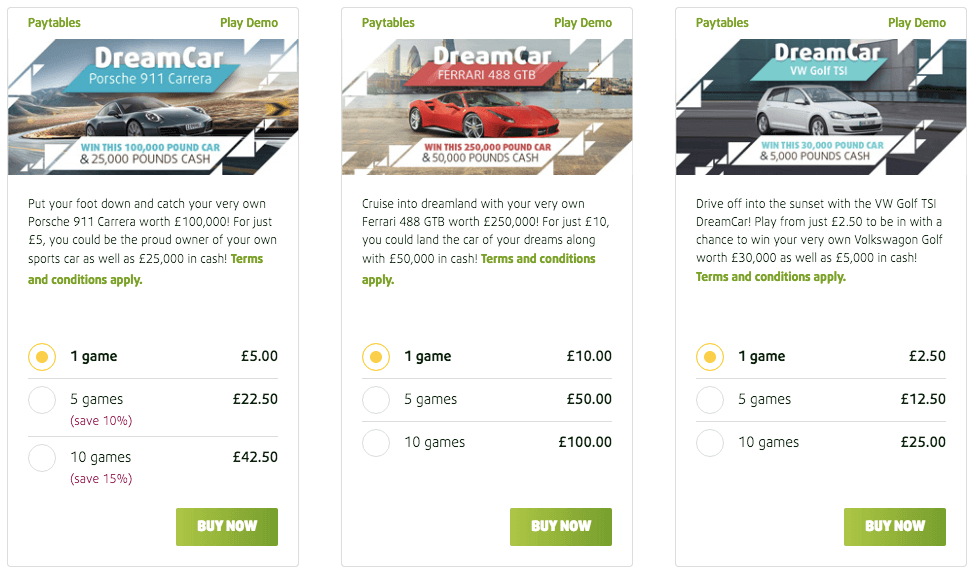 ---