05 January 2016
Your Bet Could Bank £460 Million On January 6th
The Annual El Niño Lottery
Say hello to the world's biggest little lottery, El Niño. In Spanish the name El Niño translates as "the child", though this lottery is no baby. Rather it's the smaller sibling of the world's biggest lottery, the Spanish Christmas lottery, commonly known as El Gordo. And, just like its big brother, El Niño offers a huge prize pool, lots of ways to win and incredible jackpot odds.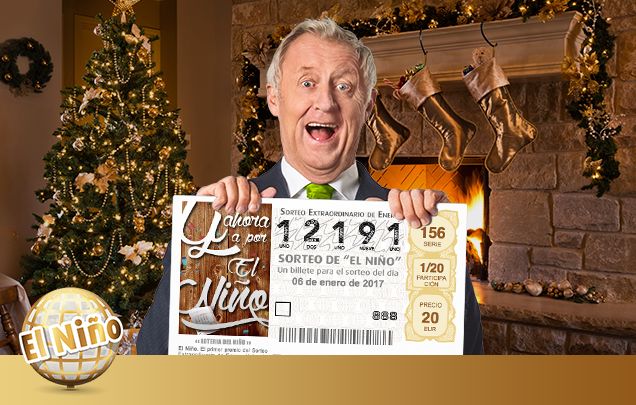 The Spanish Christmas lottery, held every December 22nd since 1812, is world-famous for its unmatched generosity and winning odds. This year was no exception with lots of lucky wins throughout Spain and beyond, including one lucky Lottoland player winning just under £3 million!
And, if all that's not enough, Spaniards get another chance at riches on the far end of Christmas, with the drawing of the January 6th El Niño lottery. Indeed it's quite common for Spaniards who have won small amounts on the Christmas Lottery to "re-invest" their winnings in a bid to win even bigger prizes with El Niño. So, if you're kicking yourself for missing your chance at El Gordo you definitely don't want to miss your chance to win big with El Niño!
Your Final Chance For A Christmas Miracle
January 6th is officially the end of Christmas, but thankfully you've got one last chance for a miraculous win until El Gordo rolls around again in December. With a prize pool of £458 million, over 37,000 ways to win and odds of just 100,000:1 of winning one of several top prizes worth £1.45 million.
Like it's bigger brother, the Spanish Christmas lottery, El Niño is a one-off, raffle style event with ticket numbers sold in multiple series. Numbers range from 00000 to 99999. While Spaniards are known for driving miles to buy tickets with specific lucky numbers, at Lottoland you can select whichever number you want in seconds on our custom betslip.
Remember that, like the Christmas lottery, people rarely buy full tickets and instead pool together with family and friends. With Lottoland have the option to buy either a full bet line, or portions of a bet line for as little as 1/100th share betslips. The smaller the share the smaller the fraction of your overall win. Buying a full betting line, meanwhile, will guarantee the full prize amount.
Full bets may cost be more than you're accustomed to but always keep in mind that, rather than odds measured in tens or hundreds of millions to one, such as EuroMillions, El Niño's jackpot odds are a mere 100,000:1.
It's easy to beat these odds, indeed chances are you've beaten them several times during your lifetime. If you live in a town or small city chances are you've experienced the phenomenon whereby somebody pops into your mind and then, shortly after, you meet them in person on the street. Happened me only a few weeks ago when I was Christmas shopping. These are the same, simple odds that could make you £1.45 million richer.
And that's for the main prize only – overall El Niño gives you very low odds, making it a very low-risk, high-paying lottery betting jackpot.
So, to start your 2016 rich bet on the results of El Niño! But hurry, there's only a matter of hours now before the closing time, and you'll have to wait more than 11 months before anything like this comes round again!