Lottery 26 October 2023
The Undisputed Heavyweight Jackpot Champions
Record Lottery Jackpots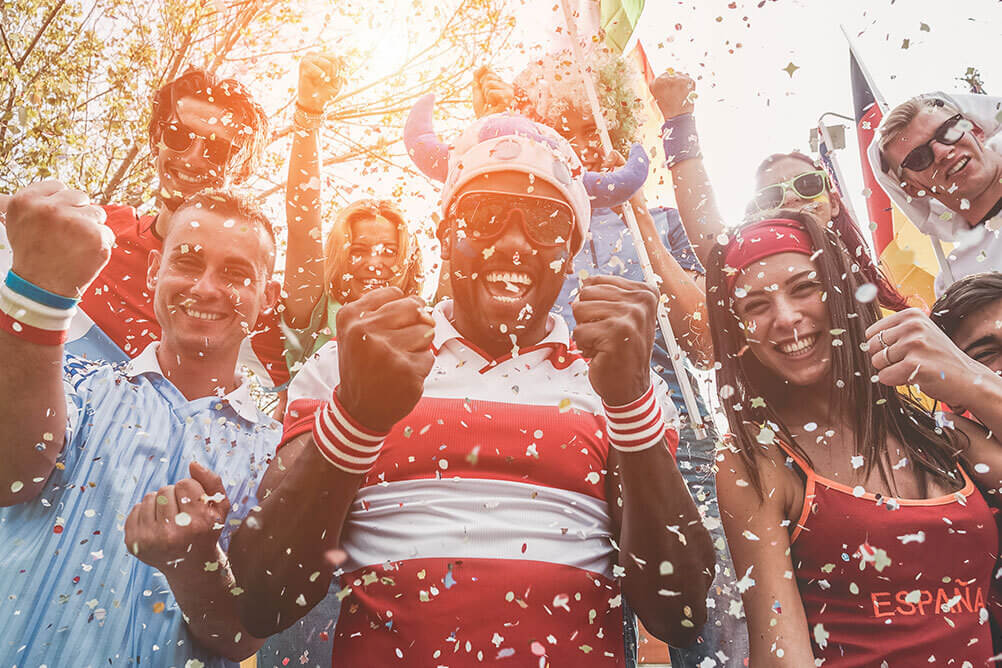 Table of contents:
It all comes down to this, a trans-Atlantic grudge fight – Europe versus the USA. We've got some hard-hitting jackpots, heavy-duty all-rounders, one seriously steel-jawed lotto from Italy and, to round off this gladiatorial deathmatch, we have The Spaniard – a real tough hombre that's so enormous he can easily grapple with all the other contenders at the same time.
Before taking a closer look at each lottery, here's a table with the record jackpots of each lottery:
Record lottery jackpots
Lottery
Record Jackpot
Powerball
$2.040 billion
Mega Millions
$1.602 billion
SuperEnalotto
€371 million
EuroMillions
€230 million
EuroJackpot
€120 million
El Gordo
€4 million
So, who will come out on top? Well, as a referee the ultimate decision lies on you. Just remember, it's not just about the high jackpots, you'll also be judging on additional prize tiers and winning odds!
POWERBALL: CURRENT RECORD JACKPOT HOLDER
Powerball became the first lottery in history to top the billion mark. The world record for the largest lottery single ticket winner took place on the 8th of November 2022, winning a whopping $2.040 billion making this the biggest single ticket win! The winning numbers were 10, 33, 41, 47, 56 and the Powerball was 10.
The Californian winner Edwin Castro did not reveal any further information about himself apart from his name. However, we do know that the winning ticket was bought at Joe's Service Center in Altadena, California. For selling the winning ticket, business owner Joe Chahayed will receive a bonus prize from Powerball of $1 million.
This current Powerball and world lottery record jackpot is $275 million larger than the previous Powerball record jackpot which took place on the 11th of October 2023. The jackpot was worth $1.765 billion and was won by a single ticket holder from California. This jackpot ranks as the second biggest Jackpot in history.
When we announced the changes to Powerball that came in October 2015 we rightly predicted that Powerball would come out on top. What we couldn't have done, however, is predict how fast, and how dramatically, the lottery would do so! Seems like it's more than ready to fight the runner-up…
Record Jackpot: $2.040 billion (approx. £1.79 billion)
Jackpot Odds: 1 in 292,201,338
Overall Prize Odds: 1 in 25
Prize Tiers: 9
Tier 1 winning bets on PowerBall are paid out as 30 year annuity or discounted lump sum at Lottoland's election, and Tiers 1 – 3 also subject to 38% reduction as per T&C's.
MEGAMILLIONS: GUNNING FOR REVENGE
Introducing Mega Millions, the former LLWC Jackpot Heavyweight Championship holder. This towering juggernaut enjoys the prestige of having the world's second biggest record jackpot and the second biggest single ticket win.
Mega Millions used to have the top spot too, until it was knocked out in dramatic style, when Powerball took the title in January 2016. The record jackpot for Mega Millions is $1.602 billion on the 8th of August 2023 with a cash value of $794.2 million. Although the winner decided to remain anonymous, we do know that the single winning ticket was bought in Florida and that the winning numbers were 13, 19, 20, 32 & 33 with the Mega Ball 14.
Record Jackpot: $1.602 billion (approx. £1.253 million)
Jackpot Odds: 1 in 302,575,350
Overall Prize Odds: 1 in 24
Prize Tiers: 9
Tier 1 winning bets on MegaMillions are paid out as 30 year annuity or discounted lump sum at Lottoland's election, and Tiers 1 – 3 also subject to 38% reduction as per T&C's.
EUROMILLIONS: LEADING EUROPE'S JACKPOTS
Born in 2004, Europe's biggest lottery is truly transnational.
On 8th July 2022, the EuroMillions jackpot cap reached a massive €230 million! As a result, the current EuroMillions jackpot cap is now at a whopping €240 million. On the 19th of July 2022, the record-breaking €230 million jackpot was won by an individual from the UK. The winning numbers were 6, 23, 27, 40 & 41 and the Lucky Stars numbers were 2 and 12.
The previous EuroMillions record jackpot took place on October 15th, 2021 when a young woman from the Polynesian island of Tahiti won an astonishing €220 million! Although located almost 10,000 miles away from France, EuroMillions is open to residents of Tahiti as it is part of French Polynesia.
Lottoland offers Millionaire which has the same structure and winning odds as EuroMillions, so why not give it a go!
Record Jackpot: €230 Million (approx. £195 million)
Jackpot Odds: 1 in 139,838,160
Overall Prize Odds: 1 in 13
Prize Tiers: 13
EUROJACKPOT: THE VIKING WARRIOR
From the icy north comes EuroJackpot, another popular trans-European lottery eager to claim the European jackpot title for himself with jackpots that start at €10,000,000 and can roll over up to €120,000,000. EuroJackpot is particularly popular in Germany and Scandinavia, where the majority of his supporters reside. EuroJackpot's fan base is also continuing to grow, and month after month, he continues to gain some serious muscle.
Even better news as from the 25th February 2022, this lottery gained a new jackpot cap of €120 million! The biggest ever EuroJackpot winner was made on 8th November 2022 winning the jackpot cap of €120 million! The winner is from Berlin, Germany and the winning numbers were 15, 17, 23, 35 & 38 and the Euro Numbers were 4 and 9.
Record Jackpot: €120,000,000 (approx. £105 million)
Jackpot Odds: 1 in 139,838,160
Overall Prize Odds: 1 in 32
Prize Tiers: 12
LARGEST ONLINE LOTTERY WIN
In the summer of 2018, with just her second-ever Lottoland bet, 36-year-old cleaner Christina won an incredible €90 million (£79 million) jackpot betting on the outcome of EuroJackpot which made it to the record books!
Although less well-known in the UK, EuroJackpot is Europe's second most popular lottery draw and takes place every Friday night in Helsinki.
Choosing 5 numbers from 1-50 and 2 further numbers from 1-10, Christina won the lotto's maximum jackpot after effortlessly placing a bet on her phone. Little did she know that she would soon be winning the world's largest-ever payout for a bet made online. Read more about Christina's record win at Lottoland!
SUPERENALOTTO: THE ITALIAN STALLION
Standing proud and defiantly independent we have the Italian lottery, SuperEnalotto. This Italian Stallion enjoys the distinction of having the largest jackpots of any national lottery in the world. He's also the world's toughest lotto, more than any other lottery the odds are really stacked against you. So be careful, stepping into the ring with him is not for lightweights! But for those who have the courage, the potential rewards are huge.
On Thursday 16th February 2023, history was made when one lottery ticket hit the magical combination of 1, 38, 47, 52 56 and 66 hitting the SuperEnalotto record jackpot of €371 million! The lucky winner had purchased a 'board of systems' from Sisal that included 90 shares sold nationwide! With the Jolly being 72 and SuperStar 23 also adding to their luck.
The current record jackpot of €371 million far exceeds the trans-national lottery EuroJackpot and the European EuroMillions jackpot. The Italian lottery, therefore, remains a great option to bet on due to its enormous prizes!
Record Jackpot: €371 million (approx. £328.8 million)
Jackpot Odds: 1 in 622,614,630
Overall Prize Odds: 1 in 327
Prize Tiers: 6
EL GORDO: THE BIGGEST HEAVYWEIGHT LOTTERY IN THE WORLD
In terms of prize payouts, Spain's gargantuan El Gordo Christmas Lottery is the reigning champion with an annual prize pool worth billions. Since 1812, El Gordo has been delighting Spaniards and enchanting lottery fans around the world. In 2021, El Gordo paid out a total of £2.1 billion in prizes – which, I think you'll agree, is a staggering amount of money. And it gets even better! This year the prize pool has increased to an astonishing €2.5 billion (£2.2 billion)!
The reason for El Gordo's immense size is simple – Spaniards go absolutely loco for this lottery each Christmas. Indeed, you'll be hard-pressed to find a person in Spain who doesn't enter El Gordo at Christmas time. The 22nd December draw of the Spanish Christmas Lottery, or Sorteo Extraordinario de Navidad, is like a national event. Spaniards stay glued to their screens awaiting the announcement of "El Gordo" or "the fat one" – the biggest prize of them all.
Unlike the other contestants in this event, El Gordo is a raffle, rather than a lotto. Tickets for the main draw (or betslips at Lottoland) are printed in series of 180 so many people will end up with the same numbers. Also, a full ticket costs £249.99 and consists of multiple "tenths" which is why friends and family members tend to form mini syndicates where the price of a full ticket, and any subsequent wins, are equally split.
Of course, the El Gordo Christmas lottery, like Christmas itself, only comes once a year!
Max Prize Pool: €2.5 billion (£2.2 billion)
El Gordo Total Prize: €720 million (approx. £631 million)
El Gordo Individual Prize: €4 million (approx. £3.67 million)
Jackpot Odds: 1 in 100,000
Prize Tiers: 17
STEP INSIDE THE RING
So, have you got what it takes to go up against the biggest lotteries in the world? The odds may be stacked against you but the rewards if you win are astronomical. Don't forget every week underdog contenders take on these lottery titans and achieve the seemingly impossible - so touch gloves, return to your corner, and at the sound of the bell pick your winning numbers! DING! DING!
Last updated: 26th October 2023
---