News & Stories 29 January 2016
The Undisputed Heavyweight Jackpot Champions
Record Lottery Jackpots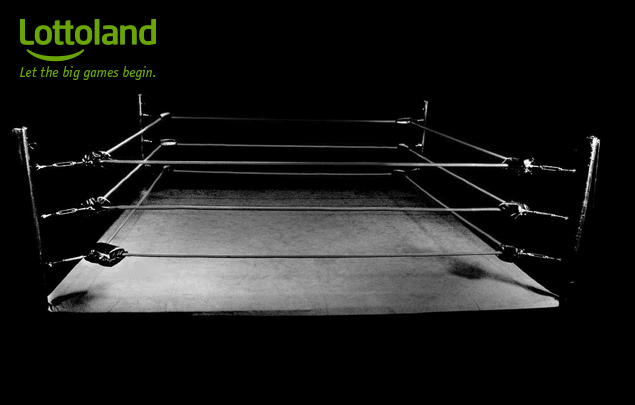 It's all come down to this, a trans-Atlantic grudge fight – Europe versus the USA. We've got some hard-hitting jackpots, heavy-duty all-rounders, one seriously steel-jawed lotto from Italy and, to round off this gladiatorial death match, we have The Spaniard – a real tough hombre that's so enormous he can easily grapple with all the other contenders at the same time.
So, who will come out on top? Well, as referee the ultimate decision lies with you. Just remember it's not just about the high jackpots, you'll also be judging on additional prize tiers and winning odds!
PowerBall: Current Record Jackpot Holder
He's got the Power, and he's got plenty of... determination. This all-American beefcake muscled his way to the top only recently, beating MegaMillions to become the world record holder for the world's biggest ever jackpot.
On January 13th, 2016, PowerBall became the first lottery in history to top the billion mark. The final jackpot was worth $1.58 million, or £1.019 billion. It ended up being split between three winning tickets, from Florida, California and Tennesse.
Besides its claim to the world's biggest ever jackpot, PowerBall also holds the distinction of supplying the world's biggest single-winner jackpot, worth $590.5 million, or approximately £413.5 million, back in May 2013.
Indeed PowerBall is all about record jackpots. It takes seven spots out of the top ten (the other three going to MegaMillions) and 15 out of the top 25 wins of all time (again the other ten wins are from MegaMillions, or its immediate predecessor, The Big Game.)
When we announced the changes to PowerBall that came in October 2015 we rightly predicted that PowerBall would come out on top. What we couldn't have done, however, is predict how fast, and how dramatically, the lottery would do so!
Record Jackpot: $1.58 billion (approx. £1.019 billion)
Jackpot Odds: 292,201,338:1
Overall Prize Odds: 26:1
Prize Tiers: 9
MegaMillions: Gunning For Revenge
Introducing MegaMillions, the former LLWC Jackpot Heavyweight Championship holder. This towering juggernaut enjoys the prestige of having the world's second and third highest lottery jackpots of all time – $656 and $648 million respectively. It used to have the top spot too, until quite recently. It was knocked out in dramatic style, however, in January 2016, when PowerBall took the title. This contender, therefore, is looking for some serious payback!
Record Jackpot: $656 million USD (approx. £419.5 million)
Jackpot Odds: 258,890,850:1
Overall Prize Odds: 14.7:1
Prize Tiers: 9
EuroJackpot: The Viking Warrior
From the icy north comes EuroJackpot, another popular trans-European lottery eager to claim the European jackpot title for himself. EuroJackpot is particularly popular in Germany and Scandinavia, where the majority of his supporters reside. EuroJackpot's fan base is also continuing to grow, and month after month, he continues to gain some serious muscle. Indeed it looks like this younger upstart could well eclipse his longer-running rival in the years to come as he continues to smash his own records, which was recently reset at €90 million.
Record Jackpot: €90 million (approx. £63.5 million)
Jackpot Odds: 95,344,200:1
Overall Prize Odds: 12:1
Prize Tiers: 12
SuperEnalotto: The Italian Stallion
Standing proud and defiantly independent we have the Italian Lottery, SuperEnalotto. This Italian Stallion enjoys the distinction of having the largest jackpots of any national lottery in the world. He's also the world's toughest lotto, more than any other lottery the odds are really stacked against you. So be careful, stepping into the ring with him is not for lightweights! But for those who have the courage the potential rewards are huge. The current record jackpot of €147.8 million far exceeds trans-national lottery EuroJackpot and, in all of Europe, no other national lottery can go toe to toe with him in terms of the top jackpot prize.
Record Jackpot: €147.8 million (approx. £104.8 million )
Jackpot Odds: 622,614,630:1
Overall Prize Odds: 318:1
Prize Tiers: 5
El Gordo: The Biggest Heavyweight Lottery In The World
In terms of prize payouts Spain's gargantuan El Gordo Christmas Lottery is the reigning champion with an annual prize pool worth billions. Since 1812 El Gordo has been delighting Spaniards and enchanting lottery fans the world over. In 2015 El Gordo paid out a total of £1.6 billion in prizes – which, I think you'll agree, is a staggering amount of money.
The reason for El Gordo's immense size is simple – Spaniards go absolutely loco for this lottery each Christmas. Indeed you'll be hard pressed to find a person in Spain who doesn't enter El Gordo at Christmas time. The 22nd December draw of the Spanish Christmas Lottery, or Sorteo Extraordinario de Navidad, is nothing short of a national event as Spaniards stay glued to their screens awaiting the announcement of "El Gordo" or "the fat one" – the biggest prize of them all.
Unlike the other contestants in this event, El Gordo is a rafflee, rather than a lotto. Tickets for the main draw (or Betslips at Lottoland) are printed in series of 160 so many people will end up with the same numbers. Also a full ticket costs £249.99 and consists of multiple "tenths" which is why friends and family members tend to form mini syndicates where the price of a full ticket, and any subsequent wins, are equally split.
Of course the El Gordo Christmas lottery, like Christmas itself, only comes once a year. But you can now bet on his smaller brother, El Gordo De La Primitiva, each week here at Lottoland for high jackpots at good odds.
Max Prize Pool: €2.5 billion (approx. £1.6 billion)
El Gordo Total Prize: €640 million (approx. £452 million)
El Gordo Individual Prize: €4 million (approx. £2.82 million)
Prize divisions: 17
Step Inside The Ring
So, have you got what it takes to go up against the biggest lotteries in the world? The odds may be stacked against you but the rewards if you win are astronomical. Don't forget every week underdog contenders take on these lottery titans and achieve the seemingly impossible - so touch gloves, return to your corner and at the sound of the bell pick your winning numbers! DING! DING!
---