07 January 2015
And look back at the top Lottery Stories of 2014.
Welcome to 2015 with Lottoland!
We take a quick look back at the lottery stories and scandals of 2014, hopefully 2015 will be just as exciting!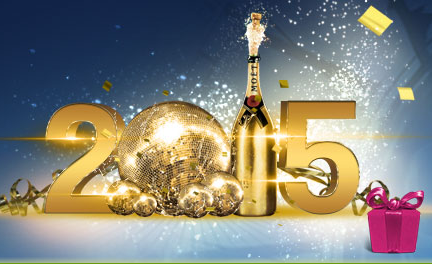 2014 Wrap-Up: The Top 5 lottery stories from around the world
A brand new year is about to begin, one we all hope will be full of triumphs, excitement, adventure and, well, while we are about it, preferably a nice win at the lotteries! 2014 was undoubtedly a pretty amazing year for lotto-lovers, and it gave us some lovely heart-warming tales of lives lit up by Lady Luck – the best stories, perhaps, to remember the year that was. We bring you some of the top lottery news and headlines from Year 2014, one last hurrah before 2015 takes over and renders it all a thing of the distant past!
5. Weirs for Scottish pride
Fabulously rich and still with their heart in the right place, that's the Weirs for you. And the reason why they continue making news, even years after their 2011 record-breaking £161 mn win in the Euromillions. Scottish couple Colin and Christine Weir are already known for their philanthropic streak and support to community causes, which they now back with the £5 mn Weir Foundation. They made news earlier this year amid reports of their support for the Scottish Nationalist Party and their generous £3 mn donation to the spirited 'Yes Scotland' campaign in the run-up to the Scottish referendum for independence and separation from a largely English United Kingdom.
The movement didn't win majority votes despite giving the UK government a proper scare, but the Weirs sure did win quite a few hearts beating for the Scottish cause. And they are making to the 'Top Influential People in Scotland' list as well, after firmly entrenching themselves as one of the richest Scots around.
4. 20 Years of Lottery in the UK
This year marked 20 years of lottery in the UK. Younger people may not remember but entering the lottery has only been legal since the 1990's! The National Lottery celebrated in grand style on 19th Nov with a glamorous get-together in posh Covent Garden, of 20 lucky millionaires representing the best of each of the 20 years. The frenzy built up at least a week in advance with special edition scratch-cards carrying 16 prizes of £250,000 each, and a '10 Days,10 Prizes' contest on Facebook with different prizes, giveaways and getaways every day to the run-up to D-Day.
Full marks to National Lottery, the way they turned an anniversary event into a month-long festivity of fame and fortune. It ended spectacularly as well, with a double whammy - a raffle event with 20 guaranteed £1 mn prizes on 22 Nov, and a Mega Friday blitz on 26 Nov.
3. California retiree scoops up 6th largest Powerball jackpot of $425 mn
B. Raymond Buxton collected the largest lottery jackpot in the US (and the world) this year, wearing a T-shirt that said, "Luck of the Jedi I have". He must have, indeed - to able to translate an afterthought of a second $2 Quick Pick bought from a gas station's convenience store over a Subway lunch, to mega millions! He took home a lump sum of $242 mn from the Feb 19 draw, post some rather extracting US taxes. Not bad one for a deal even then!
2. And the award, a (record) smashing €190 mn Euromillions, goes to…
A mystery Portuguese winner, struck gold in October this year, hitting the biggest ever Euromillions jackpot of €190 million (£150 million approximately). The draw reached its cap amid great excitement on 24 October, a Friday draw, after having rolled over 6 times since a Superdraw at the beginning of the month. This is only the second time the €190 million magic mark was reached, two years after British couple Adrian and Gillian Bayford got similarly lucky in August 2012.
The fact that the Portuguese winner decided to remain elusive and anonymous only added to the speculation, since every other detail was diligently dug out by locals and reporters– from the Sobedis store it was purchased in, to the Castelo Branco shopping centre and locality of sale, to the lottery agency whose sales have gone up overnight thanks to this massive win. The winner apparently ended up parting with 20% of the prize money, a hefty €38 million in this case, to Portuguese tax authorities, but we are sure he/she didn't really care much about that!
1. Spanish Christmas Lottery Winners!
Finally, in December Lottoland had some big winners betting on the Spanish Christmas Lottery including the El Gordo jackpot as well as some of our other international lotteries! What a fantastic way to end 2014, hopefully we will have plenty of more big winners in 2015. If you haven't had the chance to bet on some of the great international lotteries offered at Lottoland make sure to have a look - there are bigger pots and better odds to have around the world. Stay tuned because this year we will be introducing some great new international lottos from Europe, the Americas and even further afield for you to bet on!
Happy New Years to all our Lottolanders and may 2015 be a life changing year!