News & Stories 07 March 2019
What to Wear & Where to Go
Spring Trends 2019: Travel, Fashion & Culinary Delights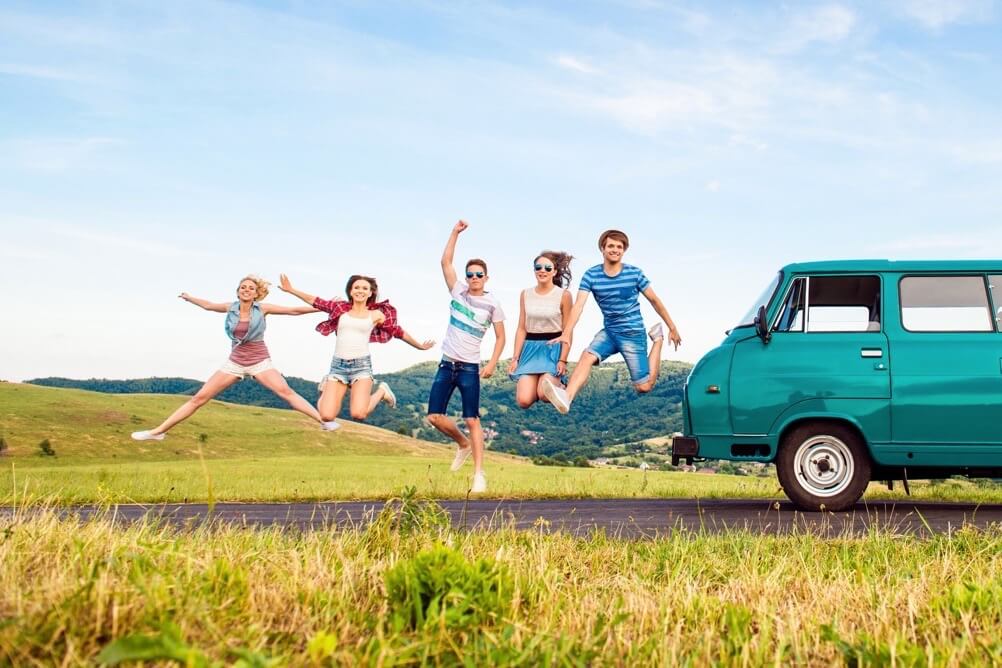 Every year, Pantone identifies some colors that set the tone not only in the cosmetics and fashion industry, but which are also meant to reflect the trends at a given moment in time. Green was their colour of choice for 2017 and Ultra Violet was what the cool kids were wearing in 2018, and now they have decreed that Living Coral is the on-trend colour of the year for 2019.
The choice of the colour of the year is based on various different factors. In addition to the visual arts, sports and fashion, nature will again play a major role this year. Leatrice Eiseman, director of the Pantone Color Institute, said:
"Living Coral emits the familiar and energizing aspects of color found in nature, it's a color that appears often in our natural world via sunsets, undersea reefs, flora and fauna."
But some other colors have managed to establish themselves as trend colours this year as well. We have selected our five personal favorite colorus, which all conjure up feelings of springitme. With Lemon Verbena, we think of sunny days, while Princess Blue reminds us of swimming in deep blue waters. The colorus Lime Zest and Pink Peacock are reminiscent of colorful flower meadows and radiate, like the already mentioned Living Coral, vitality, joy and nature. Combinations of these colours are suitable for all occassions, and are guaranteed to evoke that fresh Spring feeling.
Spring Fashions 2019
Finally we can welcome back vibrant colours to our wardrobes. We can put the dark tones of winter clothes into storage and replace them with the bright colours of spring. The Pantone colors of the year 2019 radiate liveliness and arouse emotions. Every spring represents a new beginning, and the same is true to say of fashion.
The shades that we have seen on international catwalks are now being transferred to everyday life. Anyone who dresses in the trend colors also makes a statement that is not just fashionable. Do you know the meaning attached to different colours, or is your choice of clothes just down to your taste? If you want to know what the colours of the year are all about, read on!
Trend Colours for Spring 2019
The undisputed star of the year is, as mentioned, the colour Living Coral. This is a stimulating, life-affirming orange with a golden undertone that gives energy and invigorates. A very passionate tone and one of the boldest and most intense colours of the season. Wearing these colours broadcasts a sense of joy, optimism, vivacity and exuberance. Exactly what we need after the grey and miserable winter months!
The sunny, light Lemon Verbena is also pleasantly refreshing and instantly conveys the feelings of fine weather and sunny days in which to sip delicious lemonade. This optimistic yellow is the colour of joy, energy and vitality. It also stands for creativity and quick wit.
It fits wonderfully with Lime Zest, another colour that really pops. As the name suggests, it is a gaudy green, reminiscent of lime fruits and is associated with freshness and vitality. "A symbol of our new budding hope," says Leatrice Eiseman.
One of our favorite colors is Princess Blue, a majestic royal blue that radiates sophistication and glamour. The name alone evokes feelings of changes of scene. In our minds, we travel to the islands that we are raving about all year round. We think of the type of relaxation that can only really be achieved on holiday. This colour is the answer to our desire for chilling out and tranquility; a strong shade of blue for dreamers.
In Spring, we also want to stand out a bit from the crowd and nothing manages that more effectively than the look-at-me tones of Pink Peacock. You should wear this irresistible theatrical pink, which is like a feast for the eyes, if you want all eyes on you. It is a festive, very tropical and flattering color that stimulates and captivates the senses. Pink is the new black!
TRAVEL TRENDS FOR SPRING 2019
When everything blooms and turns various shades of green, not only do people's moods tend to get a boost, but there is often the desire to travel. For many in the coming weeks, the question arises: where can I go in the spring to soak up the sun before the summer kicks off in earnest? In spring-time there are many great travel destinations both in Europe and the world at large. If you have the opportunity to use spring for a first annual getaway, you won't want to miss our selection of trendy destinations for 2019!
Travel Trend: Oman
How about a vacation in mysterious Oman? The Sultanate on the Arabian Peninsula is one of the trendiest insider tips of the year. No matter what you are after, this land of only three million people is bound to have something for you. Those looking for relaxation can chill out on the beautiful deserted sandy beaches. Golden sand matching the sunny trend color Lemon Verbena is perfect for lounging on, but also attracts action-hungry vacationers. If you are adventurous, you will get your money's worth from an exciting safari in the desert. Oman, considered a safe haven, not only attracts with the fascinating beauty of its landscapes, but also scores points with its rich culture. The capital Muscat surprises visitors with an interesting mix of super-modern bridges and traditional buildings. The Sultan Qaboos Mosque - one of the largest mosques in the world - is certainly worth a visit. A tantalizing destination with oriental flair (away from mass tourism) that will conquer your heart in no time!
Travel Trend: Slovenia
Our next holiday destination is still one of the less visited destinations in Europe, although the number of visitors has steadily increased in the past few years. The breathtaking nature, the hospitality of the inhabitants and the variety of activities make Slovenia a winner for tourists in search of a different European destination. This small green land enchants visitors thanks to the overwhelming natural beauty of its lakes and forests. The capital, Ljubljana, which has been awarded the title of Europe's Green Capital, has a special charm and numerous parks and gardens that invite you to take it easy. A castle perches above the old town, but the most distinctive landmark of Ljubljana is the Three Bridges (Tromostovje), a work by the famous architect Jože Plečnik. Ljubljana resembles a central European city in many ways, although the many cafés along the river and the temperate climate give it a special Mediterranean flair. Other places in Slovenia that should be on your bucket list are the Postojna Cave, one of the most visited caves in Europe, and Lake Zelenci, on the northern edge of the Triglav National Park.
Travel Trend: Greece
Greece is a destination which has been popular with generations of holiday-makers from colder climes. If you want to enjoy the real island feeling and have a guarantee of sunshine, you should spend your spring holidays on one of the beautiful Greek islands. Santorin in particular is a whole lot more attractive before the island is overrun by hordes of tourists during the summer months. The trend colour of Princess Blue will certainly be in evidence at this stunning destination. What is particularly trendy this year has already had a long tradition in the southern Aegean, because Santorini is famous for its bright white buildings that compete with the sea with their blue domes. One of the biggest highlights on the main island of Cyclades, however, are undoubtedly the spectacular sunsets, especially in the picturesque village of Oia. Breathtaking views, winding lanes, breath-taking architecture, red and black beaches and wonderful restaurants let you experience Greece at its best.
Travel Trend: Marrakech
On our color journey, we now head to the exotic city of Marrakech. This Moroccan jewel always makes it into the annual travel trend list. Therefore, it is not surprising that Marrakech - especially in the spring of 2019, matching the color trend Living Coral - is the perfect destination for those looking for variety. Just a few hours flying time takes you to what feels like a completely different world. Stroll past mosques and through the lively souk, where you will be able to buy just about whatever your heart desires - be prepared to haggle for the best deals though! Take in the smells of the spices and the bright colours of the goods on display, and don't be seduced by the patter of the sellers. In the evening you can enjoy the oriental atmosphere at the famous Djemaa el Fna square, where the lights illuminate the coral and orange walls of the buildings. Jugglers, snake charmers, fortune tellers and also stalls where you can taste culinary specialties; all are mixed together here. Marrakech is certainly worth a dreamy city-break in spring!
Travel Trend: Japan
If you are looking for a long-distance trip, we can suggest another perfect destination for you! Japan is unbelievably varied and is high on the spring trends list for 2019. There is something for every taste on this East Asian island nation in the Pacific, whether you enjoy the food, the culture or the scenery. In our opinion, the months of March and April are the best time to travel, because at this time of year the cherry trees start to bloom pink and white. You should see this incomparable natural spectacle with your own eyes at least once in your life. One of the most recommended spots for this is the Philosopher's Path in Kyoto. The Land of Smiles also boasts many stunning castles, palaces and temples that are charming all year round. The blooming of the surrounding cherry trees simply serves to underline their beauty, making a trip in the spring particularly highly recommended.
CULINARY SPRING STARS 2019
We also took a close look at the culinary trends for spring 2019. Spring is generally considered the sowing or flowering time of most local fruits and vegetables, making it an especially exciting time for cooking.
Food Trend: Edamame
This spring, Japan is not just one of the hottest travel destinations. The country of the rising sun is clearly ahead of the curve when it comes to food trends as well. In every Buddha Bowl (a veggie meal served in a single bowl) Edamame can be found. As a healthy snack, cooked only with sea salt, the Asian soybean even replaces potato chips and chocolate. Crunchy Edamame are not only relatively low in calories, they are also an excellent choice for snacks between meals. The bright green legumes provide plenty of iron, vitamin A and E and vegetable protein. A real power food that also keeps you satisfied for longer thanks to the high fiber content. The applications in the kitchen are almost unlimited: Edamame goes in salads, pasta dishes or in the already mentioned Buddha bowls - there are no limits! Food scientist Hanni Rützler predicts in the Food Report 2019 that high-protein, plant-based foods will become increasingly important as an alternative to meat and fish for non-vegetarians as well.
Food Trend: Moringa
It's amazing how the colours of the year can be represented on domestic tables and make you feel so happy! Moringa has earned a very special place in the kitchen this spring. The name sounds exotic, don't you think? But what exactly is this about? Moringa is considered by some to be the healthiest plant in the world because it is said to help relieve over 300 diseases such as asthma, chronic headaches or anemia. Although originally from India, it also grows in Africa and has even been grown on the Canary Islands for several years. Also known as the horseradish tree, the Moringa is the latest fabulous superfood. In the Ayurvedic teachings - an ancient Indian medical system - the benefits of this tropical tree have been extolled for thousands of years. The leaves are full of vitamins, the fruits can be eaten as a vegetable and the roots ground like horseradish. The seeds are not only a high-quality oil, they can also make contaminated drinking water drinkable again. These days Moringa is available in powder and capsule form and also as tea.
Food Trend: Butterfly Pea Tea
Tea is also our next spring trend. At tea time, you can literally experience a blue wonder this spring. The new on-trend drink is called Butterfly Pea Tea and comes from Southeast Asia. The special thing about it is its deep blue colour, although the taste of the butterfly flower tea is reminiscent of black or green tea. As an iced tea, it is very refreshing on warm spring and summer days and wonderfully quenches your thirst. The flowers of the butterfly pea plant are also full of flavonoid, which is antioxidant and is said to slow down the skin aging process. The tea claims to also make us more stress-resistant, improve memory and have an anti-inflammatory and analgesic effect. It can also be used to brighten up your dinner table, since with Butterfly Pea Tea you can dye pretty much everything: desserts, cocktails, salads... the only limits are those imposed by your imagination. Turn your favourite dishes a more exotic colour without having to resort to chemical food colouring!
Food Trend: Dragon Fruit
To make an impression on social platforms like Instagram requires original and eye-catching images, everyone knows that. This is child's play when it comes to one of the most photogenic food trends for 2019: the pink dragon fruit. In addition to iron, calcium and phosphorus Pitayas are also full of vitamin E and C which means they are super healthy (and low in calories, since they consist of 90 percent water), on top of the fact that they bring colour onto the plate. The dragon fruit can be freshly chilled and cut lengthwise and spooned out like a kiwi. It is also suitable for fruit salads, pies or as an accompaniment to fish dishes. Nutrition experts are particularly happy about this spring trend, because they are always suggesting that we eat rainbow-coloured meals with plenty of fruit and veg. They say that we eat with the eyes, which is why dragon fruits are often used to decorate buffets, where they create a real surprise effect. Another plus: on Pinterest and Instagram, this exotic pink fruit is guaranteed to get a positive reaction.
Food Trend: Coral Food
The desire for variety and innovation is reflected every season in the food sector. In 2019 we can prepare ourselves for a bright year! Coral-coloured food is absolutely in vogue, but we're not only talking about salmon and lobster on the trendsetters' menu. Ice cream, chocolate, macaroons, rice and pasta also shine in the intense color mixture of rose, orange and gold and exude positivity on the plate. Suitable natural colours include grapefruit, berries and beetroot, with the latter being mainly used to colour chips. And of course there is the previously-mentioned Edamame which is already a hit among the healthy snacks in 2019. For those with an experimental palate, playing with the flavours of different ingredients is an interesting alternative to the well-known foods we tend to eat on a regular basis. Whether this trend catches on at home we will just have to wait and see, but in the meantime we wish you "Bon Appétit"!
Sources:
fitforfun.de/news
foodingredientsfirst.com/news
miomente.de/entdeckermagazin/foodtrends
textilwirtschaft.de/fashion/trends
urlaubsguru.de/reisemagazin
weg.de
---