21 July 2015
Lots Of Exciting New Jackpots To Bet On At Lottoland
Lotteries Of The World Part One
As you may have noticed we've expanded the list of lotteries you can bet on considerably in the first half of 2015, and we've got plenty more lotteries and games in the pipeline for the second half. Our aim at Lottoland is to give you as much choice as possible with all the world's best lotteries to bet on and a new jackpot to be won each day. So in this series we're going to take a look at these exciting new lotteries in more detail to help you familiarise yourself with them more.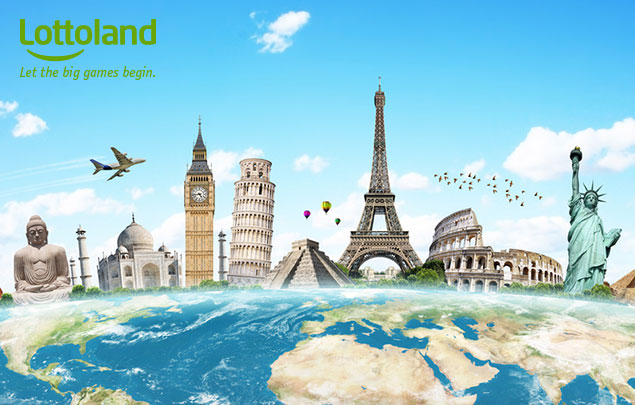 The World Is Lottoland
In case there was ever any doubt that Lottoland is the leading online lottery provider, here, to kick things off, are two new lotteries to bet on for UK Lottery customers; Brazil's exotic Mega Sena and the icy cool Swedish Lotto.
---
Mega Sena – From Brazil
Brazil's biggest national lottery has been generating lots of press recently due to its massive rolling jackpot – the biggest of the year so far – of £13.2 million! The massive jackpot was finally won on Sunday the 14th of June. And I'm sure whoever won it is still dancing the samba.
Mega Sena is something of a cultural phenomenon in its native Brazil. It costs just £1.50 to bet and has record jackpots of approx. £30 million for regular draws and £58 million for its annual superdraw the Mega Da Virada.
To bet you just pick numbers from 1 to 60 as you try to win from one of three prize tiers. The odds of hitting the jackpot are 50,063,860:1, which are quite high, but then generally so are the jackpots. Currently the Brazilian lottery jackpot stands at £6.4 million.
Get Some Sunshine In Your Life – The Brazilian Lottery
---
Lotto – From Sweden
Looking for a cheap and simple lotto where you can win big jackpots? Or are you instead looking for a more nuanced game that gives you great odds and lots of different chances to win prizes?
Either way then the Swedish Lotto is the game for you.
Just like the UK Lotto, draws held twice a week on Wednesdays and Saturdays. There's a regular draw and then, straight after, a second Lotto 2 draw. The Swedish Lotto also has an added bonus game, the Drömvinsten, or "dream win", which you can also chose to bet to maximise your chances of winning a cash prize. So overall the Swedish Lotto gives you get three chances to win big.
A simple 6-pick game costs just 50p or, with the Lotto2 game added (the default option), £1.00. The extra "dream win" game costs a minimum of £1.00, which is also added by default. We do this because it's how the game in Sweden is done. If we didn't do this our Swedish customers would look at us funny - and Dolph Lundgren would get angry.
Unlike in Sweden, however, we give you the full freedom to choose which aspects of the game you wish to enable or disable. You can even up the ante on the bonus game to £3.00.
The Swedish Lotto is a 6/45 game with 5 prize tiers. The jackpot odds are 6,724,520:1, which is fairly good odds for a lottery. Overall you have a 55:1 chance of winning any prize – but of course these odds get better if you add the extra draw and bonus game to your betslip.
So, whichever way you want to go, cheap and cheerful, lucrative and elaborate, or anywhere in between, you'll find plenty to cheer about with the Swedish Lottery.
A Great All-Rounder – The Swedish Lotto
Always More Lotteries At Lottoland
So, lots and lots of lotteries – and we're only getting started. Stay tuned for more updates in this series as we cover even more new lotteries, as well as other exciting new announcements in the pipeline at Lottoland.