Lotto Winners 23 December 2019
Bon Voyage!
Passport to Paradise Winners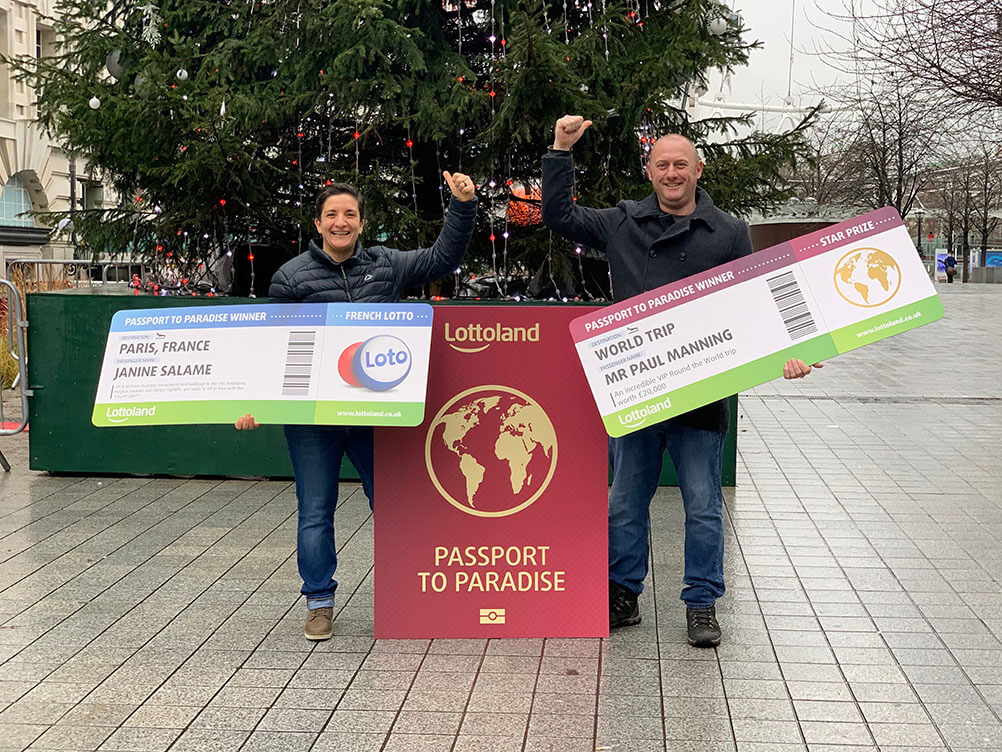 We are delighted to be able to announce the winners of our "Passport to Paradise" competition where customers had the chance to win one of nine holidays and a luxury round-the-world trip to drop in on all their dream destinations.
Mr Paul Manning, a firefighter from London, won the top prize of a luxury round the world trip. On his win, Paul said; "I'm still in shock! People talk about around the world trips but it's not something you think you're going to win. Of all the places I'll be visiting, I'm most looking forward to seeing the Canadian wildlife, hopefully some brown bears and taking my daughter horse riding and possible a helicopter ride for my son. It's going to be a fantastic experience for me and the seven family members I will be taking."
Paul will set off on his trip in the New Year and will travel in style across the globe to Vancouver.
Passport to Paradise: The Winners
As well as Paul's around the world trip, nine lucky winners also walked away with a luxury holiday:
►Mr Peebles from Leven won a trip to Rome, Italy
►Janine Salame from London won a trip to Paris, France
►Mr Kahleb Stevens from Redditch won a trip to Dublin, Ireland
►Mr P. Brand from Rugby won a trip to Barcelona, Spain
►Mr Mackey from Orpington won a trip to Cancun, Mexico
►Ms. Cathleen Furey Birmingham won a trip to Florida, USA
►Mr Chapman from Sandy won a trip to Rio De Janeiro, Brazil
(The remaining two winners wish to remain anonymous.)
Lottoland CEO Nigel Birrell said: "We are absolutely delighted for all of the winners. They say that it's the season of goodwill and I can't think of a better way to kick off the festivities than delivering a sack full of prizes to our customers."
Lottoland allows players to bet on the world's biggest lotteries, with the opportunity to win all the same prizes – including the jackpot. Major draws available at Lottoland include US PowerBall and MegaMillions, the Irish Lotto, Spain's El Gordo and many more from Europe and across the globe - check out our lotteries page for full details.
---