25 October 2013
A tale of 2 Euro Millions winners
The Good and the Greedy
The age old question of what would you do if you won the lottery can be described by the tale of 2 different winners…
Most people have often dreamed of spending the millions if ever they won the lottery. It can be easy to forget that such wealth also brings power, and to coin a comic book hero phrase… with great power comes great responsibility.
Winners have the opportunity to help others as well as live an opulent lifestyle.
So if you won the lotto jackpot do you think you could be charitable and donate most of the money to worthy causes? After all it is far 'better to give than to receive!'
Or would you give in to temptation and lavish yourself with unnecessary luxuries…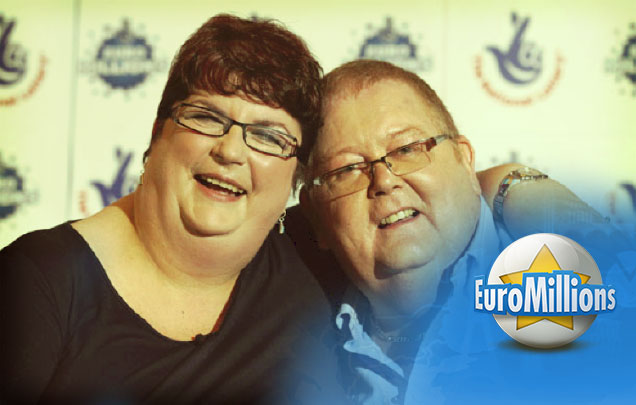 This month we were treated to contrasting lottery news stories within a few days of each other about two different families of Euro Millions winners, one couple who have used their lottery winnings selflessly and another family who have used the money to further their own well-being, regardless of the consequences to other members of their community.
The Good
If you play Euro Millions then you will know that Christine and Colin Weir are synonymous with the lotto, the charming couple from the tiny village of Largs, Scotland, who became the largest Euro Millions winners of all time in 2011. The winning ticket scooped them an incredible £161,000,000!
Since their momentous win the lucky duo have become best known around the UK for their kindness and benevolence, donating millions of pounds to noble causes through the Weir Charitable Trust, a charity that they set up to support causes that encourage sports and physical fitness, the advancement of animal welfare, as well as Scottish culture and heritage.
The Weirs are also renowned for their support of medical health and have been praised for privately funding several life-changing operations for people in need, most notably three-year-old Skye Swinton who was able to have an expensive surgery procedure necessary to allow her to walk properly again.
Last week the Weirs were making headlines again for donating £750,000 to Partick Thistle Football Club's youth academy. The money was given to the football organisation on the condition that it is not only used to help develop future Scottish stars but also to encourage youngsters of all skill levels in the local community to take part in football and other physical exercise.
This is not the first time that the Weirs have given money to support athletic excellence, having also helped to refurbish the National Sports Training Centre and Largs Thistle junior club in their hometown in addition to sponsoring several up-and-coming Scottish athletes in tennis and Formula Three racing.
Through their ongoing generosity the Weirs have built a lasting legacy in their community that will last for years to come.
Now for 'The Bad'
In stark contrast to the Weirs magnanimity we were also presented with the story of a son of another Euro Millions winner, who has made Irish headlines last week for not putting the money bestowed to him to such virtuous uses.
In 2005 Dolores McNamara of Limerick, Ireland became one of Europe's richest women when she won £77,000,000 from a lucky Euro Millions ticket.
The mother of six divided much of her prize money amongst her children, grandchildren and other extended family. While Delores herself has been quite altruistic with her money, funding several gala charity events in Ireland since her lotto win, her son Gary has come under fire several times for using the money that he was given to do things which have outraged the local community.
Most recently Gary McNamara has been accused of using the family wealth to outbid a Limerick youth football organisation on their pitch the Hermitage in Castleconnell.
The field lies adjacent to his house and he intends to use the land to extend his £1 million, 2,300 square foot mansion that he had built with his share of the Euro MIllions despite protests from local residents.
Mr. McNamara met civic resistance throughout the process from neighbours who did not want his "monster home" spoiling the local atmosphere.
The conflict had escalated several times in the past, most notably when Gary drove a pick-up truck onto the football pitch during a youth's football match, disrupting the game and causing parents and children to run for cover and damaging the field.
Mr. McNamara justified his actions because his driveway had been blocked in by the vehicles of parents attending the football match.
He did not endear himself any further to locals when he was quoted by a local newspaper "they must be jealous of me over building a big house when they're at home starving".
Gary McNamara's solicitors have stated that outbidding the football organisation for the pitch was not made out of malice or spite towards the children and that he was within his legal and moral rights to buy up the land for sale next to his property.
Furthermore McNamara's legal team claim that there is another suitable pitch that the team could use, which is located in the nearby vicinity and so protests that they will now be "homeless" are false.
How would you use your Euro Millions fortune?
Both these stories show how the enormous amounts of money that comes with a Euro Millions jackpot gives winners an incredible amount of freedom and power which can be put to both selfish and selfless purposes.
Which winner's path would you like to follow? Would you live with the purpose of improving the lives of others with your riches? Or would you "live your dream" and spend it all on yourself