Lotto Winners 19 June 2017
80 little things for a happier life
Do you want to enjoy life? Appreciate the Small Things!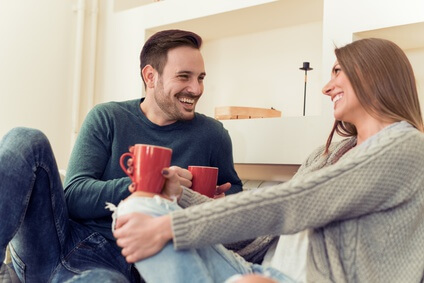 Instead of allowing ourselves to enjoy every pleasant moment in our lives, it seems like we are always rushing to catch up. The focus is always on tomorrow, never on right now, as we chase the job, the money or the partner that will make everything alright. It's time to take a step back and learn to enjoy and appreciate the minor pleasures of life.
Many of us can wobble for a second when they don't have a favourite brand in the supermarket, or when someone skips ahead in a queue. We get agitated when we are waiting for a pedestrian crossing or if we have to stay late at work. Why can we get so excited about petty negative moments and can't enjoy the little things that meet us every day? Why can't we enjoy nice weather, the smile of a stranger, a scented fragrance or just a cup of hot coffee and the view out of the window?
It tends to be the smallest every-day events that make us the happiest! Don't believe it? Think about what is the most recent thing which made you feel good, or what kind of fun you had in mind. It is unlikely that it will be the moment when you were promoted at work, not even the moment when you bought a new home. People often recall their memories of the ordinary moments that gave them joy at that instant in time - whether it's the sunset, a picnic in the park or sitting on the steps of the house and chatting with your neighbour. It's just the little things we remember, the little moments in our lives, which can pass us by but which can also mean so much.
What does the research say?
According to a study carried out in the UK, people got the most joy from surprises. A survey of more than 2,000 adults has come to the conclusion that they are it is the small things that bring true joy and happiness to people. Most respondents admitted that they rejoice when they find money in the pocket of an old pair of jeans, when the sun is shining outside, or when they lie down in bed with clean, fresh-smelling linen.
Up to 82% of people said the best things in life were those they did not expect. "The way to happiness may not be just the big things we plan in our lives. On the contrary, they are rather unexpected little things that bring us a smile every day, they fill our lives and make us happier." according to Glenn Williams's research at Nottingham Trent University.
According to the motivational speaker and founder of the Planet of Success site, Steve Mueller, the ability to perceive the beauty of little moments in life is especially gratifying. He believes that If we can concentrate our attention on the small beauties of our lives, we become more grateful. Being thankful is also one of the ways to find happiness. Research on how to be happy states that gratitude brings joy to life. Good people are more optimistic, more satisfied and less dependent on external influences and circumstances to make them happy. Their ability to be thankful for the little everyday pleasures gives them unwavering joy. They feed their happiness every single day, with the common and easily disregarded beauties of the world. According to Mueller, these little things are the first step on the way to finding true happiness.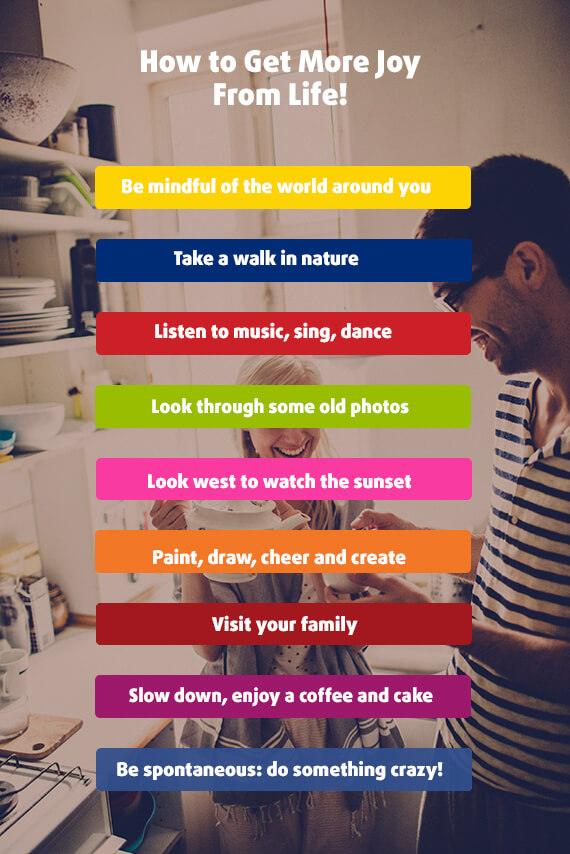 How to Appreciate the Small Stuff?
Do you want to enjoy every single day? Don't take daily little things as a matter of course. Although it may be a common thing, you should not forget that these little moments of life can bring more joy than anything else. For a moment, pause and start looking at the details of the world. Appreciate every enjoyable second. Enjoy everyday things like reading a book in the garden, laughing with friends or hugging a loved one.
Be mindful. Open all your senses - recognize smell, taste, keep your eyes open, watch the world, people and animals in it. Recall positive childhood and teenage memories and all the beautiful moments of your life. It can be the smell of raspberries in the garden of your grand-parents which comes to mind. Or the chubby cheeks of your children when they were still small. A fun evening with old friends when you have been talking about your school-days for hours, remembering that awful teacher you had or the first person in school you had a crush on. Each life consists of a thousand details and it is up to you to enjoy and treasure these.
80 little things for a happy and fulfilled life
We present for you a list of 80 small things which are sure to make you feel that little bit happier. We guarantee your mood will lift when you...
1 ... enjoy a walk in the sunshine
2 ... take a picture of a rainbow
3 ... watch the sun set
4 ... have breakfast in bed
5 ... laugh until your stomach hurts
6 ... take an hour to study something
7 ... smell your favourite perfume
8 ... pour yourself a glass of your favourite drink
9 ... have lunch on a park bench
10 ... listen to the sound of the ocean
11 ... wake up after a good night's sleep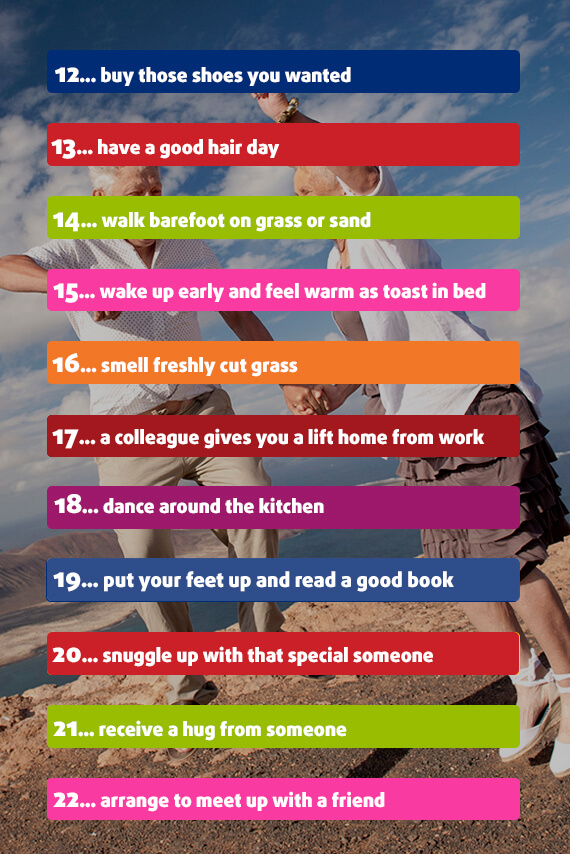 23 ... receive a positive social media comment
24 ... try tasty new food
25 ... a stranger helps you out
26 ... take a moment by yourself
27 ... find some coins in your jeans pocket.
28 ... put on a pair of fresh, laundry-scented socks
29 ... do a small good deed
30 ... book a holiday

31 ... receive a compliment
32 ... get everything on your shopping list
33 ... eat that piece of chocolate cake
34 ... look through some of your old photos
35 ... find a parking space in a crowded car-park
36 ... sit down with a cup of hot tea
37 ... meet an old friend
38 ... cook a delicious pie
39 ... avoid a traffic jam
40 ... smile at a joke on the internet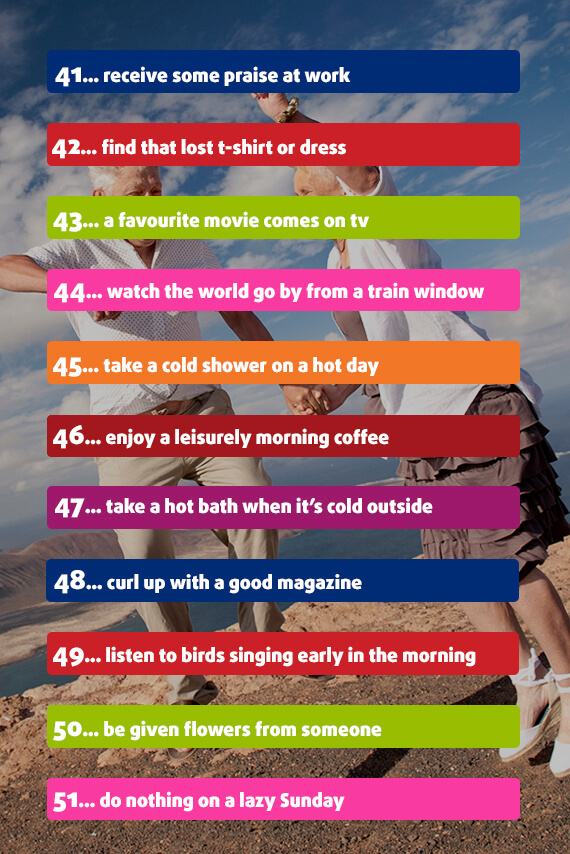 52 ... fix that squeaky door
53 ... get a postcard in the post
54 ... breathe in the fresh air after a downpour
55 ... listen to your favourite song
56 ... bake some buns
57 ... complete a crossword
58 ... smell bacon cooking on the barbecue
59 ... notice the first apple tree blossoms of the season
60 ... order something for yourself online
61 ... call up an elderly neighbour or relative
62 ... enjoy an ice-cream cone on a sunny day
63 ... eat a hot bowl of soup on a cold day
64 ... walk past a bakery and the smell the newly baked bread
65 ... re-visit an old hobby

66 ... go for a walk in the park
67 ... help a friend with a problem
68 ... give someone a nice surprise
69 ... receive a nice surprise from someone else!
70 ... watch an old movie you haven't seen in years
71 ... receive a nice message from someone you haven't heard from in years
72 ... finally do something you've been postponing for too long
73 ... come back from the gym feeling great
74 ... make a new friend
75 ... play with your cat or dog
76 ... watch a funny video online
77 ... finally get rid of something that's been annoying you
78 ... find something after giving up looking for it
79 … learn a new word in a foreign language
80 ... tell somebody that you love them
You don't have to be a world champion, a millionaire, or a Nobel Prize winner to enjoy life and learn to appreciate the small details. Lifelong happiness can be found in the simplest things that are here for you every single day. As the old known saying goes: 'the best things in life are free'.
Are there any special moments which we've left off our list? Drop us a line and tell us about your magic everyday moments.
Source:
www.planetofsuccess.com
www.lifehack.org
mashable.com
www.goodreads.com
www.express.co.uk
simplelifestrategies.com
psychcentral.com
www.visitdenmark.co.uk
---