Lottery 15 November 2022
Reasons to Bet Online!
10 Advantages of Betting on PowerBall Online
Table of contents:
Before getting into the subject, and explaining the advantages of PowerBall online betting, we will tell you a little about the history of this famous American lottery, its game format, its prizes and the most notable winnings since it began operations in 1992 as Lotto America.
What is Powerball?
Powerball is an American lottery game that draws every Monday, Wednesday and Saturday at 22:59 ET (around 4 am Tuesdays, Thursdays and Sundays UK time), and is recognised worldwide for its huge prizes. It has a minimum prize of US $20 million, and holds the world record for the largest lottery jackpot ever delivered, a sum of US $2.04 billion! That's a sum so big it is hard to get your head around. And now thanks to Lottoland, Brits can have a crack at this monster jackpot from the UK!
How does Powerball work?
Next, we will present an infographic that we have prepared for you, where you can discover more about the Powerball lottery.
*All jackpots are estimates and subject to currency fluctuations. Tier 1 winning bets on the US Powerball and US MegaMillions are paid out as 30 year annuity or discounted lump sum at Lottoland's discretion, and Tiers 1 – 3 are also subject to 38% reduction as per Ts&Cs.
As you can see, the Powerball lottery is very simple! You only have to choose 5 numbers between 1 and 69, and an additional number from 1 to 26, known as the Powerball. If you hit all 6 numbers, you take the pot - although winning the main prize is not an easy task. It has odds of 1 in 292 million, but hey! Don't be discouraged, because if there is something Powerball has done, it has been to fulfil the dreams of many people.
Apart from the main prize, Powerball has 8 additional prize categories, and with general chances of winning any prize of 1 in 25, the more numbers you can match, the greater your prize! And, if you don't hit the jackpot, maybe you could take the second prize of $1 million! - not too bad!
The Powerball lottery has the "PowerPlay" option, which can multiply the winnings of all prizes except the top one. This function can multiply the prizes from the third category by 2, 3, 4, 5 or 10 and convert the second-level prize to $2 million, which is the top amount that can be reached with the PowerPlay option.
And if you wonder if you can use PowerPlay when betting on PowerBall online with Lottoland, the answer is yes! One of the advantages of betting on PowerBall online is that the game format is exactly the same, so you can enjoy the game in its entirety, but with the difference that you will have additional advantages and access to exclusive Lottoland functions.
Now that you know a little more about the American Powerball lottery, let's explain why placing bets on PowerBall online can be beneficial for you.
10 advantages of Betting on PowerBall online
In Lottoland we believe in innovation, and that is why betting on Powerball online with us is a unique experience. We adapt to your needs! Here is a selection of the advantages and benefits of PowerBall online betting with Lottoland:
1. You can bet on the biggest lotteries
Can you imagine being able to participate outside the United States in lottery draws that exceed one billion dollars? With Lottoland it is possible! Giant prizes equal to the famous American lottery will be available to you if you bet on the outcome of PowerBall online. In addition to this, you can access special prizes, because in Lottoland PowerBall jackpots can also be boosted to increase to even higher amounts!
2. You can bet on PowerBall online from wherever you are!
One of the main advantages of PowerBall online is that you don't have to be in the US for a chance to win enormous multi-million-pound prizes! With Lottoland, you can bet from the UK without leaving your home. As you can see, we don't believe in distances. With Lottoland you can have a punt on PowerBall online from the comfort of your home, from the mountains or from the beach. You only need access to an internet connection!
In addition, when you try PowerBall online you will receive proof of your bet in your email, which takes away the headache of protecting the physical ticket from possible damages or losses that can cost you dearly - can you imagine winning, but losing your ticket? That would never happen with Lottoland! That's because in addition to the receipt you will receive in your email, your bets are all recorded in your online Lottoland account.
3. The quick moves
It is very common that many people prefer to choose lottery digits using their 'lucky' numbers - often related to important dates - which means that they limit their options to numbers between 1 and 31.
By using the "Quick +1" you are opening new possibilities and receive a completely random selection of numbers! The system will select the lucky numbers for you, which will diversify your selections, as it will choose numerical combinations that are less likely to be chosen by someone else.
The Quick +1 option has no additional cost and best of all, it will give you more chances of not sharing your prize with someone else, because, even if you don't believe it, many people may have the same "lucky numbers" as you: birthdays, anniversaries, etc. This option is also ideal for those who want to place a bet, but who do not know what numbers to choose. Sound familiar?
4. You can make multiple bets, with more numbers for more chances!
As we have already mentioned, a simple PowerBall line bet requires 5 main numbers and a Powerball, but by making "combo bets" - also known as multiple or combination bets - you can try with more numbers and therefore increase your chances of taking home a prize.
Considering the odds of this American lottery, in Lottoland we offer you the great advantage of improving your chances by making multiple lines when betting on PowerBall online. Here you can try with a combo of up to 20 main numbers, having up to 15,504 different number combinations! This exponentially increases your chances of winning not only the main prize but also the rest of the lower-tier prizes as well.
5. Syndicate Bets
Another great advantage of betting on PowerBall online with Lottoland is the availability of "syndicate bets" as these can improve your chances of winning prizes without having to invest a lot of money. When you participate in an online syndicate bet you are betting with more than one game line, which generates combined bets and increases your chances and those of the others who participate in the group with you.
The prize you can receive when you win with a game group will depend on the number of participants in your syndicate by the time of the draw. This means that if you buy two of 100 available shares, and the prize is $100 million, you would win $2 million if your numbers came up!
In Lottoland you can bet on PowerBall online with the "PowerBall 250" group that offers you 252 lines in total, and with "PowerBall 750" which has 756 multiple bets. The cost per bet in the PowerBall online gaming groups will depend on the number of combined lines that the group offers you. The more combinations, the higher the cost of each bet, but without a doubt, it will be cheaper than betting on all those combinations on your own!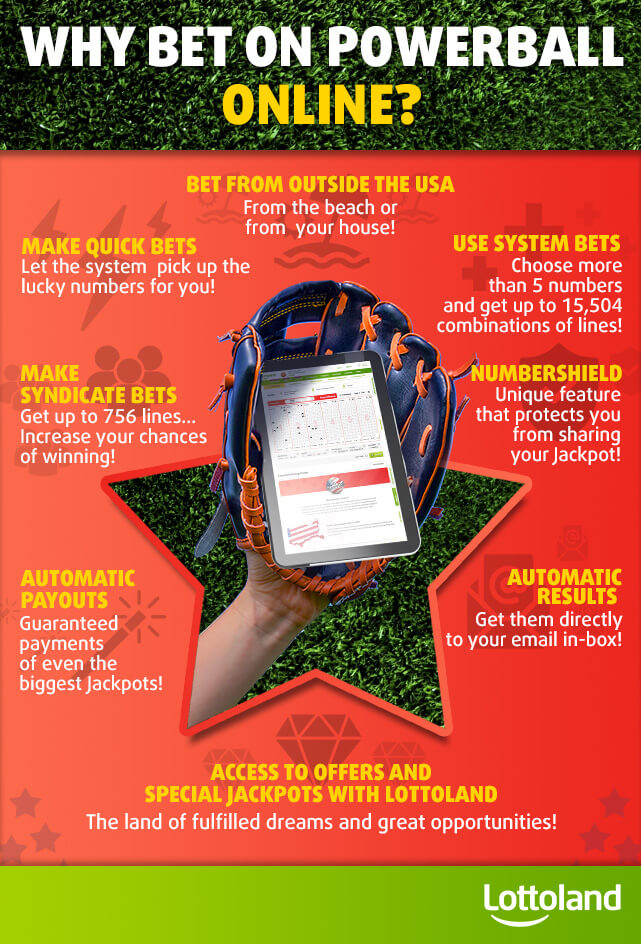 6. You will never miss a draw again!
Betting on the PowerBall lottery online has never been as easy and fast as it is with Lottoland. And that is why we have features that will allow you to place your bets in advance and make sure that you don't ever miss out on a big jackpot draw.
With the "Duration" option you can select the length of time for which you want your bet to be repeated, so you will have the opportunity to bet on several draws with the same set of numbers.
And if you are one of those who believe deeply in your lucky numbers, you can use the "Subscription" function that will allow you to bet on that combination of numbers in the draws you choose, which for Powerball take place at around 4:00 am UK time. By subscribing, you are also subscribing to the payment of your bet according to the period of time you choose.
For example, if you subscribe your bet for a period of 2 weeks every Wednesday, you will pay in advance for those two weeks and the next payment will be automatically renewed at the end of the two weeks, renewing your bet with the numbers you have chosen. And don't worry - you can easily cancel it whenever you want from your Lottoland account!
For those who only want to have a punt when the jackpot reaches a certain amount, we have the option of "Participation". This function gives you the option to start betting only when the main prize reaches a certain amount of your choice, for example, you could wait for the Powerball jackpot to reach $100 million before starting to bet. Given its past history, you probably won't have to wait too long for that!
7. Protect your numbers with NumberShield
Do you remember the second-biggest PowerBall jackpot record of $1.586 billion? Well, that huge prize was distributed among three lucky winners in January 2016, but if any of them had bet on PowerBall online with Lottoland and activated the "NumberShield" option, they would not have had to share the jackpot with anyone!
This exclusive Lottoland feature protects your lucky numbers and assures you take home the entire main prize, no matter how many people have matched the same numbers. Sharing is nice, but would you like to share a billion-dollar jackpot? This is a unique advantage of Lottoland that you only have when betting on PowerBall online!
8. Receive the results of the draw automatically
Forget about being behind the results, because with Lottoland they come to you! When you have a flutter PowerBall online with us, you will receive an email with the results of the draw in which you participated. Did you know that many people have lost out on lottery prizes because they didn't realise that they had won? This is not going to happen to you! We will keep you informed and if you win the jackpot, we will go one stage further and call you by phone!
9. Automatic prize payments
We guarantee the payment of prizes of any kind, both small and larger jackpots. In Lottoland we use the same prize payment structure used by the official Powerball lottery, so certain conditions apply depending on the category of the prize won as explained in our terms and conditions.
For Lottoland, security is indispensable, so if someone wins the PowerBall jackpot, we will need to do enhanced checks as detailed in our documents what and when page: https://www.lottoland.co.uk/documentsneeded.
10. You will have access to exclusive offers and prizes
By registering with Lottoland you will be part of a large community and enjoy the benefits that come with being a Lottolander. You can enjoy a variety of offers, some of which will offer discounts on PowerBall and other lotteries. In addition to this, you can participate in draws with special and exclusive Lottoland jackpots. This means that you could even be able to place bets on jackpots higher than those offered by the official Powerball lottery.
How to Bet on PowerBall online with Lottoland?
Now that you know the advantages and benefits of having the option to bet on PowerBall online, you will surely be wondering how you can get started. Fortunately, Lottoland makes this very simple indeed. In order to bet on PowerBall online with Lottoland, first of all, you must have a Lottoland account. To do this, you only have to take 2 minutes of your time and register your data on our web platform to create your free account.
Once you are registered successfully, you will be part of the Lottoland family! And you can start betting on not only PowerBall but also a selection of the most popular lotteries in the world, both American and European and from various destinations worldwide!
Why should I trust Lottoland?
Lottoland is an online lottery provider, based in Gibraltar, which is regulated by the Game of Chance Act of 2005. We started operations in 2013 as "Lottoland" under a license granted by the Gibraltar Government and since then the growth we have had has been amazing, which has allowed us to expand to other countries - we hope to continue growing!
We currently have official licenses not only in Gibraltar, but also in the United Kingdom, Ireland, Australia, Sweden, Italy, Malta and South Africa, which obliges us to follow very strict standards, but, above all, to guarantee the payment of all lottery prizes, whatever size they are. So you can place a wager peacefully from the UK with Lottoland! You're in good hands!
Want to know how Lottoland works? Check out our business model: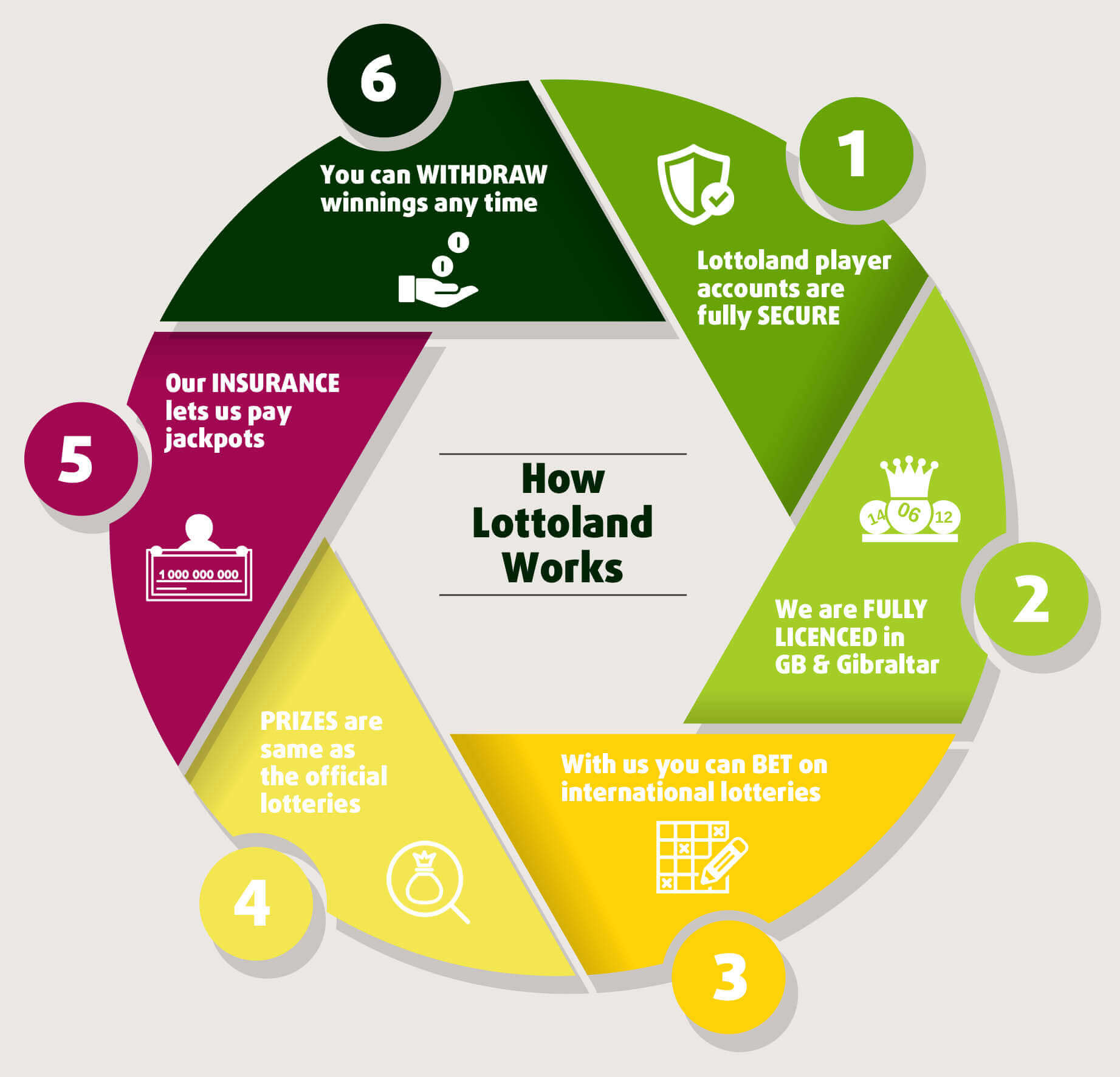 There are many who have won betting on the online lottery with Lottoland, in fact, we have the record for having delivered the biggest jackpot ever paid out for an online gambling win in June 2018, a €90 million jackpot!
Wondering if any of our Lottolanders have won with PowerBall online? Well, they certainly have! One of our biggest PowerBall winners is Mathias, who won a €1.2 million prize for betting on the January 13, 2016 draw.
The next PowerBall online prize could be yours!
Now with Lottoland, you can try your luck from the UK and enjoy the advantages of placing a bet online. We hope that we soon have another big British winner from the PowerBall jackpot or any of our many international lotteries!
Good luck!
Updated: 15th November 2022
---