Lotto Winners 08 February 2016
Pancakes, Carnivals & Peas
Shrove Tuesday Traditions From Around The World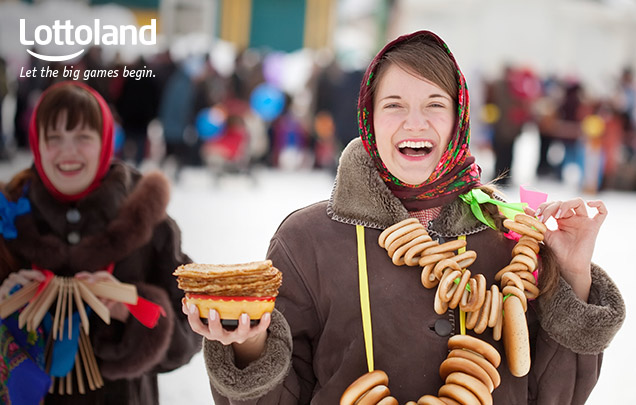 To us it's Pancake Tuesday, or to use its religious name, Shrove Tuesday. In other countries it's known by different names. In French it translates as "Mardi Gras", or "Fat Tuesday" and, indeed, in man other cultures, the name translates as a day pretty much synonymous with becoming fat and/or full.
Names and traditions vary, but they all have that same common theme; you celebrate in fine fashion with your loved ones and pig out on high calorie food to the point of bursting.
In the case of Iceland, they just come right out and say it, their name for the holiday literally translates as Bursting Day!
Pancake Tuesday
Ever wonder, "why pancakes?"
The reason is more practical than culinary. While these days lent is more about giving something up – e.g. kids giving up sweets or adults committing themselves to quitting smoking – in days gone by the faithful were called upon to follow the example of Jesus, by fasting for forty days and nights.
Scarfing lots of pancakes the night before, therefore, makes perfect sense. First of all you're using up all the traditional food staples such as flour, milk and eggs, and combining them into one single item.
Not only is this very frugal – we're talking about olden times after all – it's also medically beneficial as pancakes have plenty of fats and carbs and the eggs are also a rich source of protein.
Then you're frying it up with lots of butter and smothering it in sugar and syrups. Plain pancakes are bland, sweet pancakes are delicious but there's also a practical reason for this too – it's all to fatten you up ever more ahead of the big fast.
Making great pancakes is an art. Flipping pancakes is performance art. Running while flipping pancakes, well, that takes proper sportsmanship – and the world champions of pancake racing is Britain.
Sadly there'll be no gold medals for Team GB's pancake racers this year, as it's not a recognised Olympic sport. This is despite the fact that pancake racing dates all the way back to the year 1445!
The very first pancake race was held in the town of Olney in Buckinghamshire. The tradition has survived war and upheaval throughout the centuries and continues to this day.
Other pancake races are held throughout Britain and, while traditionally it was women only who took part, though nowadays it's come one come all.
In the City of Westminster, meanwhile, you can watch Lords and MPs duke it out in a pancake race for charity – running as fast as they can and flipping pancakes at the same time. Not as easy as it sounds, still it's not like our politicians aren't used to getting egg on their face!
European Variants
Of course not everyone gets to eat pancakes. In the aforementioned Iceland, on their "Bursting Day", the traditional fare is meat and peas. Icelandic settlers would have subsisted primary on seafood and game, rather than wheat, eggs and dairy products – after all you don't get that many cows grazing on glaciers.
In other counties, meanwhile, people eat different kinds of cakes ranging from sweet biscuits to lard-fried donuts.
A World Of Carnivals!
The word carnival comes from the same Latin root as carnivore and essentially means "raising meat". Again it's synonymous with eating large quantities of hearty food in preparation for the Lenten fast.
Of course it's not all just about the food – it's about celebration too! The following day, Ash Wednesday, is traditionally they day you confess your sins. So might as well rack up a good few new sins on top to get your money's worth!
So while we're racing around flipping pancakes on mainland Europe everyone's getting ready for Carnival. You'll find carnivals in Holland, Denmark, Norway – pretty much wherever you go.
The German city of Cologne is one of the more famous carnivals. From silly dress-up parties to full-on fancy masquerade balls, as well as historical parades and cultural events, the end result is always the same – plenty of laughter and rich food washed down with delicious Kölsch beer.
Other large carnivals are held in Madeira, Portugal, and in Cadiz, in the southwest of Spain.
Europe's most famous carnival, however, has to be the annual Carnival of Venice. The tradition dates back to the 1100s, when Venice was a wealthy city-state, set to become the centre of a vast empire. The carnival puts considerable emphasis on the wearing of masks – after all, there's no way of telling nobility from the peasantry when everyone wears a mask!
The colour, spectacle and sights of Venice are a feast for the eyes at the best of times, but its all the more magical during carnival.
Still, one thing Venice does lack is a catchy rhythm. And while I don't want to diss one of the great composers, you can't shake your ass to Vivaldi.
The samba, now that's a whole different kettle drum of fish. Which brings us to yet another one of the world's most fascinating cities – Rio de Janeiro in Brazil.
Rio Carnival is the world's biggest carnival as the entire city erupts in an explosion of colour and percussion. Although technically anyone can join in if they want to, in Brazil the shaking of one's booty is a serious business and parade participants generally practice year-round getting their moves right.
Only one party on earth can beat Brazil for sheer spectacle, noisiness and wild abandon – Mardis Gras in New Orleans. Rio might be the biggest, but the Big Easy is certainly the craziest. It, too, has its fair share of parades, plus plenty of boisterous revellers and pearl beads. Many of the big parade "krewes" also run special Mardi Gras balls – one such ball is the Bacchus ball, named for the Roman god of wine, just in case you didn't know where the emphasis was placed – on divine hedonism!
---