08 December 2015
Cartoon Time: Famous People Meet Santa Claus
What Would You Like For Christmas?
So, what do YOU? Want for Christmas? Everyone wishes they could sit on Santas lap and have their dreams come true, no matter how rich and famous!
Trouble in Paradise? Looks like a frosty Christmas ahead for Ant and Dec!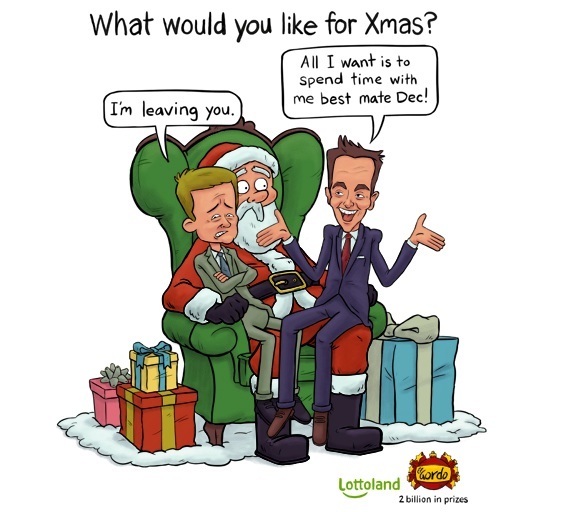 Turn on the TV at any time of day or night and flick through the channels - there's a 50% chance you'll find a panel show with Sue Perkins on it. But will you be laughing?
Has Katie Hopkins been a good year this year? What do you think?
A bigger loudmouth than Katie, is there such a thing? Surely Jezza fits the bill, but don't let him get hungry, you won't like him when he's hungry.
Clarkson has often been called a sexist pig, whereas David Cameron, well, he's apparently had... [Ok, that'll do, Niall, that'll do - The Editor.]
Make A Christmas Wish!
Financial security, world travel, a new home, a fancy car - all your wishes could come true this Christmas with Spain's legendary El Gordo. By betting on the results online with Lottoland you can now enjoy the world's biggest and most generous lottery!