News & Stories 04 September 2019
Luxury Lives Here!
The Most Exclusive Shopping Streets in the World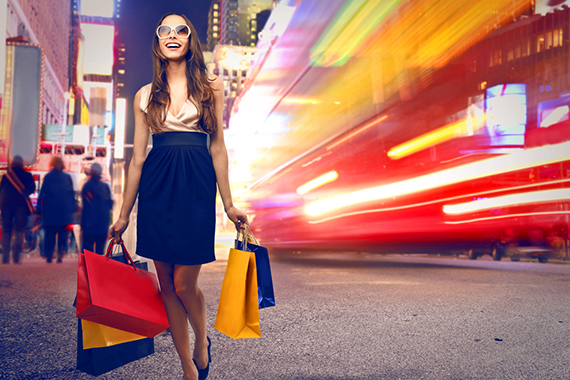 If you love designer clothes, fine jewellery or high-class beauty products, there is no way to avoid these streets. A lavish shopping trip to the most magnificent boutiques in the world is not only for millionaires, even if sometimes we go to window-shop rather than break out the credit cards. Just so that you know where to find the top luxury shopping addresses in your favourite city, we have put together the most exclusive shopping streets in the world for you. And even if the million euro lottery win is still a bit in the future, it's absolutely worth taking a walk on these boulevards. After all, just looking doesn't cost anything.
In the infographic below, you can see at a glance where the hearts of luxury fans beat faster.
Let's take a closer look at where the most exclusive shopping streets are and what shops can be found there. So that you do not lose track, we have arranged the most famous shopping streets by continents and countries. Happy shopping!
Morocco
Morocco Mall - Boulevard de Biarritz, Casablanca:
The Morocco Mall is the largest shopping centre in Africa with 600 shops and an area of 250,000 square meters. If you are looking for luxury, this is the place for you. International designer labels such as Gucci, Dior and Ralph Lauren provide exclusive western flair.
South Africa
Diamond Walk - Sandton City, Johannesburg:
The gigantic Sandton City shopping centre and the adjoining Nelson Mandela Square make up one of the largest retail complexes in the African continent. The Diamond Walk in the shopping centre, which is called the richest square mile in Africa, attracts shopaholics with exclusive boutiques such as Louis Vuitton, Gucci, Prada, Patek Phillipe and Dolce & Gabbana.
Brazil
Rua Oscar Freire, São Paulo:
Here and in the surrounding side streets, you can find the latest collections of Christian Dior, Salvatore Ferragamo or Tommy Hilfiger. Besides top international designers, many Brazilian fashion designers and artists also have their boutiques here.
Canada
Bloor Street, Toronto:
In the Yorkville district, especially at the intersection of Bay Street, you will find the exclusive section of Bloor Street, home to numerous exclusive fashion and jewellery boutiques. Louis Vuitton, Gucci, Prada, Hermès and Chanel are just a few of them.
USA
Magnificent Mile, Chicago:
This street is certainly aptly named: The "Magnificent Mile" is the main shopping promenade in the city of Chicago. In the immediate vicinity of Lake Michigan, the Magnificent Mile is home to numerous boutiques by renowned designers and luxury department stores.
Rodeo Drive, Los Angeles:
Rodeo Drive is considered one of the best places anywhere in the world when it comes to luxury shopping. Along with international luxury fashion brands such as Giorgio Armani, Gucci, Versace and Dior, Rolex, Mont Blanc, Omega, Cartier and De Beers, Rodeo Drive is also home to the finest watch brands and jewellers in the world. If you're lucky, you may just bump into stars like Leonardo DiCaprio or Beyoncé adding to their collections.
Fifth Avenue, New York:
The dream of every shopaholic is certainly Fifth Avenue in Manhattan. All kinds of luxury brands from different areas such as Louis Vuitton, Tiffany & Co, Prada, Armani, Fendi, Omega, Chanel, Escada, Lacoste and many more have settled there. In addition, there are also some shops with more affordable prices such as Victoria's Secret.
Madison Avenue, New York:
Valentino, Alexander McQueen, Tom Ford and Hermès are just a few of some 150 luxury brands that can be found on Madison Avenue. On the parallel road to Fifth Avenue, luxury lovers will find a number of exclusive fashion boutiques, shoe stores, jewellers, antique dealers and art galleries.
Worth Avenue, Palm Beach:
Worth Avenue is an upscale shopping district in Palm Beach, Florida featuring upscale designer boutiques, restaurants and art shops. From Armani to Chanel, Gucci, Hermès to Valentino, luxury fans will get their money's worth here.
China
Causeway Bay, Hong Kong:
Measured by the average store rent, the Causeway Bay together with Fifth Avenue in New York is the most expensive shopping street in the world. In numerous shopping malls, such as Lee Gardens, Hysan Palace, Times Square or Fashion Walk, lovers of high fashion, designer bags, luxury watches, fine jewelry and expensive accessories are to be found.
Nanjing West Road, Shanghai:
Louis Vuitton, Tom Ford, Mont Blanc, Breitling and many more high-end boutiques can be found here. Luxury shopping dreams can come true in the many classy malls and shopping centres.
Japan
Ginza, Tokyo:
Ginza is not a classic shopping street, it is rather a whole district where luxury brands like Chanel, Burberry, Seiko or Armani are located. In addition, there are many chic restaurants and cafes, galleries and nightclubs.
Singapore
Orchard Street, Singapore:
This is one of the most famous shopping streets in Singapore. Luxury fans will get their money's worth, especially in Paterson Road. Many well-known fashion and jewellery designers have their stores here.
Collins Street, Melbourne:
Luxury shopping dreams come true on Collins Street in Melbourne. Especially in the area between the corner of Swanston Street and Exhibition Street luxury lovers can really let off steam. From Armani to Bulgari, Dolce & Gabbana, Gucci, Longchamp, Cartier to Rolex, there's just about everything in the fashion and jewellery world.
United Kingdom
Bond Street, London:
Elegant fashion boutiques, some of the world's largest jewellers, art and antiques can be found in London's Bond Street. These include the court suppliers of the royal family. No other London street is home to more luxury brands than this boulevard.
Oxford Street, London:
Oxford Street is considered to be London's premier shopping street and is one of Europe's best-known and best-selling shopping streets. In the north of the district of Mayfair it extends over a length of 2.5 kilometres and is home to over 550 shops and restaurants. In addition to luxury labels, there are also retailers with slightly more affordable prices in their stores.
Sloane Street, London:
Close to Hyde Park is the luxury shopping street Sloane Street with countless exclusive boutiques. The most important designers in the world line up here next door to one another. Framed by beautiful buildings, Sloane Street offers a true (luxurious) shopping experience.
Germany
Kurfürstendamm, Berlin:
The Kurfürstendamm, also called Ku'damm, is considered Berlin's shopping and shopping mile. Between Olivaer Platz and Kranzler Eck, Chanel, Gucci and Louis Vuitton are home to just about every major luxury brand. It's also worth investigating the side streets, such as the Uhlandstraße, Fasanenstraße or Bleibtreustraße, as you can find many boutiques there.
Königsallee, Düsseldorf:
You can shop royally on the Düsseldorfer "Kö". After Bond Street in London, the boulevard has the second highest density of luxury boutiques in Europe. In addition to traditional family businesses and fine boutiques, there are also independent labels and stores with exceptional clothing.
Der Neue Wall, Hamburg:
The Neue Wall is one of the most luxurious shopping addresses in Hamburg. Both international luxury labels and traditional Hanseatic companies are based on this sophisticated shopping boulevard. In a distance of one kilometer, there are around 100 shops which in terms of luxury, style and exclusivity leave nothing to be desired.
Maximilianstraße, Munich:
The Maximilianstraße is considered the most luxurious mile in the city of Munich. With Chopard, Cartier, Fendi, Versace, Hugo Boss, Valentino, Jimmy Choo, Ralph Lauren, and many other luxury brands, this street is home to just about every designer in the fashion and jewellery industry.
France
Boulevard de la Croisette, Cannes:
On the two-kilometre promenade that runs alongside the beach of Cannes, surrounded by palm trees and magnificent parks, are the most expensive restaurants and hotels as well as the most exclusive and luxurious shops. Fans of Armani, Chanel, Dior, Fendi or Valentino are sure to get their money's worth here.
Avenue des Champs-Élysées, Paris:
The Avenue des Champs-Élysées is considered the boulevard of the French capital. Since 1860, an association has paid close attention to which businesses are settling here to preserve the prestige of the boulevard. World-famous luxury brands like Louis Vuitton, Guerlain, Cartier and Hugo Boss are just some of them.
Avenue Montaigne, Paris:
Anyone who loves haute couture will get their money's worth on Avenue Montaigne. Christian Dior, Chanel, Valentino and Fendi are just a few of the local labels. Within a distance of 600 meters, the Who's Who of the international fashion greats can be found and leaves nothing to be desired when it comes to luxury shopping.
Rue du Faubourg St.-Honoré, Paris:
Numerous world-famous luxury brands such as Gucci, Dolce & Gabbana, Cartier, Chanel, Hermès or Pierre Cardin have settled here in the immediate vicinity of the Elysée Palace, the official residence of the President. In addition, some high-end cosmetics brands such as Lancôme or Givenchy have opened up noble beauty salons.
Italy
Via Monte Napoleone, Milan:
Known for its ready-to-wear fashion and countless luxury jewellers, Via Monte Napoleone is considered the centre of the Italian fashion world. The most important fashion designers in Italy, such as Armani, Versace, Dolce & Gabbana, Prada, Gucci and Missoni, line up here. These internationally renowned brands make them the most expensive boulevard in Europe.
Via Condotti, Rome:
Via Condotti is considered Rome's most luxurious shopping street. On the 700-meter-long boulevard, luxury designers from all over the world make credit cards overheat: Gucci, Valentino, Prada, Dior, Céline, Prada, Giorgio Armani, Alberta Ferretti, Trussardi, and, and, and ... bulging shopping bags are guaranteed here.
Monaco
Avenue de Monte-Carlo, Monaco:
The Avenue de Monte-Carlo with its adjacent streets, such as the Avenue des Beaux-Arts or the Allées des Boulingrins, offers lovers of prestige brands such as Louis Vuitton, Chopard, Yves Saint Laurent, Alexander McQueen or Piaget for unique shopping pleasure.
Austria
Kärntner Straße / Kohlmarkt, Vienna:
The old town of Vienna around Kärntner Straße, Graben and Kohlmarkt is a veritable metropolis of exclusive designer stores and fine boutiques. In addition to well-known fashion sizes, many talented young designers from Austria provide a breath of fresh air in the fashion scene.
Switzerland
Rue du Rhône, Geneva:
Chanel, Christian Louboutin, Elli Saab, Gucci, Hermès or Prada make the hearts of luxury fans beat faster here. In addition, lovers of fine watches and jewellery at Bucherer, Cartier, Chopard or Tiffany & Co will find much to enjoy.
Bahnhofsstraße, Zürich:
Zurich's Bahnhofstrasse is known worldwide as a luxury destination and shopping mile. Here you will find numerous boutiques of well-known fashion designers, fine jewellery and watch shops and luxury hotels. Those who love the styles of Dolce & Gabbana, Tommy Hilfiger, Louis Vuitton, Montblanc or Bulgari will surely enjoy a shopping trip here.
Spain
Passeig de Gràcia, Barcelona:
The 1.5-kilometre-long Passeig de Gràcia is located in the district of Eixample and is considered the main thoroughfare of the Catalan capital. In addition to luxury brands such as Longchamp, Cartier, Gucci or Bulgari there are also shops with more affordable prices such as Zara and H & M.
Calle Serano, Madrid:
Prada, Ralph Lauren or Stella McCartney are just a few of the top shopping destinations along Calle de Serrano. By the way, shopping on the Calle de José Ortega y Gasset is also worthwhile. There is even more luxury there: Dior, Jimmy Choo, Roberto Cavalli, Tiffany & Co and many more fine boutiques.
Your Chance to Win at Lottoland!
In order to let off steam in these luxurious shopping streets, a million-euro jackpot would help a lot. Choose your personal favourite from our lottery selection and place a bet today. Maybe you will soon be jumping from one shopping paradise to the next! We keep our fingers crossed for you!
Last updated August 2019
---