News & Stories 08 June 2017
The Power of Smiles and Laughter
Laughing Therapy: 9 Health Benefits of Laughter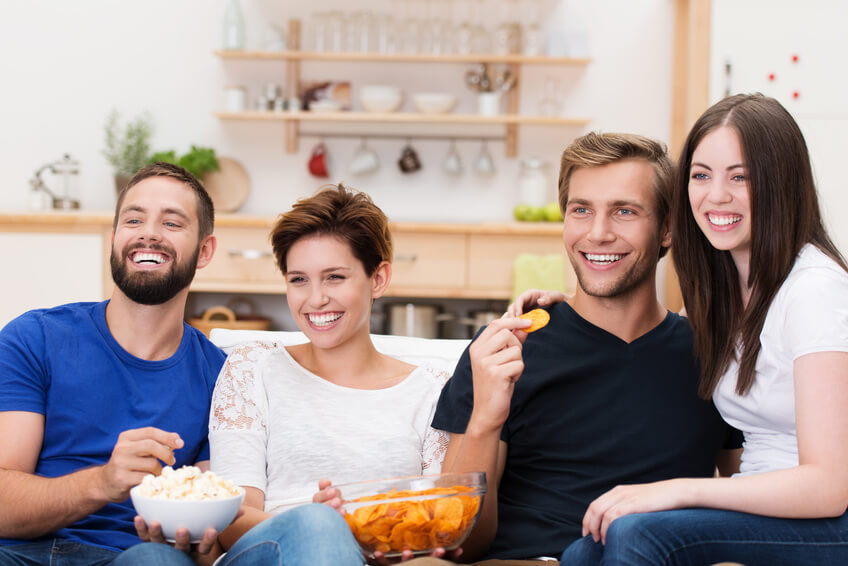 There are millions of reasons to laugh, and even more reasons why you should brighten up your face with a smile! Smiles and laughter are a universal language - perfectly understood by every single person in the world. It does not matter which country or corner of the world you come from, a smile and a giggle is always a good thing!
"Laughter is the shortest distance between two people". -Victor Borge
Smiling is one of the most natural expressions of man. It is a physical expression of feelings of happiness, comfort, friendship or social proximity. The smile on our face can get us through the day and make our mood more agreeable. But what exactly lies behind the smile?
According to several psychologists, sociologists and scientists the smile has two levels: emotional and social. The first is associated with the expression of our current emotional state - happiness or bliss, for example - and the other with the social aspect; smiling as part of our social life or way of communication. The smile is not only a universal symbol of happiness and friendliness, but also a universal greeting that everybody understands perfectly on every corner of the planet.
"Laughter heals smart people, but insults the stupid ones." - Jan Werich
What is the difference between a smile and a laugh? Smiles and laughter are inextricably linked, but there are some crucial differences between them. Dictionaries define a smile as a facial expression that expresses a feeling of pleasure, benefit, or entertainment. Meanwhile laughter is defined as a wider or broader smile, expressing joy or responding to something fun, and of course laughter is (normally) accompanied by sound.
According to the study by Alleen and Don Nilsen, smiles and laughter can be distinguished in the following way: while we express the feelings of satisfaction and goodwill with a smile, our laughter can arrive unexpectedly. A smile is associated with a positive experience, laughter with something unpredictable which may not always have a positive impact. Either way, both smiles and laughter have positive effects on our body and spirit and form an important part of our everyday life.
Why do we laugh?
The causes of smiles and laughter are different; they can be reflective or in response to pleasant situations, messages or thoughts.
Many scientists have carried out studies into the reasons why we laugh. Most research into the subject seems to suggest that laughter is a by-product of evolution; it is a universal, non-verbal language which we can use to express our current state of mind and which everybody understands. One of the remarkable things about laughter is that it is involuntary. Even though we can consciously stop laughing (although as everybody knows that can be extremely difficult at times) we cannot consciously produce, stimulate or imitate laughter.
A human individual can smile from birth, and even before then! According to paediatrician Mark Gettleman, a baby can smile even before he or she even emerges from the womb. This kind of smile is not a reaction to something else, it is an automatic reflex and occurs randomly. Smiling as a reaction to external stimuli or as an expression of satisfaction occurs approximately 6 weeks later. Between the 3rd and 4th months the baby will laugh for the first time, assuming he or she sees or hears something funny by then!
Wear a smile and have friends; wear a scowl and have wrinkles. —George Eliot
Several studies have already addressed the positive effects of smiles and laughter. In short, laughter regulates our blood pressure, reduces the risk of cancer, prolongs our lives, helps to burn calories, and above all helps us to live a happy life low on stress and fear. Studies have even found a correlation between the intensity of a smile intensity and later satisfaction in life. Those who smiled more often were later more satisfied with their lives than a group which smiled less or not at all. Let's take a closer look at the beneficial effects of smiling and laughing to see why we all need a little laughter in our lives.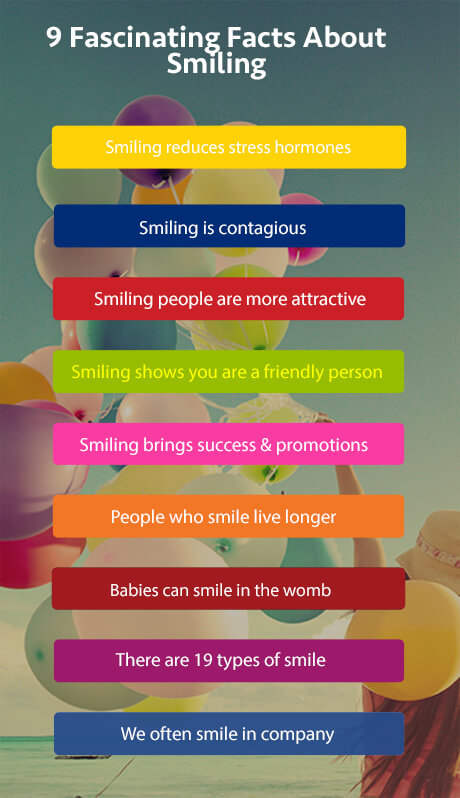 9 Reasons Why Smiles and Laughter are Good for You:
1. You feel better and happier
It sounds almost too good to be true: you smile because you are happy and you are happy because you smile. But it's true! The more you laugh and smile, the better you feel and the happier you feel. Smiling and laughing produce endorphins, 'happiness hormones' that improve mood and reduce stress. That means that simply by smiling even when you're not feeling particularly cheerful you can trick your brain into actually becoming happier and you will feel your mood improving.
2. Less stress, more joy
When we smile and laugh, neuropeptides are released together with small molecule transmitters that transmit information between neurons (nerve cells) to help ensure proper brain function. Laughter has the power to eliminate stress and anxiety, to stabilise your mood and make you feel better. Laughter also releases the hormone dopamine, which is accompanied by sensations of happiness and increased motivation. On top of all that, smiling also reduces levels of stress hormones, cortisol and adrenaline, while producing the 'happiness' chemical serotonin.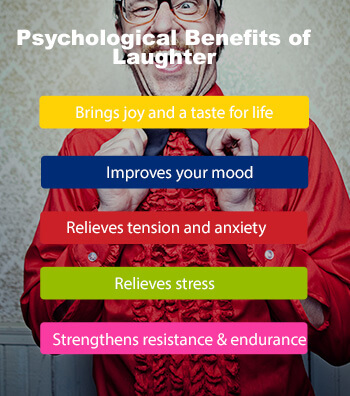 3. Laughter relieves pain
Smiles and laughter can reduce feelings of pain. This was the conclusion of psychologist Sarah Pressman after a study she carried out at the University of California in Irvine. She asked half the people who received a vaccination to smile as the needle went in, and then asked all the patients to rate the amount of pain they felt. Those who smiled during the vaccination felt 40% less pain, and these patients also demonstrated a lower risk of stress, demonstrated by a lowered heart-rate. Decreased feelings of pain also relate to the release of the so-called happy hormones: endorphins and serotonin. Turns out that 'smiling through the pain' is a good idea!
4. You build immunity and become healthier
Smile and laughter increase your defences against viruses by increasing the production of hormones that take care of the reproduction and regeneration of cells. Also, white blood cells B and T lymphocytes are stimulated to form antibodies. Laughter is linked to the healthy function of blood vessels by increasing blood flow, while stress has the opposite effect. Laughter and smiling reduce the levels of stress hormones cortisol and adrenaline in the body, which in turn reduces the risk of developing cardiovascular disease, obesity and mental disorders. 10 to 15 minutes of laughter also burns 40 calories and relaxes the muscles for 45 minutes, and is a lot more fun than your average trip to the gym!
5. You look more attractive and will be more confident
Fact: A natural and brilliant smile makes you more attractive, so maybe you should stop putting off that next trip to the dentist! According to information provided by Portman Dentalcare, up to 71% of women and 58% of men consider the smile to be the most desirable feature of their partner. Additionally, up to 24% of people claim that a smile is the feature of the face most often remembered the first time you meet somebody. A study published in the Neuropsychologia Journal showed that when we look at a smiling person, we activate the part of the brain that processes feelings of being rewarded. Smiling people get more attention and people trust them more, and trust and respect also form the basis of self-confidence.
6. You will be popular and maintain stronger relationships
People automatically associate smiling people and those who laugh a lot with a positive mood. Entertaining people who spread good vibes and a positive atmosphere are often top of the list for parties, celebrations and trips away. People who smile a lot are also considered to be more courageous, more sincere and more friendly than their sullen neighbours. Smiles and laughter improve social ties with friends, improves the relationship between life partners and helps to brighten up the atmosphere in the workplace. An 'unspoken' smile and laughter draws people closer together, helping to solve conflicts and create the chemistry that makes us connect with our friends. After all, love without smile and laughter would not be love, would it?
7. You will be more Successful
People who smile a lot are more successful in life and careers, as well as being more satisfied by their lot in life. According to several studies, members of staff who smile more are more likely to earn a promotion. A smile releases dopamine which deliver energy, stamina, and perseverance to enable us to achieve work or other goals. Andrew Oswald and his team at Warwick Business School conducted experiments which showed that people who smile more often are more productive and creative in the workplace. This was shown by the team's 2010 study of 220 staff who worked in customer-facing roles. The results showed that regardless of age or gender, customers were more satisfied after dealing with smiling representatives. It seems that the smiles of workers managed to put a smile on the faces of their customers.
8. Make Yourself and Others Happy
Smile and laughter are infectious. According to a study published by Lifehack.org, up to 50% of people will return a smile. This was shown in a study carried out by the author of The Smile publication and the founder of the HealthTap Interactive Company, Ron Gutman. According to this study, when we see someone smiling the evolutionary mechanism suppresses control of our facial muscles. We return the smile unknowingly and automatically, so when you give someone a smile, they will give it right back to you and you can both enjoy the positive effects together!
9. Laughter Makes You Live Longer
According to research by Wayne State University laughing a lot can extend your life by up to 7 years. The research group came to this conclusion via a rather unusual method: studying old photographs of professional baseball players from the 1950s. The researchers ranked each player according to whether they were smiling, and if so, how many facial muscles were engaged in the smile. They then compared the results with the life-spans of the players, and of those that had died discovered that there was a 7-year difference between those who weren't smiling and those with the biggest grins.
How to laugh more
While the average toddler laughs 400 times a day, the average adult only laughs 20 times a day. Those toddlers have a very light-hearted way of looking at the world! If you wonder how many times a happy adult laughs each day, turns out that it's 45 times. These numbers come from data collected by the Power Of Smiling project, which was carried out by British clinic Portman Dentalcare.
Smile and laughter are free! They have positive effects on our body and spirit, not only beneficial to ourselves, but also to those we infect with our laughter and smiles. Smiling and laughing is contagious, so why not do more of it?
Real versus Fake Smiles
Scientists from the University of California San Francisco have defined 19 types of smiles that they have divided into two main categories: real or honest smile and courtesy or social smile, (which could more unkindly be called a 'fake' smile). Among these 19 types only 6 are used to display genuine happiness, and the other 'non-enjoyment' smiles signal feelings such as sadness, embarrassment, compliance, contempt or just the type of smile deployed by a bored shop assistant to try and indicate politeness.
According to studies, up to 80% of people can fake a realistic smile. So how are we supposed to tell the difference between a fake smile and a real one? The French scientist Gauillaume Duchenne de Bologne dedicated himself to the study of facial muscles in the 19th century, and specifically how they reacted during smile and laughter. After years of study he came to the conclusion that while muscles around the mouth (professionally called musculus zygomaticus major) can be consciously controlled, the muscles grouped around our eyes (musculus orbicularis ocilu) cannot be consciously controlled. All of that is a long-winded way of saying that we can only control certain types of smile, and that's where 'fake' smiles come in.
Only a small number of smiles engage the area of the face above the mouth, the upper part of which remains almost stationary. If someone smiles naturally they will raise their cheeks, thus narrowing the eyes, which gives an indication that it's a genuine smile and not just put on for effect. In honour of the afore-mentioned neurologist, we now refer to a genuine smile which engages more than just the mouth as a 'Duchenne smile'.
Even a fake smile has positive effects!
Not even a fake smile is a bad thing! A nicer way to refer to a fake smile would be as a 'polite smile', and we use one of those in all sorts of situations whether we are aware of it or not, like during business meetings and when visiting a shop. In addition, a fake smile still has (real) positive effects; it reduces stress, improves mood and produces endorphins.
A fake smile sends the same signals to the brain as a genuine smile, meaning that both are beneficial to your feeling of well-being. As the Buddhist monk Thich Nhat Hanh says: "Sometimes your joy is the source of your smile, and sometimes your smile is the source of your joy".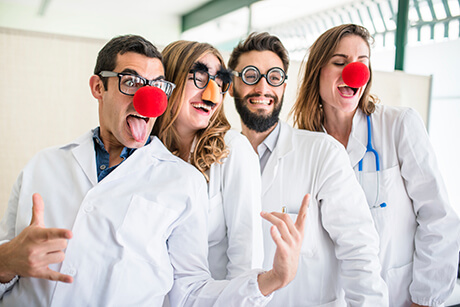 Laughing Therapy
As we are discovering, that old saying holds some truth and laughter truly is the best medicine. However, there have been some who have brought that supposition to the next level, introducing so-called 'laughter therapy' to a sceptical world. This method has been used in clinical situations in the form of 'clown doctors', as portrayed in a certain Hollywood movie that many people will be familiar with.
The revolutionary figure in the field of 'laughter as medicine' was American physician Hunter Doherty 'Patch' Adams, who inspired the tear-jerking Robin Williams movie 'Patch Adams'. In 1971 and Mr Adams and some like-minded colleagues founded the Gesundheit! Institute which aimed to mix conventional treatments with alternative therapies, including the use of laughter as a medicine. Today the Institute offers training on how to provide a mixture of caring and clowning in clinical situations.
Another prominent figure in the realm of laughter therapy was Norman Cousins, who in the 1960s was diagnosed with a serious illness which left him bed-ridden. Although the outlook was bleak, Cousins left his hospital bed and proceeded to cure himself with a combination of heavy doses of vitamin C as well as laughter inspired by his favourite humorous movies and comedy shows. His autobiographical 'Anatomy of an Illness' provides more details, and the story became so famous that it was later turned into a Hollywood movie of the same name.
To provide you with some further motivation to put a smile on your face, we have collected some of the best quotes about smiles and laughter from the Great and the Good below: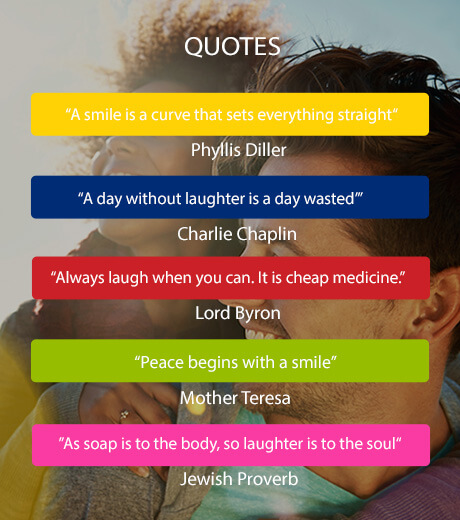 Sources:
www.naturalhealth365.com
www.lifehack.org
www.holistichelp.net
www.psychologytoday.com
www.parents.com
positivepsychologyprogram.com
www.neuropsychotherapist.com
www.scciil.gu.se
www.psychologicalscience.org
---