Lottery 24 October 2018
Only One Winner
Record MegaMillions Jackpot Winner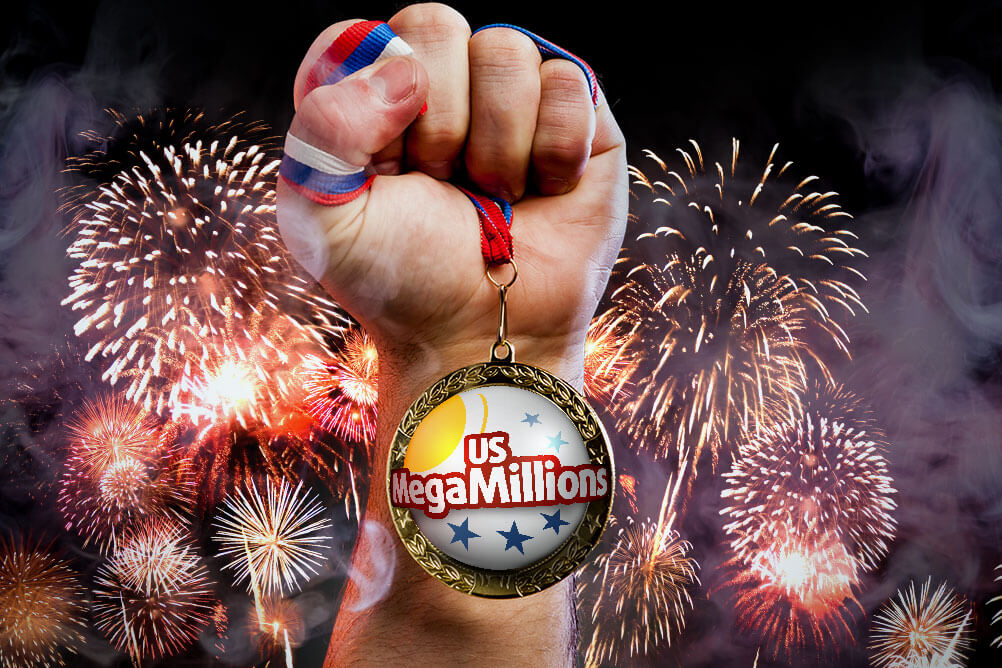 The winning ticket was sold in South Carolina, and the winning numbers were 5, 28, 62, 65 and 70, plus the MegaBall 5. The winner can now choose whether to accept 30 annuity payments over 30 years or to take a lump sum amount which will be reduced to $878 million (£680 million) before taxes. Either way, safe to say that this record-breaking winner can give up the day job!
In recent days and weeks lengthy queues have been a common sight at petrol stations and shops in the U.S. as lotto fever took hold of the country. Likewise, here at Lottoland we enjoyed a surge of sales thanks to that giant MegaMillions jackpot, which smashed the previous MegaMillions jackpot record of $656 million (£508M).
Biggest Lotto Jackpots
Lottery
Record Jackpot
£GBP Value
Powerball* (US)
$1.586 billion
£1.21 billion
MegaMillions* [US]
$1.537 billion
£1.19 billion
SuperEnaLotto** [IT]
€177.7 million
£156 million
EuroJackpot [EU]
€90 million
£79 million
*Powerball and MegaMillions Tiers 1-3 are subject to 38% reduction as per T&C's. Tier 1 winning bets are paid out as a 30 year annuity or discounted lump sum at Lottoland's election.
**SuperEnaLotto Tiers 1-3 for winning bets are subject to 12% reduction as per T&C's.
Note that all currency conversions were correct as at time of writing
The Biggest Ever Lotto Win
Powerball is still the king of lotteries, but MegaMillions has given us the biggest ever lotto win by one person. In October 2018 MegaMillions won the record for the largest lotto amount ever won by one individual when their jackpot of $1.537 billion was won by a ticket purchased in South Carolina.
Other Highest Lotto Wins
What about other lottos? Well, in the table below you'll find details of the biggest jackpots ever won in the Irish Lotto and other popular lottos which you can place bets on at Lottoland:
Other Lottos Biggest Jackpots
Lottery
Record Jackpot
£GBP Value
Irish Lotto
€18.9 million
£16.7 million
Australian Oz Lotto
$112 million AUD
£461 million
German Lotto
€45.4 million
£40 million
French Lotto
€24 million
£21.2 million
Hong Kong Mark 6 Lotto
HK$169.3 million
£16.4 million
Biggest Lotto Win In The UK
The biggest lottery jackpot ever won in Britain belongs to Colin and Chris Weir, the Scottish couple who famously won £161.6 million back in 2011.
Here's the full list of the biggest British lotto winners:
Biggest British Lottery Winners
Winner
Year
Jackpot
Colin & Chris Weir
2011
£161.6 million
Adrian & Gillian Bayford
2012
£148.6 million
Anonymous Winner
2010
£113 million
Neil Trotter
2014
£107.9 million
Dave and Angela Dawes
2011
£101.2 million
Go to the MegaMillions page for your chance to bet on the giant MegaMillions lottery and who knows, maybe you could be appearing on the next version of this list!
Last Updated: October 2018
---