News & Stories 24 October 2018
Only One Winner
Record MegaMillions Jackpot Winner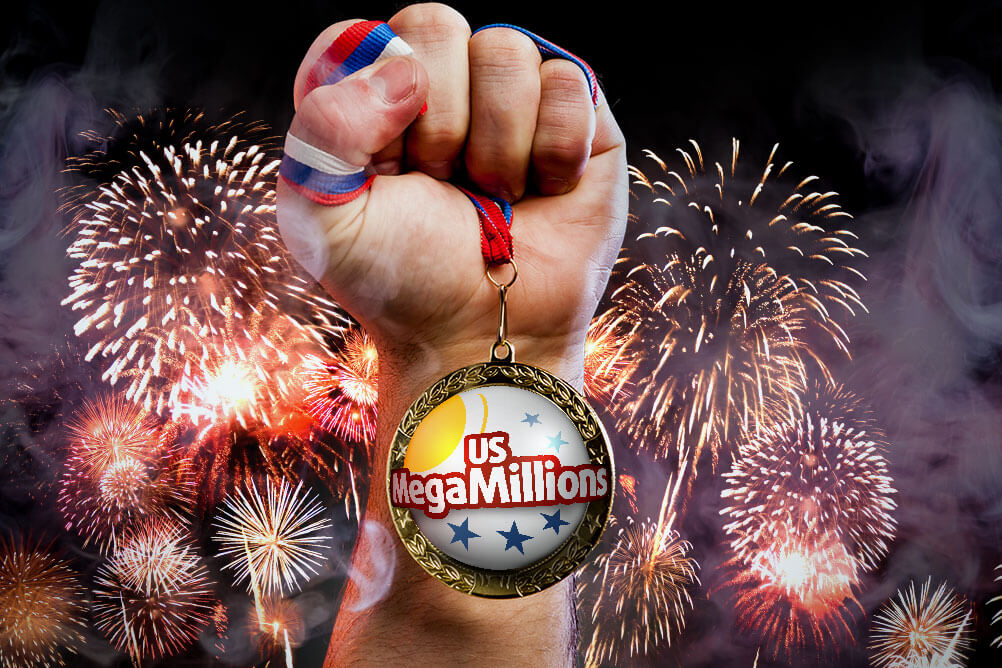 The winning ticket was sold in South Carolina, and the winning numbers were 5, 28, 62, 65 and 70, plus the MegaBall 5. The winner can now choose whether to accept 30 annuity payments over 30 years or to take a lump sum amount which will be reduced to $878 million (£680 million) before taxes. Either way, safe to say that this record-breaking winner can give up the day job!
In recent days and weeks lengthy queues have been a common sight at petrol stations and shops in the U.S. as lotto fever took hold of the country. Likewise, here at Lottoland we enjoyed a surge of sales thanks to that giant MegaMillions jackpot, which smashed the previous MegaMillions jackpot record of $656 million (£508M).
Biggest Lotto Jackpots
Lottery
Record Jackpot
£GBP Value
Powerball* (US)
$1.586 billion
£1.121 billion
MegaMillions* [US]
$1.537 billion
£1.19 billion
EuroMillions [EU]
€190 million
£167 million
SuperEnaLotto** [IT]
€177.7 million
£156 million
EuroJackpot [EU]
€90 million
£79 million
*Powerball and MegaMillions Tiers 1-3 are subject to 38% reduction as per T&C's. Tier 1 winning bets are paid out as a 30 year annuity or discounted lump sum at Lottoland's election.
**SuperEnaLotto Tiers 1-3 for winning bets are subject to 12% reduction as per T&C's.
Note that all currency conversions were correct as at time of writing
So Close to a World Record
If this MegaMillions jackpot had rolled over again it would have topped the $2 billion mark, (according to the Texas lottery office), which would have made it the all-time largest lotto jackpot. However, the win has been confirmed which means that the next MegaMillions jackpot will revert to $40 million (£31 million).
This MegaMillions jackpot rolled over no fewer than 25 times before finally being won, but this record-breaker was certainly worth waiting for. However, it still hasn't (quite) beaten the previous world record for a lottery jackpot which is the $1.58 billion (£1.22B) Powerball prize which was split between three people from California, Florida and Tennessee.
The record for a single ticket jackpot win was the $758 million (£587M) won by Mavis Wanczyk from Massachusetts in 2017 and that second record has now been consigned to the history books thanks to this latest monster jackpot win by a single ticket-holder. We may never find out just who that winner is though, since South Carolina is one of the few states to allow MegaMillions winners to remain anonymous.
Millions of Winners
Since the MegaMillions jackpot started rolling over more than 50 million prizes have been paid out over the nine prize tiers of this lottery, with 85 of those being worth more than a million dollars. In the lead up to Tuesday's draw a massive 36 second place prizes were won, paying out around $1.3 million each (or twice that for the two people who paid for the optional Megaplier feature).
So MegaMillions can't manage to regain its crown as King of the Lotto Jackpots, as that honour remains with Powerball! Speaking of which, the Powerball jackpot is currently at £195 million and it may just keep rolling over to threaten the new record.
If you want to get in on the action, head over to our Powerball page now to place a bet.
---