News & Updates 26 February 2020
Check out the richest actors and the most expensive movies
The Wonderful World of Movies in Numbers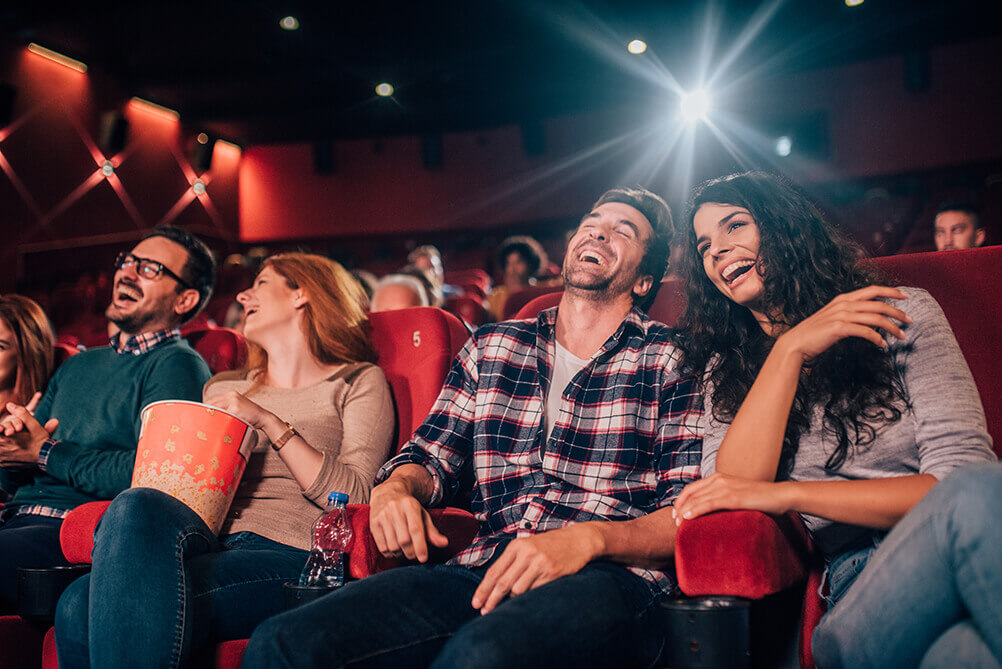 To answer these and many other questions, Lottoland has prepared a comprehensive guide to everything you ever wanted to know about the world of cinema – along with some very interesting stats. After reading this article, you will be able to wow your friends and family with your new-found movie knowledge, so let's get started!
THE HISTORY OF FILM: A BRIEF JOURNEY THROUGH TIME
Today we can watch beautiful movies in 3D with booming surround sound, or even make our own movies with a smartphone, but the movies we know today originated from experiments carried out by Leonardo da Vinci with the 'camera obscura' he invented in the 15th century. With this apparatus, the first studies of image capture through lenses were carried out by the Italian genius.
Over the centuries that followed, cameras were invented and slowly perfected. Then, in 1891, Thomas Edison unveiled his kinetoscope and the first projections of moving images were shown.
As you can imagine, in the early days of cinema the films were fairly basic. In 1895, the Lumière Brothers projected the first images for a paying audience and thus paved the way for the very first cinematographic fiction: Voyage to the Moon, by Georges Méliès, in 1913.
HOLLYWOOD: AN X-RAY OF THE CAPITAL OF CINEMA
Ever wondered who created Hollywood and where the capital of cinema is located on the map? Or why is Hollywood the production centre of the most-watched films on the planet? We provide the answers to these and many other questions about Tinseltown.
The history of Hollywood is often conflated with the history of cinema as a whole. So it is not uncommon for you to find someone referring to any film as a "Hollywood production" - even though movies are made in many different places around the world.
But can you believe that the beginnings of Hollywood were as a religious community? That's right, when Hollywood was founded by Harvey Henderson Wilcox and just over 500 residents in around 1900, the place was just one of the districts of Los Angeles in California, and anyone who contributed to the strengthening of the local church would receive a plot of land on which to make their home. However, in less than a decade this reality would radically change.
To rival the patent monopoly of New York entrepreneurs, studios like MGM, Paramount, Warner Bros, Fox and Universal, among others, found Hollywood the perfect place to produce films... and in the process changed cinema history forever.
With the cinema boom, Hollywood films began to be consumed worldwide and this small district started to become the Mecca of movies.
The simplicity of the earliest films was replaced by stories with elaborate scripts, starring iconic artists, recorded on expensive equipment and edited with eye-popping special effects. Thus, the cinema industry as we know it was born.
And do you know how much these Hollywood blockbusters cost and how much profit is made by each of the films you watch from the comfort of your sofa or armchair? Can you imagine how much the biggest stars earn for each film? Do you really want to understand how Hollywood works? By the end of this article, you will discover these and many other curiosities, so keep reading to find out more.
HOW MUCH DOES A HOLLYWOOD MOVIE COST?
Now that you know how Hollywood became the capital of cinema, it's time to talk about those all-important numbers.
Producing films is no longer exclusive to major studios: you can even record your own story with a smartphone and a dose of creativity. Therefore, the cost of a film - whether it is from Hollywood or not - depends on a number of factors, such as technical staff, special effects, filming locations and, of course, the stars that will appear on the big screen.
Some successful films, like Hercules in New York (1970), cost so little that you could finance them with a minor lottery jackpot win. That's right, Arnold Schwarzenegger's first film was made for a mere $550,000.
But if you wanted to pay for the shooting of a movie like Avengers: Endgame (2019) on your own, you would need to hit the jackpot of a big lottery like PowerBall, since the production costs on that movie ran to $400 million.
However, to say how much a typical Hollywood film costs, we can make a calculation based on the average amount of money required. Based on the values ​​of the last 20 years, you "only" have to win a German Lottery prize of around $4 million to have your own Hollywood production.
THE MOST EXPENSIVE AND MOST PROFITABLE MOVIES IN HISTORY
Just over 100 years after the first Lumière Brothers' screenings, cinema has become a multi-billion-dollar business. Hollywood studios are increasingly investing in extravagant special effects and big-name artists, bringing the cost of production to stratospheric levels.
And since we are talking about the world of cinema in numbers, we could not leave out the most important statistics: the financial ones.
The podium for the three most expensive films of all time consists of movies that you have very probably seen:
3. Avengers: Age of Ultron (2015) | Cost: $365 million
2. Avengers: Endgame (2019) | Cost: $400 million
1. Pirates of the Caribbean: On Stranger Tides (2011) | Cost: $410 million
However, an astronomical investment does not always mean that a film is going to be a success at the box office. That is why the ranking changes a little when we analyse the record holders in terms of box office revenue:
3. Titanic (1997) | Revenue: $2.187 billion
2. Avatar (2009) | Revenue: $2.79 billion
1. Avengers: Endgame (2019) | Revenue: $2.8 billion
Of course, the value of the dollar has changed over time, so the result is a little different when we adjust gross revenues for inflation. Based on this, the film with the highest box office would be another one - and one far from the fantastic universes featuring in the list above. Gone With the Wind (1939) cost, in today's values, around $66 million and raised an incredible $3.7 billion. Could you ever have imagined that mega-productions like this existed in the 1930s?
While it is certainly true that all of these films were expensive, they also gave great returns in absolute numbers to their investors. But would they also appear on the list of the most profitable films based on the cost/revenue ratio? Let's find out:
3. Mad Max (1979)
Cost: $350,000
Revenue: $100 million
Profit: $285 per $1 invested
2. The Blair Witch Project (1999)
Cost: $60,000
Revenue: $250 million
Profit: $4,167/$1
1. Paranormal Activity (2007)
Cost: $15,000
Revenue: $193 million
Profit: $12,867/$1
With all that money floating around, it is no surprise that there is a class of workers who also make very high profits, (especially when they are cast in the biggest Hollywood productions): the actors and actresses. Let's take a look at the list of the richest stars in the world.
THE RICHEST ACTORS AND ACTRESSES IN THE WORLD
Being part of the cast of a Hollywood film is something that only a few can even dream about. Making it big in Hollywood is almost like playing in the football World Cup. If we are talking about the most expensive Hollywood productions, what happens is basically a game of musical chairs as the biggest names in the industry try to land the featured roles.
For this reason, some of the Hollywood stars manage to accumulate assets worthy of MegaMillions' biggest prizes. So, can you imagine who are the richest actors in the world?
3. Tom Cruise | Net worth: $570 million
2. Shah Rukh Khan | Net worth: $600 million
1. Jerry Seinfeld | Net worth: $860 million
It is hardly a surprise to see Tom Cruise on a list of the highest-paid actors in Hollywood, but did you expect that a Bollywood actor and the star of a comedy series would top the list of actors with the greatest net worth?
Other famous names which appear on the list of highest-earning male actors include Brad Pitt, Robert Downey Jr. and Will Smith, along with various other familiar faces.
And now let's check out the three richest actresses on the planet, on a list which also includes star names like Angelina Jolie, Jennifer Aniston and Julia Louis-Dreyfus:
3. Sandra Bullock | Net worth: $200 million
2. Julia Roberts | Net worth: $220 million
1. Jessica Alba | Net worth: $350 million
It is clear that these fortunes were built in the most diverse ways by each of the stars. While Tom Cruise, Shah Rukh Khan, Julia Roberts and Sandra Bullock starred in dozens of best-selling films, Jerry Seinfeld owes most of his wealth to the comedy series that bears his name, while Jessica Alba is the CEO of a product company for mothers and babies.
WHICH HOLLYWOOD ACTOR MADE THE MOST FILMS?
And if you're wondering which Hollywood actor made the most films over the course of their career, we have also prepared a special podium for this category:
3. James Earl Jones | 188 movies
2. Robert Loggia | 225 movies
1. Christopher Lee | 280 movies
When looking at this classification, you may have noticed two things: firstly, Samuel L. Jackson is not on the podium (in fact, he would be 8th, with 158 appearances); and secondly, the record holders are all men.
This did not go unnoticed by us either. The woman with the most credits for acting (124) is Susan Sarandon - and she ranks 11th on the overall list. Considering that 74% of Hollywood's leading roles are occupied by men, that's not really so much of a surprise. Hopefully the balance will be redressed in the years to come!
By the way, if we were to count only the performances in main roles, the champion would be John Wayne, with 153 appearances as the lead.
The author whose works have been filmed the most is William Shakespeare, with an impressive 831 adaptations. Not even Sir Arthur Conan Doyle comes close to that mark, although Sherlock Holmes, his greatest creation, is the most portrayed fictional character in the film industry, with 254 versions to date.
HOLLYWOOD VS. BOLLYWOOD: THE CINEMA IN TWO WORLDS
14,000 kilometres and two oceans separate the largest centres of cinema in the world, Bollywood and Hollywood. Not to mention, of course, the international reach and styles of production.
Bollywood, the capital of Indian cinema, earned this nickname by combining the names of Bombay (the former name for the metropolis of Mumbai) and Hollywood. However, just as the term Hollywood is used for any major American film production, you will also find several references to Indian films as the fruits of Bollywood.
What you may not know is that when it comes to productivity, Bollywood is the world's largest film industry: Bollywood is responsible for more than 2,000 films a year, while Hollywood produces a quarter of that total, with around 500 films a year.
One of the main differences, however, is the cost of each production. The film "2.0" (2019), the most expensive ever Bollywood movie, had a budget of $80 million – a relatively tiny number when compared to the biggest releases coming from America.
But the style that dominates Bollywood is romance, with crowd-pleasing plots and lots of singing and dancing. Naturally, less resources are needed for this type of movie than for the gigantic Hollywood franchises like Avengers and Pirates of the Caribbean.
And even if you don't watch Bollywood films, know that the industry has a strong and very loyal audience. Just remember that India's population borders on 1.4 billion people and that viewers from neighbouring countries also eagerly consume the latest releases from Bollywood.
HOLLYWOOD VS. ANIME: DIFFERENT GENERATIONS AND STYLES
Just as comic books have become a separate market within the publishing industry, anime animations have carved out a reputation among movie-lovers.
You might even imagine that anime caters only to a younger audience, but today an audience of millions of adults enjoy this artform. Enough for the anime market to earn more than $10 billion in 2019, with profits rising year on year.
And as the public's interest in anime continues to increase, the films are getting more and more sophisticated. To give you an idea, the most expensive anime film of all time – Steamboy (2004) - had a budget of $20 million.
Just as Hollywood and Bollywood are hubs of the film industry, there is also an anime capital of the world and it is in Tokyo, Japan. No fewer than 228 of the 255 Japanese studios specializing in anime are based in that city.
WIN LIKE A STAR WITHOUT LEAVING HOME
Were you impressed by the amount of money involved in hiring the biggest Hollywood stars? Yes, the numbers are pretty eye-watering ​​... but you also have the chance to live like a movie star.
Throughout this text, you have seen which lotteries you would need to win to be able to live like the most famous movie stars, so how about testing your luck right now? At Lottoland, you can bet on your computer or phone on dozens of lotteries from around the world!
And just as only the best and most persistent artists have made it big in Hollywood, in the world of lotteries if you're not in, you can't win!
We hope you had fun with this guide and that you were inspired to pursue your own dreams.
Good luck!
Sources:
aicinema.com.br
digitalspy.com
en.wikipedia.org/wiki/List_of_most_expensive_films
fortressofsolitude.co.za
institutodecinema.com.br
newsday.com
nippon.com
stephenfollows.com
the-numbers.com
voolas.com
---