News & Stories 07 January 2020
Far-Flung Destinations
The World's Most Remote Islands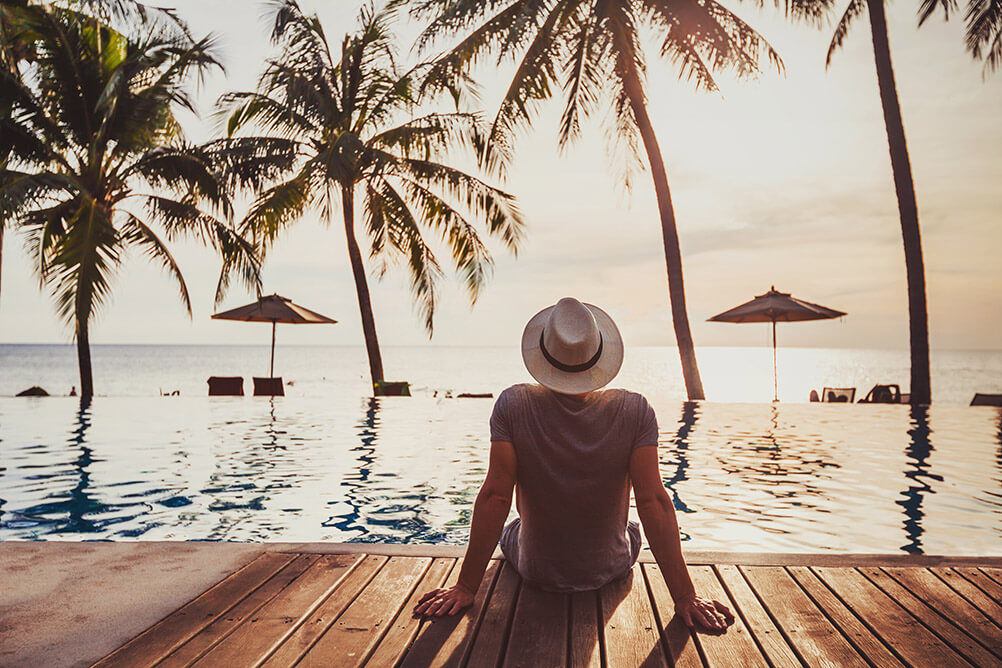 We have all experienced that feeling of being worn down by the demands of modern living, whether that be the daily commute, looking after the kids or the invasive presence of the internet and social media in our lives these days. Sometimes even a holiday doesn't provide a real escape, and we come home feeling in need of a holiday to recover from the holiday! However, there are still some places where it is truly possible to leave all the stresses and worries of home behind. We have researched 40 of the most remote islands in the world to provide some suggestions for a getaway vacation in the truest sense of the phrase!
Let's begin with a rundown of the forty remotest islands on the planet. We have rated them all based on factors like cost, travel time, distance (from the UK) and traveller reviews to come up with a definitive list of the islands which are most worth visiting. Based on our calculations, the three best remote islands to visit are Maui in Hawaii, Tasmania in Australia and São Miguel island in Portugal. Most people will have at least a passing knowledge of the first two, but the island which topped our list may be less familiar. São Miguel island is nicknamed 'The Green Island' and is the most populated in the Azores. This beautiful island is known for its stunning scenery, 18th-century architecture and the opportunities to go whale watching off the coast.
If a truly deserted island is your idea of paradise, then we have got the perfect options for you. Bouvet and Jan Mayen islands (Norway), Hirta in Scotland and Ile Aux Aigrettes in Mauritius boast a combined population of zero between them. While the first three may not be the sun-soaked destinations of desert-island dreams, Ile Aux Aigrettes offers the chance to explore this spectacular nature reserve under blue skies all year round.
Bouvet in Norway is not just one of the most sparsely populated islands, but also one of the most difficult to get to. Despite being owned by Norway, it would take around two weeks to travel to this icy, volcanic island which is located in the middle of the South Atlantic Ocean, near Antarctica. First discovered in 1739, the island was 'lost' again for almost 70 years until a whaling vessel came across it. Norway laid claim to this desolated, glacier-covered piece of land in the 1920s and today it is a nature reserve. Today this glacier-covered island is known as the remotest island in the world, and only the most adventurous of travellers would attempt a trip here.
Not all of the islands on our list require such an arduous journey, and there are plenty of options for those travellers who prefer something closer to home. Sark, in the Channel Isles, can be reached from London in just over 3 hours, making it a much easier option. Sun-seekers may want to venture a little further to get to the afore-mentioned São Miguel island, or even Montserrat in the Caribbean, which can be reached in less than half a day from the UK.
Perhaps unsurprisingly, the world's most remote island - Bouvet - is also the most expensive to visit due to its inaccessibility. If the thought of spending over £17,000 to slide around on a glacier does not appeal, then perhaps a visit to the tiny tropical island of Apolima in Samoa would be more attractive. For many people, a trip to Easter Island and its enigmatic Moai statues is on their travel bucket-list, although again the price of a ticket from this part of the world does not come cheap.
Travellers on a budget will be more interested in our list of the least expensive remote islands in the world. Once again São Miguel in Portugal features prominently, with a journey costing little more than the price of a pair of tickets to the cinema in London. Heimaey Island off the coast of Iceland boasts awesome scenery and a perfect vantage point from which to marvel at the Northern Lights.
Although Bouvet takes the prize for the hardest island to get to, it is not the furthest from London in distance as the crow flies. That award goes to Waiheke Island off the coast of New Zealand, which is just under 11,500 miles away from the capital of the UK. If you care to make the journey to this far-flung location, you will be rewarded by stunning coastlines, beautiful nature, and a local wine which has to be tasted to be believed.
While a visit to an isolated and remote islet may seem like paradise to some, more restless travellers may like to have some alternative activities besides lying on the beach or tramping across frozen hills. Maui in Hawaii and Bohol in the Philippines each offers no fewer than 109 attractions to keep curious tourists entertained. Snorkelling and surfing are popular activities in Hawaii, while exploring the beautiful jungles of Bohol offers an experience not to be missed.
Those in search of a less touristy experience will prefer the simple pleasures to be had from the islands on our next list. Tristan de Cunha is probably the world's most remote inhabited island, and this British Overseas Territory in the middle of the South Atlantic Ocean offers an other-worldly vacation opportunity. Dominated by the dormant volcano which rose from the depths of the ocean aeons ago, this is one island which will certainly not be over-run by noisy tourists.
There is nothing worse than spending the year planning a dream vacation, only for the reality to fail miserably to live up to expectations. While the Google reviews for the majority of islands on our list have been overwhelmingly positive, some still fare worse than others. Jan Mayen in Norway proved to be the most disappointing island experience if our reviewers are to be believed. This remote outpost in the Arctic Sea fared slightly worse than Japan's Tashirojima Island and Tristan de Cunha.
We've seen the worst-reviewed islands on our list, so let's end on a positive note with those places which attracted nothing but rave reviews. Anegada in the British Virgin Islands topped the charts when it came to recommendations from fellow-travellers. The chance to stroll along bone-white sandy beaches next to turquoise seas or to dine on fresh lobster as the endless skies turn red and vermillion goes some way to explaining why this island paradise was a favourite with visitors.
Hopefully our whistle-stop tour around the world's remotest islands has encouraged you to dream of paying a visit to some of these exotic destinations. Whether you fancy voyaging to the ends of the earth or prefer the idea of an idyllic island getaway closer to home, there are plenty of amazing options out there.
---