Lotto Winners 08 April 2016
Which Game of Thrones Characters Will Emerge Victorious?
Game of Thrones Hunger Games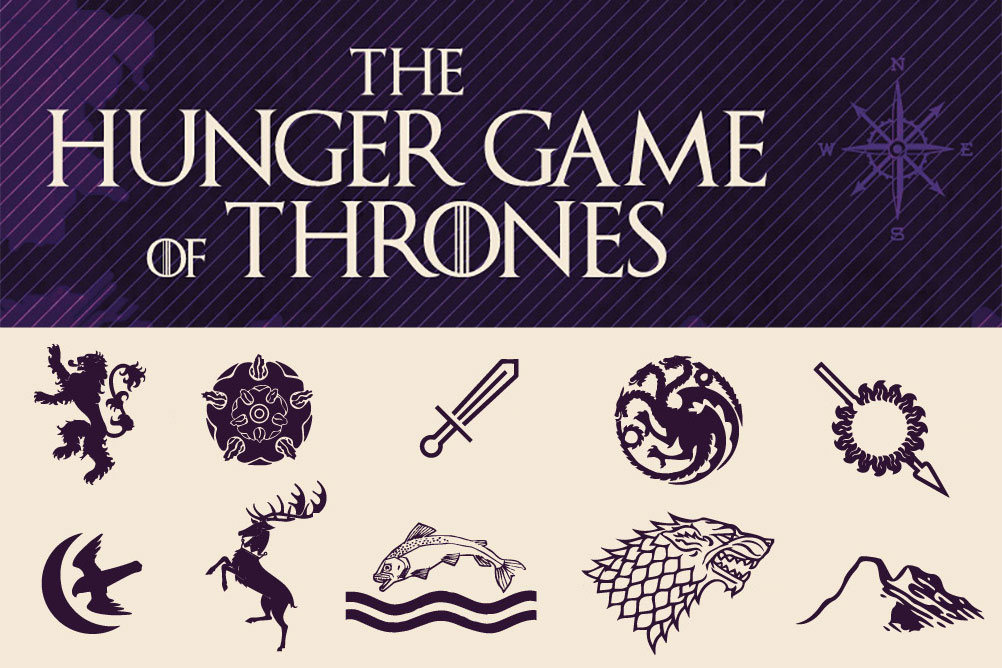 District 1: Kingdom of the Rock, Casterly Rock
Jaime Lannister
Cunning: 3
Combat: 2
Virtue: 2
Survivor: 5
Jaime Lannister was once considered among the greatest knights in Westeros and was the youngest person ever raised to the King's Guard. After having his sword hand cut off by Locke however, Jaime is not the warrior that he once was. Despite learning to fight left-handed Jaime is still a liability in a fair fight against a trained warrior. Although he disdains politics, Jaime is charismatic and has the ability to win over allies - often only to stab them in the back later on. However many of the characters who Jaime is up against in the Hunger Games will know of his tricks and he will likely be a main target of many of those seeking revenge against the Lannisters - particularly the Starks and Martells.
Jaime serves himself and his family first and will do whatever it takes in order to win. Jaime is perhaps best known as the "Kingslayer" who broke his oath and stabbed the Mad King Aerys II Targaryen in the back. Although he has shown virtuous character traits Jaime is still self-serving and willing to break any oath or turn on his allies when it suits him. His romantic relationship with his sister Cersei is perhaps a weakness which his opponents may be able to exploit. Jaime's ability to survive is his greatest asset in the Hunger Games. No matter what predicament he finds himself in Jaime has an uncanny ability to escape with his head (although sometimes not his hand). He has a sharp wit and has a talent for knowing what to say to enrage his enemies enough to put them off their guard. But will it be enough to survive the Hunger Games with all of the powerful enemies that he's made?
Cersei Lannister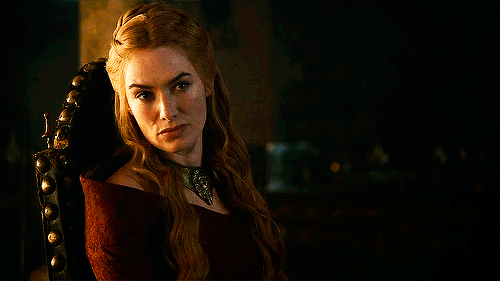 Cunning: 5
Combat: 1
Virtue: 1
Survivor: 4
Of all of the contestants none understands the Game of Thrones better than Cersei Lannister. Intelligent, beautiful and incredibly ambitious, she is very much the daughter of her father Tywin Lannister. That being said, as the series has progressed Cersei has often shown herself incapable of wielding power effectively and her quick temper and easily wounded pride have made her prone to rash decisions. Although she has no formal combat training Cersei can be very brave and is an expert at manipulating others into doing her dirty work for her.
Cersei's will do whatever it takes to win, showing no hesitation to conspire, manipulate and murder those who oppose her. Her brother Tyrion Lannister said that her one redeeming quality was her love for her children (and her cheekbones). Cersei also loves her brother Jaime and this could potentially be a weakness her enemies could exploit - although ultimately it seems likely that she would sacrifice Jaime to save herself. Like her brothers Jaime and Tyrion, Cersei is a survivor, willing to suffer whatever humiliations or make whatever sacrifices are necessary in order to fight another day. However, like Jaime she is also one of the most distrusted and reviled people in Westeros making Cersei a prime target for one of her many enemies. Will her political prowess be enough to survive?
X-Factor: the mysterious (and mountainous) Ser Robert Strong. If Cersei could somehow bribe the 8-foot tall King's Guard (who never eats, drinks or speaks) into the Hunger Games as her replacement then her and Jaime's lack of physical talents would be nullified.
Odds: 4/1 - Jaime and Cersei may be as clever as a pair of foxes, and fierce as lions...but without a skilled warrior and huge targets on their backs from the numerous enemies they have made it would take some spectacular scheming for the Lannister twins to survive.
District 2: Kingdom of the Reach, Highgarden
Loras Tyrell
Cunning: 2
Combat: 4
Virtue: 4
Survivor: 3
Loras is a highly skilled knight and an exceptional jouster who is the winner of many tournaments - including defeating Jaime Lannister and Gregor "the Mountain" Clegane. Although he is an exceptional warrior he may not be able to defeat the best warriors in close combat having lost in melee to Brienne of Tarth, and he was dismissed by Oberyn Martell as a flashy tourney champion but not a true warrior. Loras often demonstrates both intelligence in strategic alliances and politics as well as tactical cunning such as when he defeats the Mountain at the Hand's tourney by riding a mare in heat. On the other hand, Loras can be arrogant and over-confident and has been described as reckless and hot-headed. Loras can be manipulated by cleverer characters such as when Cersei Lannister persuaded him to attack Dragonstone.
Loras is seen as virtuous and is admired by many in Westeros as the epitome of a valiant knight. While Loras may be more honorable than many of the other characters he's certainly not above political scheming and engaging in underhanded tactics to win. Loras's love of his sister and teammate Margaery could be used against him. Loras has survived many changes of fortune in the war to claim the Iron Throne including the Battle of Blackwater for which he was honored as a member of the King's Guard. He is generally well-liked, especially by women and would likely not be a main target. Would Loras's jousting ability and good looks help him survive the Hunger Games?
Margaery Tyrell
Cunning: 5
Combat: 1
Virtue:4
Survivor: 4
While Margaery may possess no combat skills she has an over abundance of intelligence, tact and political savvy. Margaery knows exactly how to manipulate those around her without them realizing that they are her pawns. The protégé of her grandmother Lady Olenna Redwyne, Margaery has risen quickly from the daughter of a powerful noble family to Queen of Westeros through a series of political marriages. Plus, unlike other masters of the Game of Thrones like Petyr Baelish or Cersei Lannister very few see her as a threat. In fact it is only clever characters like Cersei, Baelish and Tyrion Lannister who see through Margaery's facade.
Margaery is perceived by most in Westeros as a paragon of virtue and she is a hero of the small folk for her charity and kindness. She knows exactly what to say to flatter others over to her side and the ability to forge alliances could be crucial to her survival in the Hunger Games. She is also a survivor, demonstrated best when she beat Cersei Lannister at her own game after being arrested and facing trial at the Great Sept of Baelor. In fact, Cersei Lannister will probably be Margaery's greatest rival and threat as she is the only character who truly despises her. Would Margaery's talent for winning over hearts and minds help her win the Hunger Games?
Odds: 2/1 - Loras and Margaery form a balanced team with both combat skills and cleverness as well as few obvious enemies.
District 3: Free Cities, Braavos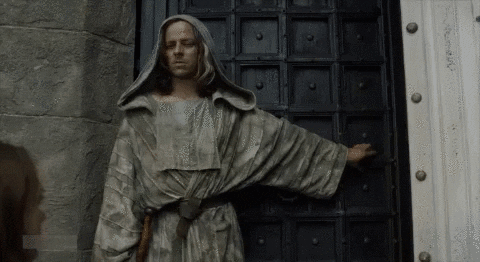 Jaqen H'Ghar
Cunning: 4
Combat: 4
Virtue: 2
Survivor: 3
Although originally seen wearing the mask of a Lorathi criminal, Jaqen H'Ghar is not all that he seems. As a servant of the Many-Faced God, Jaqen H'Ghar is in fact a master assassin able to change his identity seemingly at will - in fact his true identity is not known and is a matter of much speculation amongst Game of Thrones fans. Very little is known about Jaqen's actual combat prowess however he does have the ability to kill targets quickly and make it look like an unfortunate accident - including pushing Chiswyck off a wall and having Weese appear to have been killed by his own dog. Although it is not clear what sort of warrior Jaqen is, it seems unlikely his skills at assassination would be as useful in circumstances where he must fight his opponents face to face.
Jaqen's biggest disadvantage is the strict adherence required as a servant of the Many-Faced God. Although he is an expert killer, Jaqen is bound by rules about who and how he may kill. In fact Arya managed to outwit and manipulate Jaquen by using his own rules against him. Jaqen H'Ghar is a character who is himself an X-Factor - so little is known about who he is and what his motivations are that it is difficult to predict how effective he would be. Surely the ability to assume the faces of his victims would give him a massive advantage in the Hunger Games?
Arya Stark
Cunning: 4
Combat: 3
Virtue:3
Survivor: 5
Arya Stark has been trained in the basics of Braavosi Water Dancing as well as how to handle knives by her tutor Syro Forel, on top of learning how to shoot a bow with her father and brothers. Although she would stand little chance in a fair fight against a larger and more experienced warrior, Arya's hard life has taught her how to kill with swift and unexpected violence. Arya has little experience in the ways of politics but she is intelligent and able to form alliances as long as they suit her objectives. Her training to become a Faithless Man in the House of Black and White may have left her temporarily blinded but she discovered the ability to warg and is quickly becoming an adept assassin.
Arya was raised by the perhaps too honorable Eddard Stark and still has many moralistic principles, although she is increasingly merciless to her foes. Life has hardened Arya and she is now driven by a vengeful rage which can lead to costly mistakes. While Arya is a survivor of many ordeals and learns from her many mistakes along the way she is still impulsive and makes rash decisions which could cost her life. To most of the other chracters Arya will be underestimated or even unknown, which will make her even more deadly in the Hunger Games. Would this budding assassin be able to survive or would her temper be her undoing?
Odds: 1/1 - 2 deadly assassins, one who can change his face and other who can warg who are likely to fly under everyone's radar make the Braavosi team favourites to win.
District 4: Slaver's Bay, Meereen
Daenerys Targaryen
Cunning: 3
Combat: 2
Virtue:5
Survivor: 5
While Daenerys Targaryen has no formal combat training she is more than capable of defending herself. Daenarys is not the most clever or cunning character and lacks leadership experience, at times relying too much on her friends and advisors to help make up for her short-comings. However she is always learning and growing from her experiences and has developed into a capable, confident and charismatic commander able to lead an army composed of many different peoples. She has accumulated enough diplomatic knowledge that she may be able to win allies despite her family's reputation.
Daenerys is one of the most virtuous characters in Game of Thrones which make her both loved and a target for those hoping to take advantage of her high-minded ideals. However after numerous betrayals Daenerys has learned to be much more calculating and cold-blooded when necessary. The survivor of several assassination attempts, Daenarys is not as naive or trusting as she once was and trying to manipulate her could turn out very badly for her opponents. Her experiences have hardened Daenarys into a true survivor. Although few of the other characters have actually met her in person, Daenerys will be well-known and a prime target for every other team as the last surviving Targaryen.
Daenerys has one huge (fire-breathing) X-Factor. If the Mother of Dragons can somehow call in some aerial support from her three reptilian 'children' - Drogon, Viserion and Rhaegal - then the other competitiors may see their chances of winning go up in smoke.
Khal Drogo
Cunning: 1
Combat: 5
Virtue: 4
Survivor: 3
Whatever Daenerys lacks in combat prowess is more than made up for by the legendary Dothraki warlord Khal Drogo. Tall, muscular and undefeated in battle Drogo is a match on the battlefield for any of the other contestants. His only weakness may be his lack of protection against more heavily armored opponents. Although Dothraki in general rely on their speed and fierceness rather than shields and body protection for victory he could be in trouble for example if an opponent was to shoot an arrow into his back from hiding. While perhaps lacking in knowledge of the finer points of diplomacy Drogo is used to leading people and dealing with adversaries. Opponents assuming that Drogo is a simple-minded barbarian could be a fatal mistake.
While Drogo is ruthless in combat and merciless to his opponents the Dothraki do have a code of honor he is bound to - although the Khal tends to interpret it quite 'creatively'. Drogo and Daenerys make a formidable team but Drogo's love for the "moon of his life" is a vulnerability which can be exploited. Drogo is also hot-headed and easily thrown into a rage which may help him in battle but can be manipulated by clever opponents. Perhaps Drogo's biggest drawback is his bravado and unwillingness to accept aid which could have grave consequences if he is injured. Drogo survived many battles but since he is such a powerful opponent he will likely be immediately targeted.
Odds: 1/2 - even without dragons Daenerys and Drogo must be considered the odds on favorites to win - combining combat, cunning and co-operation - however they will also be heavily targeted.
District 5: Principality of Dorne, Sunspear
Oberyn Martell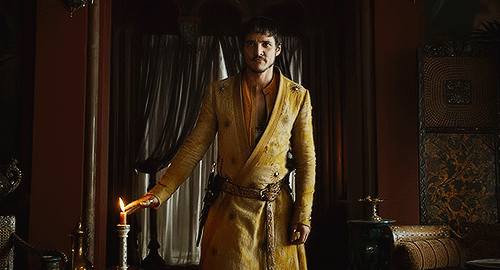 Cunning: 2
Combat: 5
Virtue: 3
Survivor: 3
Oberyn Martell is one of the deadliest warriors in the world, combining speed and skill with both the spear and the sword. Even opponents who somehow manage to best the Red Viper in battle may find that their victory is short lived as Oberyn is a master of poisons and will coat his weapons with them, ensuring a posthumous vengeance. Oberyn is sly and slippery, fond of conspiracies and secret pacts but like many of the Dornish is ruled by his passions and emotions.
While Oberyn is devious and deadly he is not without morals. Despite his love for toxins he fights with a certain sense of honour. Oberyn's reputation proceeds him and he will be targeted quickly but he's also both respected and feared - he will likely be able to forge useful alliances with those seeking a powerful ally. While Oberyn is undoubetdly resourceful his haughtiness and over-confidence could have crushing consequences for him.
Ellaria Sand
Cunning: 3
Combat: 1
Virtue: 2
Survivor: 3
Although she is quite different in the books, the TV version of Ellaria Sand is a highly intelligent woman who often uses her sexuality to her advantage. While she is not trained for battle, Ellaria has a fiery temper and like Oberyn is also a master of poisons. Although she possesses some political savvy Ellaria is often unable to see the bigger picture, and like Oberyn is prone to making rash decisions which don't work to her advantage in the long-run.
While in the books Ellaria Sand is seen as a "good woman with a gentle heart" on the TV show she is treacherous and driven by her need for vengeance. Ellaria possesses the ability to lie and decieve at will, wearing a mask of a friendship before stabbing her would-be allies in the back. Ellaria is also unlikely to be seen as a major threat by her opponents which for them could be the kiss of death.
Odds: 2/1: combining one of the world's greatest warriors and seductive poisoner, this teaming of Red Viper and Black Widow only weakness is their arrogance and inability to control their passions.
District 6: Kingdom of the Mountain & Vale, Eyrie
Petyr Baleish
Cunning: 5
Combat: 2
Virtue: 1
Survivor: 5
A short man with a slender build, Petyr Baleish will never defeat his opponents with brute force. In contrast, his main weapon is his own genius and mastery of the Game of Thrones. Petyr's own brilliance is only matched by his unlimited ambition to rise from his low birth to the pinnacle of power. As some of the characters that he faces are now wise to his multi-layered plots and schemes, Petyr's only chance for survival will be through a truly masterful manipulation where others are doing the fighting for him.
While Petyr certainly can act like he has virtue if it suits him, in actual fact he is quite immoral and will lie, betray and cheat whoever and whenever it serves him. Because of his low birth and friendly facade Petyr is often underestimated and unwisely trusted by those who should be wary which he exploits to his fullest advantage.Only the most cleverest characters see through his shemes, allowing Petyr to survive and flourish where less subtle persons would not. An underdog his whole life, despite his lack of skill with a blade Petyr could be the most dangerous character in the Hunger Games.
Lysa Arryn
Cunning: 2
Combat: 1
Virtue: 3
Survivor: 1
Likely the weakest competitor overall, both physically and mentally, Lysa's only advantage is that other combatants will dismiss her completely - which could be their undoing as she is not quite as hopeless as she seems. Although not exceptionally clever or brave, Lysa does possess some level of cunning and understanding of the Game of Thrones. Lysa can be ruthless and will show little remorse if given the chance to remove the competition.
Lysa may be mentally unstable and she is madly in love with her teammate Petyr Baelish. Petyr's ability to manipulate Lysa may actually be a benefit to their team as he will see her as a pawn to sacrifice when the time is right. Unfortuantely for Lysa this means her odds of surviving are very low indeed.
Odds: 10/1 - it seems like it would take a miracle for this team to emerge this victorious but don't count them out - if anyone can pull it off, it's Petyr Baelish.
District 7: Kingdom of the Stormlands, Storm's End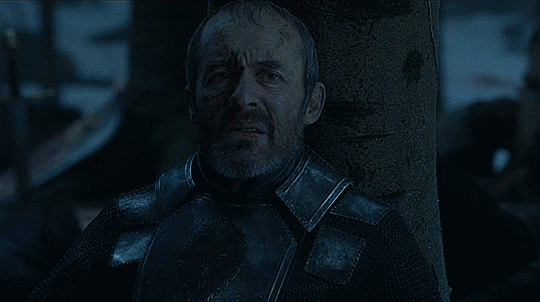 Stannis Baratheon
Cunning: 3
Combat: 3
Virtue: 1
Survivor: 3
Stannis is a hard man - serious, stubborn and stoic. He makes strategic decisions based on cold logic although he has sometimes turned to magical aid in his attempts to win the Iron Throne. Stannis is an accomplished soldier, sailor and military commander although he is not one of the truly great warriors and prefers to lead from the back rather than lead the charge. His sword Lightbringer is not the prophesized weapon and may only draw attention to him as a target. That said, he is both brave and ambitious, willing to sacrifice that which is most dear to him if it means coming out on top. His innate stubborness, lack of ability to adjust to changing circumstances and general unlikeability may well be his undoing.
Despite being ruthless and unforgiving, Stannis does have a strong sense of duty and justice, and on rare occasions shows some sparks of compassion. He's likely to be a target for many of the other competitors, particularly the Lannisters and his own teammate Brienne of Tarth. Despite his lack of charisma, Stannis may be able to forge alliances of convenience as he is experienced in politics and leadership. Stannis is perhaps the most talented strategist amongst the competitors, although his skill at commanding armies may be of little use in the Hunger Games.
Brienne of Tarth
Cunning: 1
Combat: 4
Virtue: 5
Survivor: 4
Brienne is tall, muscular and deadly with all types of weapons. Brienne defeated both Loras Tyrell and Sandor Clegane in single combat, proving that she's one of the most powerful warriors in Westeros. While not stupid, Brienne lacks cunning and often finds herself manipulated by others into being their bodyguard and protector.
Brienne is one of the most noble characters in Game of Thrones and embodies the ideal of a true knight better than any of her male counterparts. Her unwavering loyalty, unwillingness to break oaths and other high ideals may win her allies but also makes Brienne vulnerable to exploitation by cleverer characters. Spurned from childhood for her homely appearance Brienne craves love which could also be taken advantage of by several of the more handsome and devious male characters. Brienne will fight until her last ounce of strength remains in her body so her opponents would be unwise to assume that she is down and out prematurely as she has a habit of coming back to win the day.
Odds: 4/1 - one of the best overall pairings in terms of sheer martial ability, their biggest problem may be working together as a team - Brienne is sworn to kill Stannis so it's likely that even if they won the Hunger Games only one of them would ultimately survive.
District 8: Kingdom of the Isles and Rivers, Riverrun
Walder Frey
Cunning: 4
Combat: 2
Virtue: 1
Survivor: 4
Walder Frey possesses a cruel cunning and approaches the Game of Thrones with utter ruthlessness. He cares only for his family's status and will only act when it is his own self interest. He is fond of sitting back and watching others fight and only committing himself when he knows who will be the victor. His greatest strength will be his ability to collude and conspire with others ot have them do the fighting for him. Although once he lead men into battle Walder is now almost 90 years old and confined to a chair, meaning he will be at a severe disadvantage in the Hunger Games.
Walder Frey has no concept of honor being completely self-serving and pragmatic. He is easily offended and will never forgive an insult against him or his family. Although his family has grown in power after the Red Wedding, Walder will be hunted mercilessly by the Starks as well as his own teammate Catelyn. Although Walder's ability for self-preservation has allowed him to benefit from many conflicts in the past it would take something spectacular survive the swords of those he has crossed in the Hunger Games.
Catelyn Stark
Cunning: 4
Combat: 2
Virtue: 5
Survivor: 2
Catelyn Stark is intelligent and brave in the face of danger. She has a strong grasp of politics and a strong insight into how the Game of Thrones really works, although she is prone to making decisions with her heart rather than her head, particularly where her family members are involved. While she has no formal combat training Catelyn is capable of looking after herself and has survived assassination attempts.
Catelyn possesses many virtues including being kindly, generous and loyal. She is generally well-loved by all and is skilled at forging lasting alliances which benefit all parties. She is fiercely protective of her children, several of whom are in the Hunger Games, and this could be one of her greatest weaknesses. Catelyn is also prone to mercy when it is perhaps undeserved, which may come back to her haunt her. She hates her teammate Walder Frey and will likely try to dispose of him in the most ruthless matter possible.
One X-Factor is who would fight - the old Catelyn Stark or the resurrected Lady Stoneheart. If it is the latter then Catelyn's opponents should expect no mercy as they will receive none.
Odds: 10/1 - as this team lacks combat prowess and has numerous enemies, most notably each other, it would take a miracle for them to win.
District 9: Kingdom of North, Winterfell
Jon Snow
Cunning: 3
Combat: 4
Virtue: 5
Survivor: 3
Like his father Eddard and adopted mother Catelyn Stark, Jon Snow is brave, resourceful and quick-thinking. He is a gifted swordsman, trained at combat since he could walk as well as being a skilled bowman and horseman. Although perhaps not the greatest warrior in Westeros he is more than a match for most. Like Eddard, Jon Snow is perhaps honorable to a fault and far too honest and upright to be successful at the Game of Thrones with all its required scheming and machinations. Although not easily manipulated, Jon's sense of duty and love for his half-siblings could be used against him.
As one of the most noble and virtuous characters in Game of Thrones Jon will likely be able to form strong alliances although he will also be a target for some of his opponents. Jon is extremely courageous and willing to sacrifice himself for the greater good which could ultimately work in his favour but also runs the risk of him thowing his life away on a lost cause. Although he has been hardened by his time in the Night's Watch on the Wall Jon's predisposition towards showing mercy where it's undeserved and trusting those who should not be trusted could lead to him being stabbed in the back...and front.
One X-Factor for Jon is his pet dire wolf 'Ghost', who like his namesake seems to materialize out of thin air to protect his master.
Sansa Stark
Cunning: 4
Combat: 1
Virtue: 4
Survivor: 4
At one time Sansa would have been a liability to her team but she has become increasingly resourceful under the tutelage of perhaps the greatest living master of the Game of Thrones, Petyr Baelish. While she is still young and inexperienced, Sansa is a quick study at the nuances and intrigues of Westeros politics. Although perhaps more of a hindrance than a help in combat Sansa is also not an obvious target and is likely to 'fly below the radar' of her opponents.
Sansa once had an idealistic view of the world which was more based in fantasy than fact. However the past few years have dispelled most of these romantic daydreams and Sansa has grown stronger and more pragmatic. Although Sansa still has a kind heart she is learning to stop being a pawn for others and how to become the one doing the manipulating. Sansa will likely be underestimated by those facing her which she can use to her advantage - she is not the 'little bird' that she used to be.
Odds: 1/2: perhaps the most likeable and moral team, Jon and Sansa will work well together and likely be able to forge quick alliances with others although they lack experience and could be manipulated and betrayed.
District 10: Beyond the Wall
Bran Stark
Cunning: 4
Combat: 1
Virtue: 4
Survivor: 4
Bran always dreamed of becoming a knight but after being crippled he is no longer a fighter, although he can shoot a bow and ride with the help of a saddle specially designed for him by Tyrion Lannister. Bran is bright and intelligent which has only been enhanced by his time north of the Wall in the cave of the three-eyed crow. Bran has become powerful in magic having learned the powers of skinchanging and greenseeing. The ability to enter the mind and control another being, most notably his dire wolf Summer, is a massive advantage for his team. As long as Bran can find a safe place to hide he will be able to have multiple "lives" through the animals he enters, and unless Bran's human body dies he will remain alive.
Bran is a likeable and because he is so young and inexperienced (and assumed by many to be dead) he will not be seen as a threat. Bran's lack of ruthlessness may still work against him although like all of the Stark children his trials and tribulations have made him increasingly hardened and capable of surviving in a merciless world.
Bran's X-Factor is his ability to greensight - or see glimpses of the future. Will Bran be able to see his future in the Hunger Games, will he be able to interepret the symbolism correctly and if he does know what will happen will he be able to change it?
Ygritte
Cunning: 3
Combat: 4
Virtue: 3
Survivor: 3
The fiery red-headed wilding scout is skilled with a spear and deadly with her bow. She is a tracker and survivalist living her entire life in the wilderness beyond the wall so one can assume Ygritte is adept at setting traps and springing ambushes. Although her small physical frame and lack of armor and would likely put her at a serious disadvantage against one of the greater warriors of Westeros in a fair fight, Ygritte would not fight fair. Although she is not wise in the ways of the greater world and knows nothing of politics or alliances, Ygritte is crafty and not easily fooled.
Her wildling heritage may make Ygritte a target for her foes but she has no real rivals who are specifically out to get her. She is tricky and able to feign friendships only to turn on her allies when it suits her. Like all wildlings, life north of the wall has made Ygritte a survivor and bestowed in her a resoluteness and ability to deal ruthlessly with her enemies. Nonetheless, Ygritte does have a soft spot in her heart, particularly for Jon Snow, and this softness could spell a pointed end for her.
Odds: 1/1 - Bran's mystical abilities combined with Ygritte's skills as a tracker and archer makes up for this youthfu teams' lack of experience.
So to recap our list of odds for the Game of Thrones Hunger Games:
Daenerys Targaryen/Khal Drogo: 1/2
Jaqen H'Ghar/Arya Stark: 1/1
Bran Stark/Ygritte: 1/1
Oberyn Martell/Ellaria Sand 2/1
Jon Snow/Sansa Stark: 2/1
Margaery Tyrell/Loras Tyrell: 2/1
Stannis Baratheon/Brienne of Tarth: 4/1
Jaime/Cersei Lannister: 4/1
Petyr Baelish/Lysa Arryan: 10/1
Walder Frey/Catelyn Stark: 10/1
Did we get it right? Who would you bet on to win the Game of Thrones Hunger Games? Which teams do you think could do better and who might you swap in as a repalcement? Let us know in the comments below and, as always, may the odds be ever in your favour.
---